Earlier this year, we told you about a new partnership between Disney Interactive, Hollywood Records, Radio Disney and Vevo, the world's leading all-premium music video and entertainment platform, to launch premier family-friendly music destinations online.

We're excited to announce that the first product from this partnership, Disney.com/Music, is now live on the new Disney.com platform. Featuring Disney curated videos from Vevo's catalog of 75,000 music videos and exclusive content from Walt Disney Records, Radio Disney and Hollywood Records, the new portal is a gateway for our guests to access exclusive content from both established and on-the rise artists.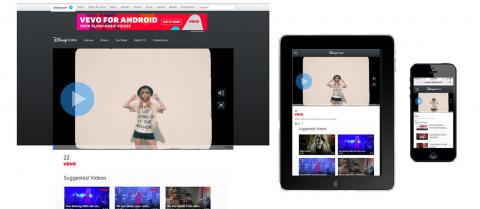 As the final portal to launch on Disney.com, since we relaunched the site in October 2012 as the digital gateway for all things Disney, Disney.com/Music integrates content from across Disney's music network into an elegant and consistent interface across all platforms and devices.
Visit Disney.com/Music today to start listening!