At Disney, we are inspired by the creativity of our fans and their desire to create Disney moments at home. To help spark those moments, we've created a new family destination on Disney.com—Family.Disney.com—that brings Disney characters to life at home with fun, memorable crafts, activities and recipes.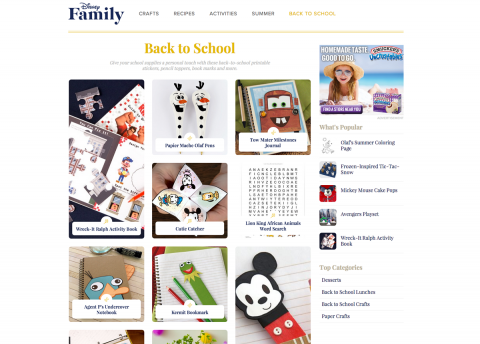 The beautiful, easy-to-use site has a huge library of thousands of ideas, including Disney-themed crafts like Frozen-inspired Tic-Tac-snow; recipes such as Yoda's green sherbet sundae; and activities like Cars weekly homework calendar. The site will also celebrate seasonal events like back to school or Halloween with crafts like an Ariel pumpkin-carving template.
There's also a "Mom's Disney Sidekick" section, which is presented by Smucker's® Uncrustables® Sandwiches, and offers tips and ideas on making the fun and magic of Disney easy and convenient.
Disney Family was built with the modern connected family in mind so its easily accessible on all devices, and recipes and crafts can be shared easily on Pinterest and other social media.