This holiday season, guests at Disney Springs can view Starbright Holidays – An Intel Collaboration, a first-of-its-kind light show featuring 300 Intel® Shooting Star TM drones that bring the nighttime sky alive with synchronized choreography set to a specially orchestrated arrangement of classic holiday music.
The remarkable show marks the first time in the United States 300 show drones have flown at one time. At 280g, the Intel Shooting Star drone weighs less than a volleyball, and features built-in LED lights that can create more than four billion color combinations.
Starbright Holiday is yet another example of how Disney blends creativity and innovation to develop unprecedented experiences for guests. And according to Bob Chapek, chairman, Walt Disney Parks and Resorts, it's just the beginning of how the Company might use this technology in future projects.
"This is a technology that, as an entertainment vehicle, is in its infancy," says Chapek. "Now imagine that canvas [nighttime sky] being painted by Disney artists and Imagineers, where it's not a Christmas tree, but it's Disney characters, Disney mythologies fully explored within this new medium. I think the promise of this is extraordinary. Without saying too much, I think it has the ability to flavor many of the entertainment experiences we already have and create new ones that we've never dreamed of."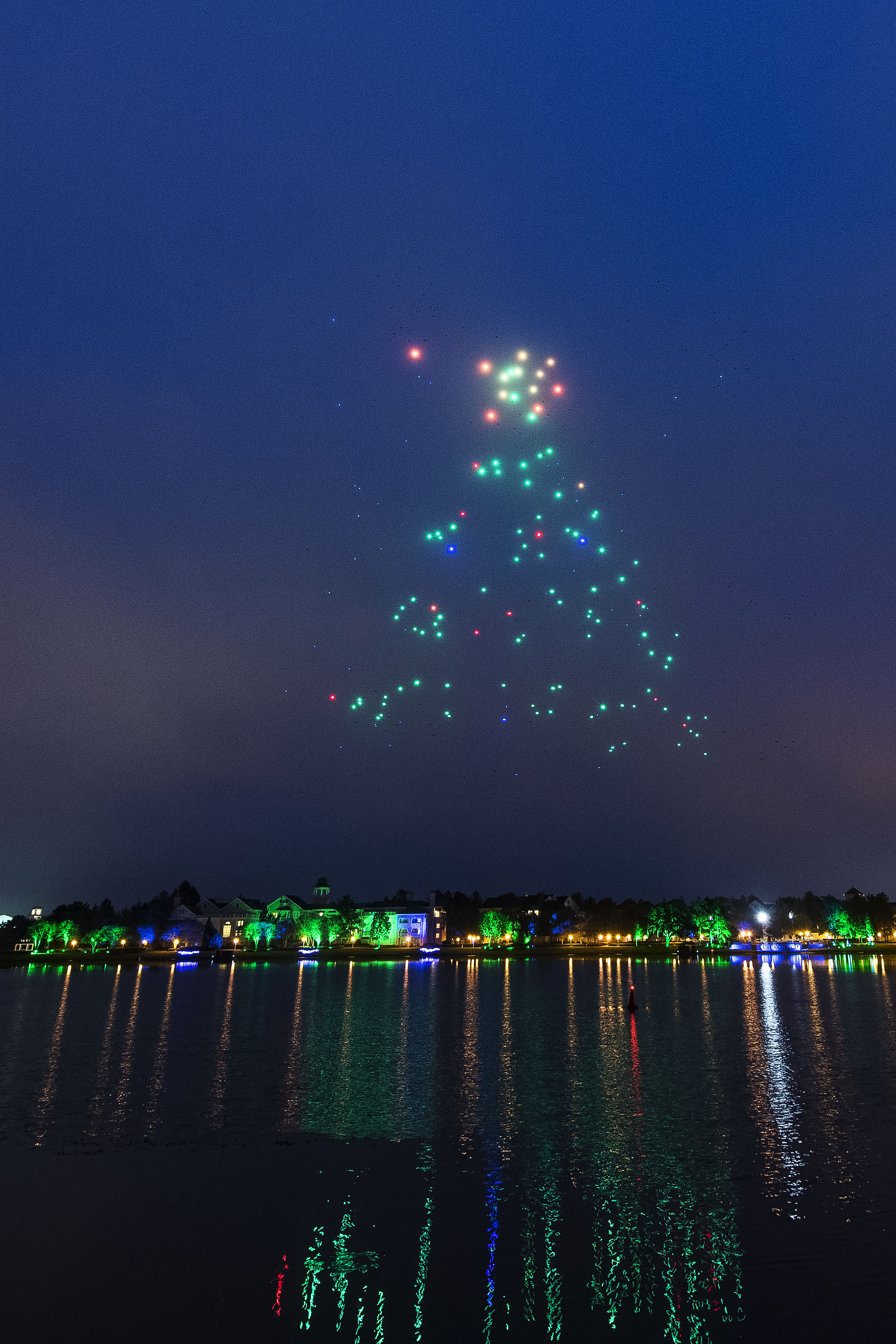 In terms of working with Intel as a tech partner on the show, Chapek says it was a match right from the very start.
"Collaborating with Intel has been great," says Chapek. "By combining the cutting-edge technology from Intel and the limitless creativity from Disney, we've been able to create something our guests will really love. That blending has given us another tool through which to tell another dimension of the story.
Senior Vice President and General Manager of Intel's New Technology Group Josh Walden, too, is pleased with the partnership, adding, "We are excited to work with Disney to bring a fresh and innovative approach to its world-renowned light shows. Together, we worked to tackle the new frontier of entertainment, picturing the sky as our canvas, and flying lights as ink."
The first shows of "Starbright Holidays – An Intel Collaboration" will begin on November 20. Guests can see the nightly performances at Disney Springs at 7:00 p.m. and 8:30 p.m. from November 20 – January 8.