Today we're excited to announce that Disney Infinity, our largest and most ambitious gaming initiative to date, is available in stores everywhere for Xbox 360, PlayStation 3, Nintendo Wii, Wii U and Nintendo 3DS. After announcing Disney Infinity at the El Capitan Theatre in January, fans around the world have embraced the platform, its huge line-up of launch characters, multiple modes of play and endless possibilities.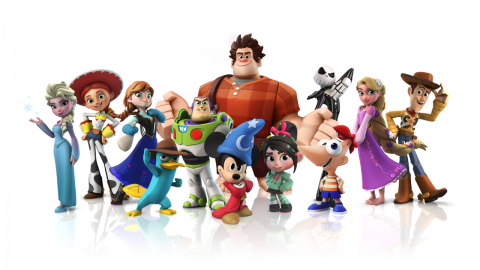 In a way that only Disney can, each Disney Infinity character figure will come to life and play together in a virtual "Toy Box," where guests can build and customize their own unique virtual worlds using their favorite characters, vehicles, settings and more. The game also includes story-driven experiences, called "Play Sets," which allow players to solve challenging puzzles, battle enemies and explore iconic locations from famous Disney properties.
Leading up to launch, we've had a surge of news and announcements from the Disney Infinity universe:
New Characters Revealed at D23 Expo — Last weekend at Disney Interactive's first D23 Expo Arena presentation, Disney Interactive Co-President John Pleasants announced the next wave of characters to join the Disney Infinity line-up including Jack Skellington, Rapunzel, Buzz Lightyear, Wreck-It Ralph and the Sorcerer's Apprentice Mickey (who will debut in 2014).
Disney Infinity Comes to Mobile — In a few weeks, guests will be able to edit their toy box on the go with the new app Disney Infinity: Toy Box for iPad. In the meantime, fans can create original short movies co-starring the cast of Disney Infinity with Disney Infinity: Action for iOS and Windows 8 devices.
Disney Infinity Power Discs Available at Launch — Starting today, guests will be able to purchase power discs in blind packs of two at retailers wherever Disney Infinity is sold. These power discs feature gadgets, powers, world themes and vehicles within the game (my favorites include Rapunzel's Birthday Sky Skydome and Mickey's Jalopy).
– See more at: https://thewaltdisneycompany.com/blog/disney-infinity-now-available-stores-nationwide#sthash.YaJXyneW.dpuf