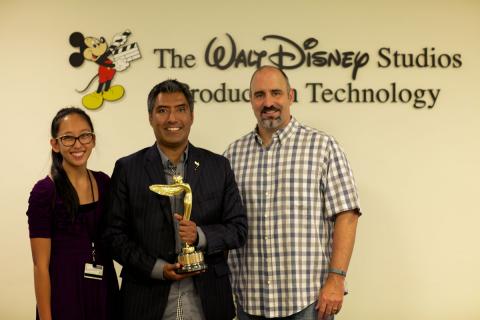 Last night The Walt Disney Studios was recognized alongside German research firm Fraunhofer Heinreich Hertz Institute (HHI) and camera company ARRI by the International 3D & Advanced Imaging Society, which awarded the prestigious Lumiere Award to the companies for their TriFocal Camera System.
The joint venture between the Studio and the two technological companies was an effort to find an easier way to film a 3D movie. The solution came in the form of a smaller, lighter—and thus easier-to-handle—camera rig that brings three individual cameras together in a more focused and compact environment.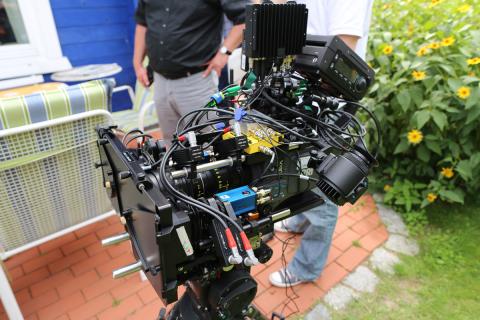 Traditionally, 3D films are captured in sync using two separate cameras, and the difference between the two images is altered to create a film that appears to have physical depth in the screen. The team improved upon this process by using a technique called Hybrid 3D: The film is shot in traditional 2D and depth is added in post-production using footage from two additional smaller camera sources.
"When you capture three different views, it gives you more flexibility to manipulate 3D effects in post-production because it gives you a greater number of angles and more depth of field," Daniel De La Rosa, director of Production Technology for The Walt Disney Studios, explains. What Daniel, along with Production Support Engineer Camille Hidalgo, Technical VFX Lead Juerg Grieder and the teams at Fraunhofer HHI and ARRI, are able to do with this new arrangement is make the filming of a 3D movie feel more like a traditional 2D production.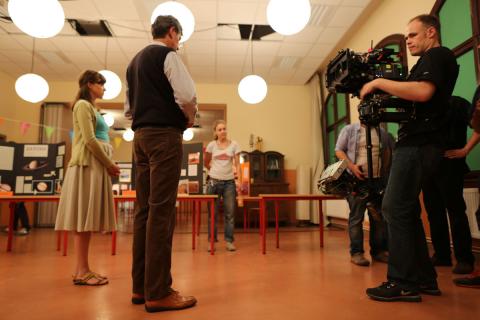 "When you use the TriFocal Camera System, you use a traditional 2D workflow which means you don't have to worry about alignment on set," Daniel says. The Trifocal Camera System eliminates the need to constantly calibrate and focus two separate cameras, because all the cameras are connected and can be treated as a single unit. This gives the director greater freedom on set, "the ability to make the movie the way they want to make it."
Still a work in progress, the innovation has not yet been used on a full-length feature film. However, Disney, HHI and ARRI tested the setup out on a short titled Make/Believe, which was recently screened at International Broadcasting Convention in Amsterdam.