After looking at all the Disney costumes created for Halloween this year, I wondered what the first Disney costume looked like. After a little research, I knew I had to share this story of some of the very first Mickey Mouse and Minnie Mouse costumes.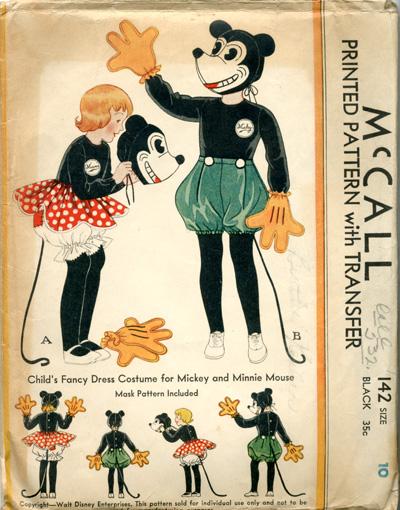 On October 19, 1933, the McCall Pattern Company issued the patterns for the "Child's Fancy Dress Costume" that children could actually wear. We acquired the pattern and costumes for our archives in February 2011 directly from the grandchild of the original owner and seamstress.
The costumes were inspired by popular Mickey and Minnie dolls that were handmade in Los Angeles by Charlotte Clark, a local seamstress, in 1930. The dolls were fashioned from sketches done by her 14-year-old nephew, and were later distributed by Walt and Roy Disney to friends, acquaintances and studio visitors. They quickly became popular, and, in 1932, a partnership was formed with the McCall Pattern Company to produce patterns for consumers to sew their own Mickey and Minnie dolls.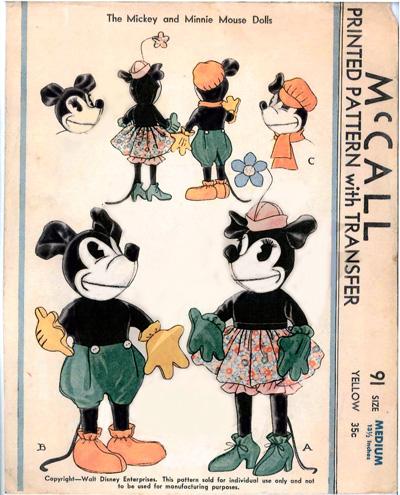 Costumes and role-play are an important part of our Disney Consumer Products business and integral in bringing that imaginative world to life for every kid and kid at heart. This year, some of our top-selling girls costumes are Rapunzel and Merida while Spiderman, Captain America and Buzz Lightyear are some of our best-selling boys costumes.
We hope you enjoyed the look back at our history and heritage. If you haven't already found that perfect character costume for Halloween, check out DisneyStore.com for ideas!