Disney Citizenship Honored with Philanthropic Leadership Award at Imagine Awards 2014
Today's youth hold the key to the future. Their ideas will guide us in to the world of tomorrow, which is why we aim to inspire them through our stories, products and experiences at Disney. Whether it's creating a character like Hiro Hamada from Big Hero 6 or opening a portal to their favorite Disney films through our attractions at Walt Disney Parks and Resorts, the Company has a rich legacy of finding new ways to encourage the young and young at heart to imagine and dream.
Inner-City Arts, a Los Angeles-based organization founded on a dream to better the lives of children through creative exploration, has supported that same, significant philosophy since it opened its doors to four students in 1989. For nearly 20 years, The Walt Disney Company has joined Inner-City Arts in its mission to inspire underserved children and unlock their imaginations. This steadfast commitment has enabled us to reach hundreds of those dreamers and doers who will create a brighter tomorrow.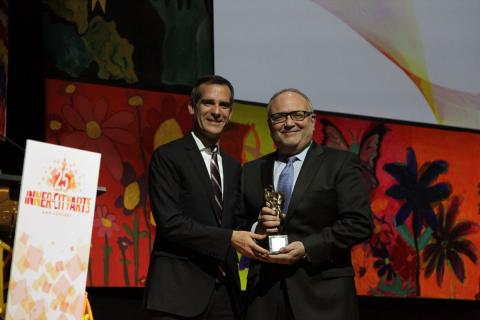 During Inner-City Arts' 25th Annual Imagine Awards ceremony, Disney was honored with thePhilanthropic Leadership Award, which recognizes our efforts that range from hosting workshop classes to connecting students with Walt Disney Imagineers. Upon accepting the award on Disney's behalf, Disney Senior Executive Vice President and Chief Financial Officer Jay Rasulo also made a surprise announcement that the Company will grant $1 million to the organization. The funds will support program development and expansion of Inner-City Arts' Creativity Lab over three years, along with establishing an endowment for the lab. Disney help set up The Creativity Lab with a start-up grant in 2011, and the program continues to encourage students to pursue tasks and challenges using creative thinking and creative problem solving.
"Creativity is fast becoming the main currency of a global economy that rewards new ideas and problem-solving skills," Jay said during his speech. "It's only by expanding their imaginations that our kids will be able to realize their biggest dreams, and take all of us with them to new heights of possibility. As a company built on creativity and innovation, Disney is proud to work with Inner-City Arts to provide even more kids with the tools, resources and inspiration they need to build the future they imagine is possible."
Inner-City Arts President and CEO Bob Smiland added: "We are excited to build on the foundation of our nearly two decade collaboration with The Walt Disney Company. This significant gift will help Inner-City Arts continue to unlock the creative potential and expand the capacity for innovation of thousands of young people from underserved neighborhoods."
This commendation marks another milestone in our history of supporting creativity, not only at the Company but also within our community. Watch the video above to hear from current Inner-City Arts students and its co-founder Bob Bates.