For five years, the U.S. Department of State and espnW have connected dozens of women around the globe through their "Global Sports Mentoring Program" in an effort to build sports initiatives and opportunities for underserved women and girls worldwide.
Jill Hotchkiss, vice president, Marketing and Creative, Disney XD, is a recent participant of the program, which was launched in June 2012 by former Secretary of State Hillary Rodham Clinton and ESPN President John Skipper. Hotchkiss serves as a mentor to Rima Awni Yacoub, a gold medal jiu-jitsu athlete from Jordan who is creating a girls' sports and mentorship program for Ruwwad, a nonprofit in her community.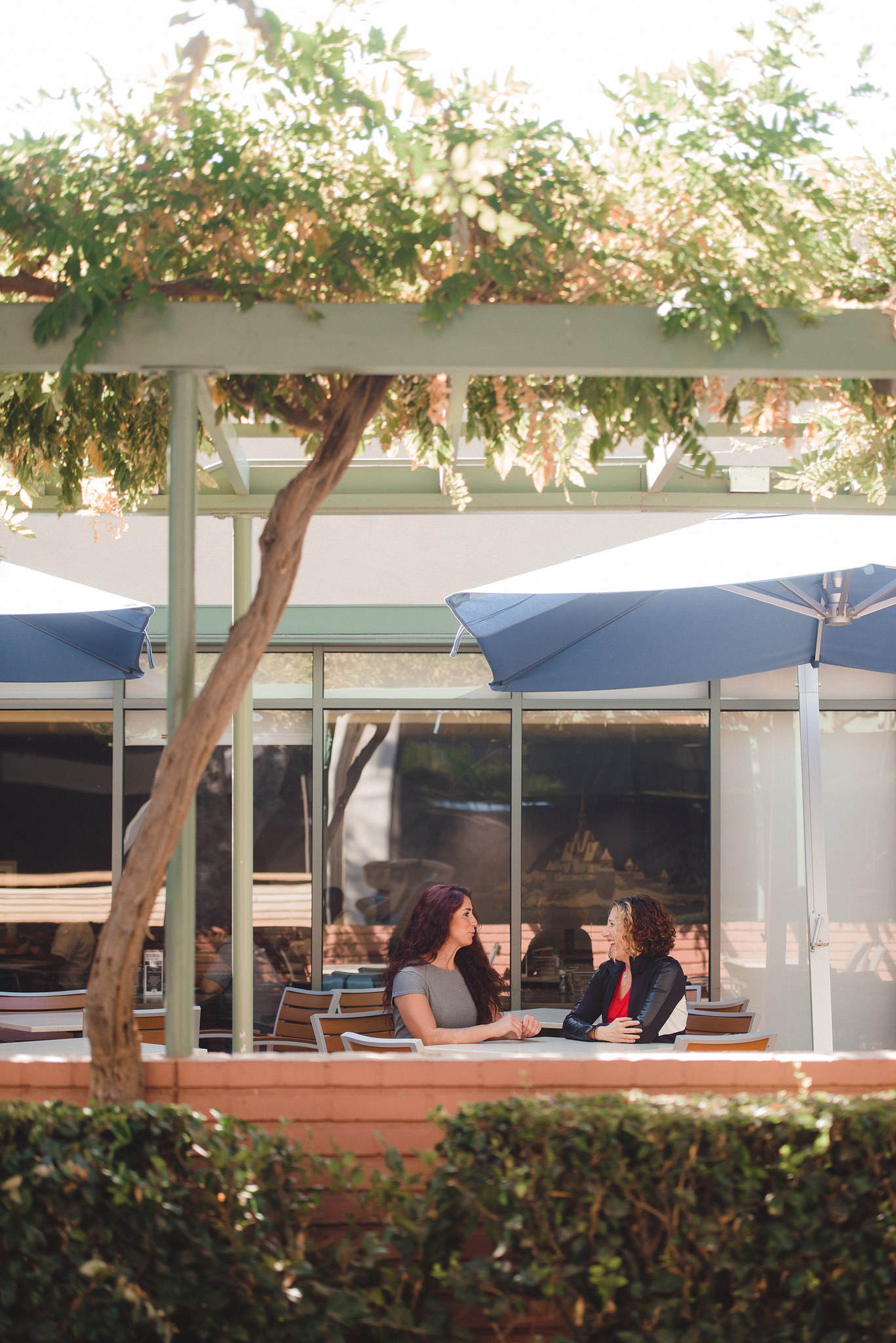 (Pictured L-R: Rima Awni Yacoub and Jill Hotchkiss on The Walt Disney Studios lot in Burbank, California – Photo credit: U.S. Dept. of State in cooperation with University of Tennessee Center for Sport, Peace & Society. Photographer: Jaron Johns)
Below, Hotchkiss and Yacoub discuss how the experience has empowered them both professionally and personally.
Jill, how has The Walt Disney Company supported your passion to be a mentor?
Jill Hotchkiss (JH): Philanthropy and volunteerism are part of Disney's heritage and some of the main reasons why I enjoy working here. On a daily basis over the years, my managers and leaders have also taken an active role in my growth and development. The opportunities provided to me include the Disney|ABC Television Group Mentor program through which I was a paired with a dynamic mentor, Andrea Wong. She taught me to push myself and network across divisions to achieve our goals as a team. Now, through the Global Sports Mentoring Program, it's my turn to participate in supporting the aspirations of others, which is deeply satisfying to me professionally and personally because it's an opportunity to show my children how to give to the community and to the world.
What led you to participate in the Global Sports Mentoring Program?
JH: I attended the espnW Summit in 2015 and was introduced to Tashi, a mentee in the Global Sports Mentoring Program. Tashi was part of the first twin team to summit Mount Everest, all to promote the hardships of the girl child in India. She explained to me that climbing was a passion, a way of promoting leadership, and that her sport gave visibility to her and her twin sisters' cause. Her journey inspired me to involve myself in the program and to serve as a mentor.
How has working with Rima changed you, both professionally and personally?
JH: We read about the global challenges of others, yet that feel those words are distant and the challenges thousands of miles away. Rima has brought her work and love for humanity to me face to face. It's a contagious might and will that she has for helping the women and children in underserved areas in Amman, Jordan. She has truly awoken a spirit in me to be involved in helping women on a global scale. It makes complete sense that Rima in Arabic means White Antelope; a master of delicate maneuvers, nimble and fearless.
Why do you think it's important for female executives to reach out and work with the leaders of tomorrow?
JH: We have stood on the shoulders of those that have come before us. It is critical that we follow along this path. We, as women leaders, need to lift future women executives up and over any hurdles we might have encountered.
Rima, what did you hope to gain from participating in a program like this?
Rima Awni Yacoub (RAY): I was hoping to get some clear guidelines and direction on how to start with my project back home, in order to use sports to tackle the issues in some underserved communities. I also had in mind networking and all the connections I could build with individuals and organizations that will help me in the future.
What has it been like to have Jill as a mentor?
RAY: Jill is so passionate and puts her heart into every single thing she does. She has amazing skills, knowledge, capabilities, and experience, and she knows exactly how to address different issues. Her capabilities, along with her dedication, enthusiasm, and passion, helped me not only reach my goal, but also gain so much, too, both on the professional and the personal level.
Where will this experience take you and your pursuits in the future?
RAY: This experience has opened up many opportunities for me to implement something back home that will help the communities that need it most—even more than I was hoping for. This is only the start, and it is only a matter of time until we see something on the actual ground. I will have a fingerprint in the field of sports for helping women and children, especially in marginalized communities, and I will work on paving the way for the leaders of the future.