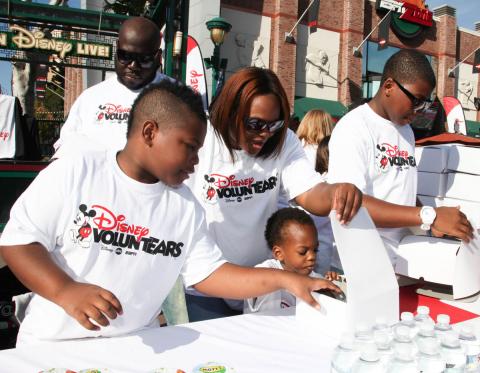 November marks the beginning of the most wonderful time of the year, especially at Disney. Our VoluntEARS are kicking off the season with the "Share the Joy" campaign, which provides volunteering opportunities for Disney employees across the country.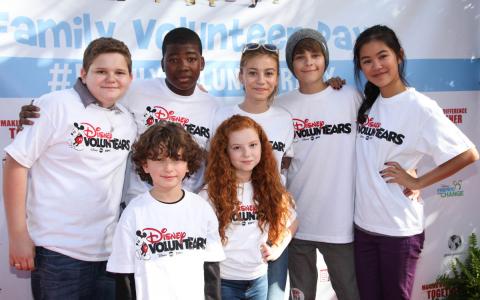 The first "Share the Joy" event took place this past Saturday, on Family Volunteer Day, where employees and their families got a head start on spreading holiday cheer in their neighborhoods. Disney Friends for Change—a global initiative that inspires kids and their families to make a lasting, positive change by helping people, communities and the planet—and Points of Light's generationOn initiative invited mom, dad and kids of all ages to come together for a fun-filled day of service. From local clean-up projects to providing Thanksgiving meals for others in need, thousands of people rolled up their sleeves to help strengthen their communities. One of those special projects took place at Downtown Disney in Anaheim, California. Hundreds of VoluntEARS joined together and packed 5,000 snack packs for kids to help a local food bank. Several Disney stars, including Dog With a Blog's G. Hannelius, Girl Meets World's Corey Fogelmanis and Kirby Buckets' Mekai Curtis, were also on hand to help and became Disney VoluntEARS for the day.
Perhaps the best part of Family Volunteer Day is spending time with your loved ones, an activity that we value and embrace at Disney. To build on the Company's rich history of creating memorable experiences that bring families together, Walt Disney Parks and Resorts hosted dozens of nonprofits from across America at the Disneyland Resort earlier this year for a two-day symposium called "Discover Together." The event ignited an important conversation on how adults can make a difference in children's lives by spending meaningful time with them. Disney extended its partnership with generationOn through "Discover Together," which used the organization's Ready-Set-Go! resource guide that helps nonprofits better engage family volunteers.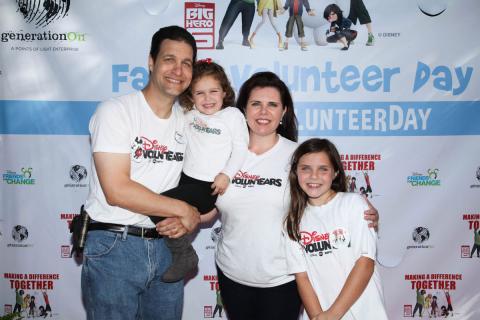 Leading up to Family Volunteer Day, Disney and Points of Light teamed up to build excitement for the annual event all week long by recognizing 10 extraordinary families with the Daily Point of Light Awards, which honors people and families who spark change and improve the world. And to celebrate the 25th anniversary of the award, Greg Georgantas, a Disney VoluntEAR from the Disneyland Resort, and his family were named as one the week's recipients. Learn more about some of these outstanding individuals by visiting the Points of Light blog.
What a perfect way to kick off a week in which we give thanks! To learn more about some additional Family Volunteer Day activities, visit the Disney Parks Blog.