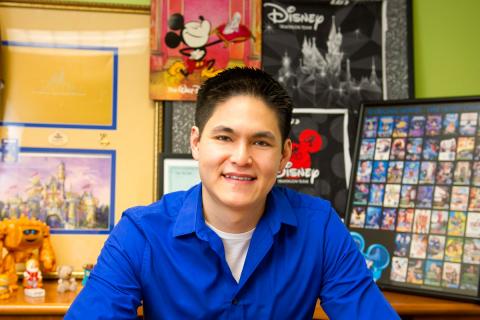 In recent years, the Disney/ABC Television group has launched innovative apps for mobile devices, such as WATCH ABC, WATCH Disney Channel, WATCH Disney Junior and WATCH Disney XD. The group has also provided kids and families with "appisodes" for some of their favorite Disney Junior series. Disney Junior recently debuted "Miles from Tomorrowland: Runaway Shuttle," the first interactive appisode for the popular series, in the newly redesigned Disney Junior Appisodes app.
Robert Yoshioka joined The Walt Disney Company in 2011 as an MBA Graduate Associate. We sat down with Robert, to hear about his current role as an associate product manager for Disney Channel's Digital Media team.
Describe your current role
I am an associate product manager for Disney Channels' Digital Media team. I primarily focus on the Disney Junior Appisodes portfolio and our blue-sky mobile product development. For Appisodes, I manage our Android development teams and most recently have been leveraging my design background to update the overall user interface and experience for our flagship iOS container.
What's the most interesting part of your job?
One of the most interesting parts of my job is just being in the incredibly fast and always evolving digital media and app space. I love learning about new, cutting-edge technology and brainstorming how it will help our guests connect with our stories and characters in a more meaningful, deeper way. It still amazes me how 2-year-olds are instinctively picking up iPads and launching their favorite Disney Junior Appisodes all on their own!
What has been your favorite assignment/project?
My favorite project has been leveraging Walt Disney Parks and Resort's Toy Box training to develop Disney Channel Drop Zone. The two-day course taught me how to brainstorm effectively and look for the unique opportunities that make Disney products and experiences truly magical. With Disney Channel Drop Zone, I utilized the Toy Box to push our development teams to think beyond the traditional mobile gaming space and create an experience that would not only meet our business objectives but also surprise and delight our fans.
Any fun memories or moments you've had while working at Disney?
In an equally sized frame, next to a picture of my wife, I have a photo of Bob Iger and me wearing the Disney Triathlon uniform I designed. I have had the amazing opportunity to work with a cross-Line-of-Business team of creatives to design the Tri Team uniforms for the past two years. Not only has it been unbelievably inspiring to work with these designers, artists and Imagineers, but it is truly a dream come true to see Bob wearing the jersey I designed.
What's the best part of working at Disney Channel?
I love working with our amazing stories and characters. From the new Mickey Mouse shorts to Sofia the First to Star Wars Rebels, it is such an exciting privilege to be able to create products and engaging experiences with these incredible properties.
Visit DisneyCareers.com to learn how you can join our team. Follow us on Facebook at Facebook.com/DisneyCareers and Twitter at Twitter.com/DisneyABC to keep up with all our current openings.