First up, a food scientist. Yep, you heard that right! I recently sat down with Rebecca from Disney Consumer Products to find out what she does as a food scientist at Disney.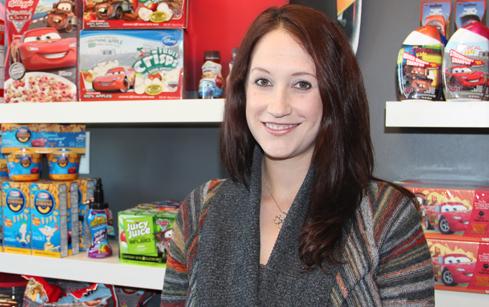 Full Name: Rebecca Skolmutch
First Day at Disney: September 24, 2007
Title: Manager, Product Development
You work in product development, but you happen to be a food scientist. Can you tell us more about your role?
I work on the team responsible for food, health, beauty and pet products. We regularly partner with licensees, and part of my role is to review the product packaging for nutritional compliance.
I have a degree in food science and nutrition because a big part of my role is ensuring that Disney-branded food products meet our nutritional guidelines. As part of Disney Magic of Healthy Living, we're always trying to partner with parents to inspire kids to lead healthier lifestyles. I'm able to speak with licensees on a technical level to get them excited about our commitment. From there, we work together to create product formulations to reduce sugar, sodium and saturated fat.
You mentioned Disney Magic of Healthy Living. Is it a challenge to develop foods that meet specific guidelines?
Our biggest challenge is making sure that we develop products that taste great and meet our nutritional guidelines. It's a challenge, but it's fun because it can lead to some innovative products. A cool new product that we recently launched is flavored apple slices. We worked with one of our licensees to infuse apples with different flavors. The product is healthy, tastes great and is fun for kids of all ages.
So far, what's been your most memorable experience at Disney?
One of my favorite projects is an annual product development competition that Disney sponsors with the Institute of Food Technologists. The event brings together young food scientists from around the country and challenges them to start developing healthier foods for kids. The competition combines the excitement of Disney with hope for healthier generations.
What do you like best about your job?
I enjoy working with a variety of people from across the company to develop products that bring smiles to people's faces. Part of that is the opportunity to work with our international teams. In getting exposure to different cultures, I get to see how Disney characters and the warmth of the Disney brand resonates with families around the world.