Strolling through the Glendale Central Creative Campus, we bump into Melissa Cassara, a third-generation Disney employee. "My grandfather worked at the Studio as a carpenter, and my father was a set dresser and would often work on Disney productions. My mother even worked on the Studio lot," she says. "I feel special carrying on the Disney tradition in my family."
Currently a designer for Disney Consumer Products' (DCP) Consumables division, Melissa got her start at the Company through the Disney Professional Internships program. As a former intern myself, it's always great to hear about counterparts who were able to find a role at Disney after they completed their internship.
In the conversation below, Melissa talks to us about her experience with the program and why it was so meaningful for her career as a designer, along with providing some tips for those who are interested in Disney internships.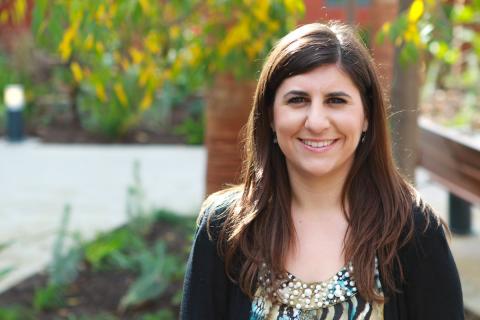 Name: Melissa Cassara
First Day at Disney: September 6, 2011
Title: Designer
What did your internship focus on?
I worked on packaging and product development for Consumables. The team adds Disney magic and storytelling to everyday household objects, making products fun for kids. The items include cereal boxes or bandages with Disney characters. I mainly designed food packaging for various licensees. My largest project was designing a line of packaging designs for fruit snacks using seven different Disney franchises. Months after finishing the project, it was so exciting to see my packaging designs actually come to life on store shelves!
How did it prepare you for your current role/career?
As an intern working on packaging design, I had to come up with a vision for the design of Disney co-branded licensed product. I still work on packaging and product development for various Consumables categories, and now I'm part of the larger branding team in Central Creative. My internship was also my first introduction to the licensing business, and I got to learn the creative process of how a product actually goes to market.
What's the most important lesson you learned?
How important networking is! The Disney Internships program promoted networking through Company events and meet and greets. As a result of a Disney connection, I was able to get hired right away at a different company after my internship ended. My internship experience was so fantastic that I knew I wanted to come back to Disney. I kept a good relationship with my previous manager and she notified me when a designer position opened up. I was thrilled to return to DCP!
What was so special about your internship with DCP?
It was an incredible experience to be a part of the Disney magic, and so much fun getting to work on packaging for beloved Disney brands and characters. I looked forward to going into work every day because it felt more like fun than work! I loved the creative atmosphere at Disney. The Disney culture encourages storytelling and product innovation, which creates an incredibly stimulating work environment. I was also able to join in on so many special and memorable events, including talks with Disney Legends.
What advice would you give future interns?
Disney is a large company, and we are so lucky to have so many wonderful resources and opportunities here. Be open, put yourself out there and take advantage of every opportunity. You never know whom you can meet or where it will lead you! Work hard, be nimble and flexible, network and follow your passion.
Why should students apply to become interns at Disney?
A Disney internship gives you real working experience. I was empowered to use my skills to contribute towards the company. I learned a lot and grew in my career. It is a tremendous opportunity and will definitely be a unique, exciting experience that you will never forget.
If you're interested in learning more about internships at Disney, click here, and follow Disney Interns on Facebook and Twitter.