Once you step inside Walt Disney World Resort, you can't miss the ear-to-ear smiles and cheerful faces of our Cast Members who are ready to help create memories that our guests will always cherish. And there's no better time to join the Cast at Walt Disney World Resort in the quick service restaurant, transportation, housekeeping and vacation planning areas in full-time, part-time and seasonal opportunities.
To give you a sneak peek at what it's like to be a part of the magic, we took a trip to the award-winning Be Our Guest Restaurant inside Magic Kingdom Park. We met with Cast Member Andrew Bosko, who gave us an inside look into his role as a food services coordinator.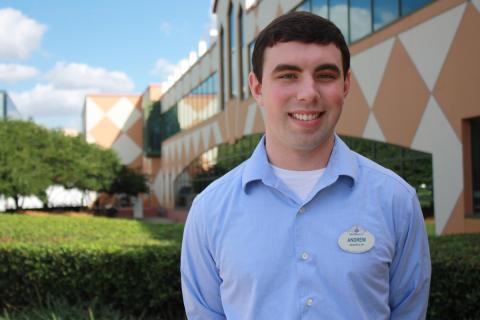 Name: Andrew Bosko
First Day at Disney: November 22, 2011
Title: Food Services Coordinator
You have a unique opportunity to create the ideal experience for so many guests around the world. Tell us about your role.
My team brings outstanding quality service and food to our guests at Magic Kingdom Park. We are also proud to be the first "flex" restaurant that offers lunch at a fast casual pace, and for dinner, transforms into a table-service restaurant with three separate themed dining rooms. No matter when you're enjoying a meal, Be Our Guest Restaurant brings the story ofBeauty and the Beast alive in every detail around you. And as the restaurant transforms, there are many food and beverage roles that Cast Members can perform throughout the day including, cashier, host, filler, busser, stocker and more. Each Cast Member also plays a unique role in telling the story of Belle and Beast.
What do you enjoy most about working at Walt Disney World Resort?
I absolutely love working for Walt Disney World Resort. As a Cast Member, I also have a one-of-a-kind opportunity to work with people from all around the world. And nowhere else can you end your workday with our fireworks show!
Walk us through a typical day in your role.
I approach each workday at Be Our Guest Restaurant with excitement. Our environment immerses guests in one of the most beloved Disney stories of all time. My favorite part of the day is when we open our doors to guests and our Cast Members welcome everyone with a magical moment in the courtyard.
What led you to pursue a career at Walt Disney Parks and Resorts?
I have a passion for food and beverage, thanks to my work at Walt Disney World Resort, and this inspired me to start my degree in Hospitality and Tourism Management in Orlando. There is so much opportunity for growing my career at Disney and the Company recognizes its employees for outstanding service, which helps reinforce my goals.
If Andrew's experiences inspired you to take the next step and search for a career at Walt Disney World Resort, please click here. You can also follow Walt Disney World Jobs on Facebook and Twitter to get real-time updates about available positions and opportunities.