The Disney Reef, a colorful, underwater-themed outdoor play area, has officially opened at Great Ormond Street Hospital (GOSH) in London, England, where today it was revealed for the first time to patients and their families. The Disney Reef, positioned in the heart of the hospital, was designed by Walt Disney Imagineers, in collaboration with the hospital's dedicated Play Team and patients. It brings together special lights and sensory elements, as well as Disney favorites Mickey Mouse and Goofy, Ariel from The Little Mermaid and Hank from Finding Dory—all sculpted specifically for the Disney Reef. Every day, 618 seriously ill children from across the UK arrive at GOSH, and for those patients who spend weeks or even months on end at the hospital, the Disney Reef will be a vital outdoor space where they can spend time with siblings and family members, making treasured memories.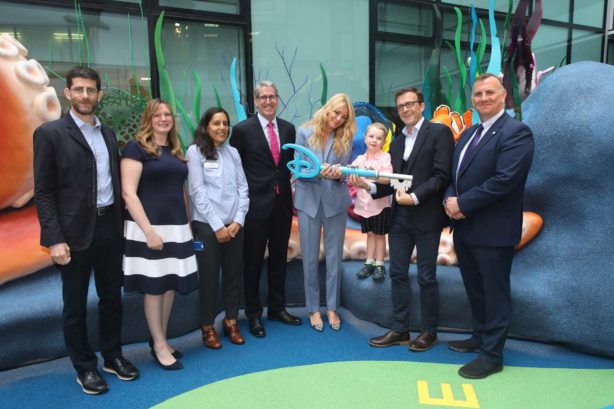 Matthew Grossman, Vice President of Social Responsibility for The Walt Disney Company in Europe, Middle East and Africa, said, "The Disney Reef will provide a comforting and inspirational space for the children GOSH cares for. In difficult times, such as serious illness, enabling children and families to spend quality time together helps build emotional resilience, giving them the strength and ability to cope. The Disney Reef will create moments that matter, and we're excited to see the benefit and enjoyment it will bring."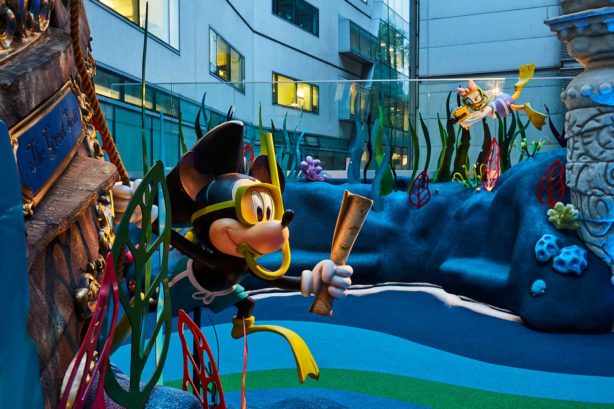 Great Ormond Street Hospital's Assistant Chief Nurse, Herdip Sidhu-Bevan, said of the space, "Thank you so much to Disney for bringing the amazing Disney Reef to Great Ormond Street Hospital. This is a very special space where children can take some much-needed time outside, away from the busy ward environment, and where they can relax and enjoy themselves together with their families. The Reef's design will accommodate patients with a wide range of conditions, and of all ages, so it's truly inclusive and will be a fantastic addition to the hospital."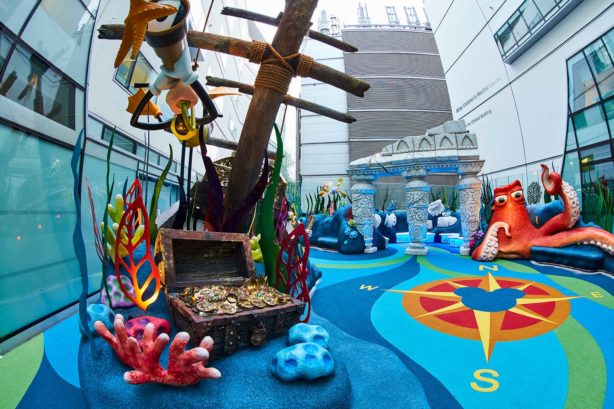 Disney's relationship with GOSH dates back to 1951, when Walt Disney first visited the hospital. Since then, the two organizations have frequently worked together to create moments that matter for young patients. In 2008, Disney committed to raise £10 million through the Disney Appeal for Great Ormond Street Hospital Children's Charity which concluded in 2014. The Company has an ongoing commitment to continue to deliver magical experiences for patients and their families from mini-premieres, to character and talent visits, to bedside screenings of Disney's films and television shows. The opening of the Disney Reef celebrates one of the future experiences patients will enjoy, and demonstrates how the money raised enriches the lives of many seriously ill children and those closest to them—including the Disney Interactive Play Area located in the Hospital's Lagoon Restaurant.
The Disney Reef is part of The Walt Disney Company's innovative plan to reinvent the patient and family experience in children's hospitals around the globe. In March, Disney Chairman and CEO Bob Iger announced a five-year plan to commit more than $100 million in company resources to reimagine children's patient journeys both in and out of hospitals. In addition to remodeling hospital playrooms and lobbies, Disney partners with children's wish-granting organizations, such as Make-A-Wish®, and nonprofits around the world that include GOSH Children's Charity, MediCinema and Together for Short Lives in the UK to bring comfort and inspiration to seriously ill children and their families.