The Walt Disney Company announced today that it will continue to deliver joy to children's hospitals across the globe in 2023 by expanding access to innovative programs specially designed for children's hospitals such as mobile movie theaters, complimentary content access, additional character-themed hospital wear, special deliveries, and in-hospital installations for about 750 children's hospitals and pediatric places of care around the globe. These efforts are part of Disney's $100 million global commitment from 2018 to help reimagine the patient experience in children's hospitals in hopes of delivering joy and comfort to children and their families, as well as the Company's continued collaboration with Starlight Children's Foundation to bring the positive power of Disney stories to children's hospitals.
"Teams from across Disney, including our world-renowned Walt Disney Imagineers, worked with a global network of experts to identify unique experiences we could provide to ease the anxiety of a hospital stay for children around the world," said Jennifer Cohen, executive vice president, corporate social responsibility for The Walt Disney Company. "Delivering joy builds on a legacy that started with Walt Disney himself, who brought animators and characters to visit hospitalized children."
Mobile Movie Theaters and Complimentary Content Access
This year, Disney is expanding access to its uplifting and engaging content to help ease the fear and anxiety of a hospital stay by broadening its mobile movie theater program, as well as its Disney+ and Disney Movie Moments initiatives, globally.
Beginning in January, Disney expanded its mobile movie theater program to children's hospitals around the world. Inspired by the cinema on Main Street, U.S.A., at Disneyland Resort in California, mobile movie theaters offer patients and their families places to gather and create memories while in the hospital, where they can enjoy the latest Disney storytelling through complimentary Disney+ access and first-run movies through Disney Movie Moments, both provided to child life professionals.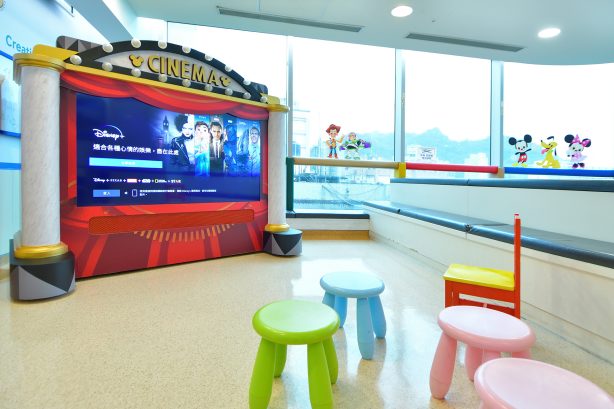 Mobile movie theaters are proven to be versatile and straightforward to implement in hospitals, and, unlike stationary displays or full-scale theaters, they can move across the hospital to provide flexible entertainment and engagement opportunities, or can be stored away to maximize utility and hospitals' limited space. Disney will deliver mobile movie theaters to hospitals in Australia, Hong Kong, Japan, New Zealand, Singapore, Taiwan, and the United States, as well as throughout mainland China and Europe, in the first half of 2023. The theaters will complement the specially designed Disney interactive murals installed at select hospitals, to draw the patients into the enchanting world of Disney.
Building on a successful United States-based pilot program, in 2022 Disney began the global rollout of Disney+ into children's hospitals in over 30 countries. Now, one year since this expansion kicked off, over 430 children's hospitals in 17 countries have access to this service. This year, Disney is continuing work toward its 30-country goal, focusing next on locations such as Greece, Mexico, and Japan.
"We are so grateful for the opportunity to work with Starlight Children's Foundation in the U.S. and other wonderful organizations abroad to deliver joy when it's needed most through beloved Disney stories," said Alisa Bowen, President of Disney+ and Vice Chair, Board of Directors, Starlight Children's Foundation. "Through access to Disney+ in children's hospitals, we're seeing the power of storytelling in action, creating a more positive experience for young patients and their families around the world."
In the United States, and launching in Australia this year, the Disney Movie Moments Program also brings special screenings of newly released Disney movies to the mobile movie theaters, offering opportunities for families to create happy memories, even in the hospital.
Disney-Themed Starlight Hospital Wear and Deliveries
In collaboration with Starlight Children's Foundation, Disney brings the positive power of Disney stories, characters, and immersive experiences to children's hospitals.
Disney-themed Starlight Hospital Wear reimagines the traditional hospital gown with familiar characters and designs from Marvel, Star Wars, Pixar, Frozen, Mickey & Friends, ESPN, and Disney Princesses, providing patients with their choice of fun, comfortable clothing to wear during their hospital stay. This year, Disney will introduce new designs featuring beloved characters, such as Mirabel from Encanto, and will expand the Hospital Wear program outside of the United States for the first time, bringing the program to hospitals in Japan, Singapore, Taiwan, and France beginning in March.
Moreover, Disney and Starlight Children's Foundation deliver packages of toys, books, games, and movies that bring patients moments of delight and comfort in familiar, beloved stories and characters. Early this year, Disney will roll out a new delivery that celebrates Disney stories and memories, honoring those who have welcomed those stories into their lives throughout the last century. In addition, Disney will share 40,000 activity packs of games with children's hospitals across Europe throughout 2023.
"We're honored and grateful to have a longstanding relationship with Disney in helping us bring happiness to seriously ill kids and their families," said Adam Garone, CEO of Starlight Children's Foundation. "Together for over 20 years, we've been transforming the hospital experience through programs that entertain and provide comfort to kids at a time when they need it most."
For more information about Disney's Children's Hospital Initiative, please visit joy.disney.com. To learn more about The Walt Disney Company and Starlight Children's Foundation relationship, visit starlight.org/Disney.