As the US Open reaches the men's and women's finals, and fans gear up for a weekend of college football and the opening of the NFL season, it's unfortunate that Charter decided to abandon their consumers by denying them access to Disney Entertainment's great programming.
While they have stated their "indifference" to the needs of millions of paying customers, Disney will not lose sight of what is most important—investing in the highest-quality stories, news and sports for our audience.
The question for Charter is clear: Do you care about your subscribers and what they're telling you they want—or not? Disney stands ready to resolve this dispute and do what's in the best interest of Charter's customers.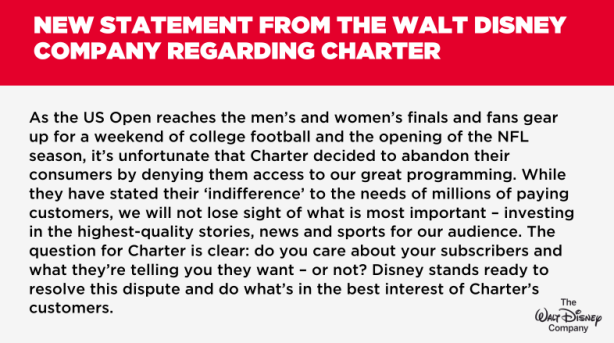 Charter rejected Disney's multiple offers to extend negotiations before taking Disney Entertainment's networks down on August 31. The company seems determined to functionally exit the video business with Disney Entertainment and deny millions of paying subscribers access to Disney's content in the process.
Disney has proposed creative ways to make its streaming services available to Charter's Spectrum TV subscribers—including opportunities for new and flexible packages where those services become a focal point of what the consumer might choose. Although Charter claims to value Disney's direct-to-consumer services, they are demanding these services for free, which does not make economic sense.
As stated, Disney is ready to end this dispute and bring its amazing content to Charter's customers, including hours of exciting live sports.
Yet, if the impasse continues, consumers luckily have many other choices—such as Hulu + Live TV, DIRECTV Stream, YouTube TV, Sling, and Fubo—that allow them to enjoy the Disney Entertainment's programming. Also, it should be noted that the ABC Owned Television Stations will always be available over the air at no cost to the consumer.