On Wednesday, October 2, the international humanitarian organization Save the Children honored Disney Chairman and CEO Bob Iger with its Centennial Award. Iger received the award during Save the Children's West Coast centennial celebration in Beverly Hills, California, for his continuous efforts to improve and protect children's lives, every day and in times of crisis, and to lift the spirits of children and families around the world.
For more than 100 years, Save the Children has maintained a commitment to give children a healthy start in life, the opportunity to learn and protection from harm. Wednesday night's event—a culmination of the organization's 100th anniversary—celebrated Save the Children's mission to do whatever it takes for the most vulnerable children in the United States and around the world.
The event was hosted by Jennifer Garner and speakers included Save the Children CEO Carolyn Miles and Disney Legend Oprah Winfrey, who presented the Centennial Award to Iger.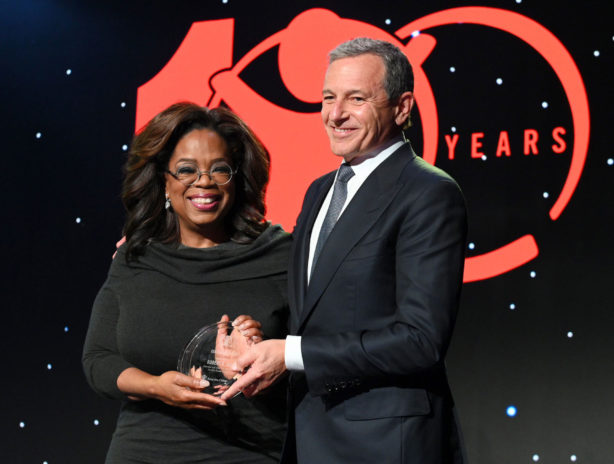 "Kids have always been at the heart of Disney's philanthropic efforts, so what better organization for Bob Iger to join forces with, than one that shares Disney's values so perfectly," said Winfrey. "Under Bob's leadership, the focus on children and their needs has only deepened. As a company, Disney creates content that delights, educates and inspires little ones—and I'd say more than a few grown-ups too. Bob has encouraged the company to use its unique assets, beloved characters, and an ability to tell timeless stories, to bring comfort to children and families going through some incredibly challenging circumstances."
"It's impossible to listen to the inspiring stories we've heard tonight and not appreciate the power of children and the need to protect them in order to unleash their talent, unlock their potential and create boundless opportunities for them," said Iger as he accepted the award. "But far too many children live without the protection, respect and support they deserve, and the mission of Save the Children is more critical than ever—but they can't do it alone. We all have a responsibility to be part of the solution—as individuals, as leaders and as corporations with the reach and resources to make a real difference."
Under Iger's leadership, The Walt Disney Company has partnered with Save the Children on an ongoing basis to make a lasting difference in children's lives. The Company has supported the organization's emergency preparedness, response and recovery efforts worldwide by prepositioning supplies in areas vulnerable to disaster, creating innovative programs to raise awareness and funds to serve the needs of children, and providing school supplies, personal care products, toys and books. For well over a decade, Disney also has made significant contributions in the wake of natural disasters and other global emergencies around the world.
Acknowledging the many employees and cast members who help support Disney in its mission to be an honorable company that delivers comfort to those in need and inspiration and opportunity to those who want to improve their world, Iger said, "I'm honored to accept this award, and I proudly share it with the thousands of Disney employees who volunteer their time and talents to make the world a better place, especially for children."