Today at D23 Expo presented by Visa®, Disney Branded Television revealed exciting new projects and released never-before-seen content for its series and movies across Disney+, Disney Channel, and Disney Junior during a presentation titled "Disney's Epic Entertainment Showcase: The Musical: The Extravaganza!" Disney Branded Television president Ayo Davis made the announcements with some help from the casts and creative teams of current and upcoming titles.
"At Disney Branded Television, we create shows full of magic, adventure, thrill, and heart that resonate with audiences around the world," Davis said. "Our announcements today spotlight the breadth and depth of our commitment to entertaining fans of all ages, across animation, live-action series and movies, unscripted, and documentaries."
Raven-Symoné and Lilly Singh hosted the star-studded showcase that was jam-packed with spectacular live performances and heartfelt moments. The festivities kicked off with The Electric Mayhem performing "Can You Picture That?" followed by the cast of High School Musical: The Musical: The Series singing a medley, including "Love Is an Open Door" from Frozen, and "High School Musical" from High School Musical 3: Senior Year.
Read on for all the spectacular announcements from the showcase.
Disney+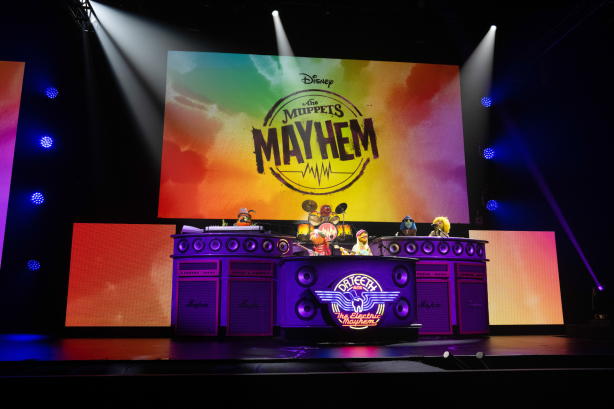 The Muppets Mayhem
Coming to Disney+ in 2023, The Muppets Mayhem is an all-new comedy series that follows The Electric Mayhem Band on an epic, music-filled journey to record their first-ever studio album. The band includes Dr. Teeth on vocals and keyboards, Animal on drums, Floyd Pepper on vocals and bass, Janice on vocals and lead guitar, Zoot on saxophone, and Lips on trumpet.
With the help of a driven young music executive, Nora (Singh), the old-school Muppet band comes face-to-face with the current-day music scene as they try to finally go platinum. The Muppets Mayhem also stars Tahj Mowry as Moog, Saara Chaudry as Hannah, and Anders Holm as JJ in a recurring role.
The Electric Mayhem's rockin' performance of "Can You Picture That?" is now available for streaming! To tide you over before the series' debut, click here.
The series was developed by Adam F. Goldberg, Bill Barretta, and Jeff Yorkes, based on characters created by Disney Legend Jim Henson. It is written by Goldberg, Barretta, and Yorkes, and executive produced by Goldberg, Barretta, Michael Bostick, and Kris Eber. Yorkes is a co-executive producer. The Muppets Studio's David Lightbody and Leigh Slaughter are also executive producers.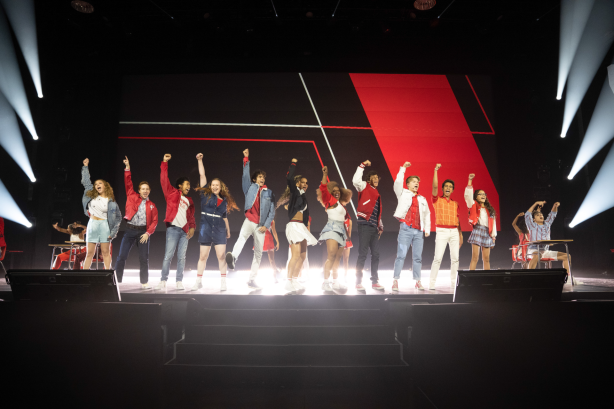 High School Musical: The Musical: The Series
Season 3 of High School Musical: The Musical: The Series is streaming now on Disney+, and the Wildcats are spending their summer at Camp Shallow Lake, a sleepaway camp in California. The Wildcats and their fellow campers are primed for an unforgettable summer with romance, curfew-less nights, and time in the great outdoors. With a high-stakes production of Frozen on the horizon and a drama-filled docuseries of the production, the Wildcats will attempt to show who is "best in snow" without leaving anyone out in the cold. The season finale launches Wednesday, September 14, exclusively on Disney+.
The third season stars Joshua Bassett as Ricky; Sofia Wylie as Gina; Matt Cornett as E.J.; Julia Lester as Ashlyn; Dara Reneé as Kourtney; Frankie Rodriguez as Carlos; Saylor Bell Curda as Maddox; and Adrian Lyles as Jet. Also featured this season are recurring guest stars Corbin Bleu as himself, Meg Donnelly as Val, Jason Earles as Dewey Wood, Kate Reinders as Miss Jenn, and Olivia Rodrigo as Nini—as well as guest stars Olivia Rose Keegan as Lily, Larry Saperstein as Big Red, Joe Serafini as Seb, Jesse Tyler Ferguson as Marvin; and JoJo Siwa as Maddox. High School Musical: The Musical: The Series is created and executive produced by Tim Federle.
High School Musical: The Musical: The Series fans can now rejoice, because a fourth season is coming! After an epic summer at Camp Shallow Lake, the Wildcats return to East High, where they will prepare a stage production of High School Musical 3: Senior Year. On their first day back, the principal announces that Disney has decided to make the long-awaited High School Musical 4: The Reunion movie on location at their beloved high school, and our Wildcats will be playing featured extras in the movie. It's season four, and it's now or never.
American Born Chinese
The cast and creative team of the American Born Chinese, including Michelle Yeoh, Ben Wang, Ke Huy Quan, and Daniel Wu, unveiled a first look at the new Disney+ Original series debuting in 2023.
Based on the genre-hopping graphic novel by Gene Luen Yang, American Born Chinese tells the story of Jin Wang (Wang), an average teenager juggling his high school social life with his home life. When he meets a new student on the first day of the school year, even more worlds collide as Jin is unwittingly entangled in a battle of Chinese mythological gods.
The series also stars Yeo Yann Yann as Christine Wang, Chin Han as Simon Wang, Quan as Freddy Wong, Jimmy Liu as Wei-Chen, Sydney Taylor as Amelia, Wu as Sun Wukong "The Monkey King," and Yeoh as Guanyin.
Percy Jackson and the Olympians
The stars of Percy Jackson and the Olympians—Walker Scobell, Aryan Simhadri, and Leah Sava Jeffries—introduced an exclusive sneak peek of the highly anticipated live-action series coming soon to Disney+.
The Proud Family: Louder and Prouder
The Prouds are back with an all-new season in February 2023! Season 2 of The Proud Family: Louder and Prouder picks up the story of its central character, Penny Proud (voiced by Kyla Pratt), and includes her madcap family: parents Oscar (voiced by Tommy Davidson) and Trudy (voiced by Paula Jai Parker), twin siblings BeBe (voiced by Aiden Dodson) and CeCe (voiced by Bresha Webb), and grandmother Suga Mama (voiced by Jo Marie Payton). Of course, it would not be The Proud Family without Penny's loyal crew: Dijonay Jones (voiced by Karen Malina White), LaCienega Boulevardez (voiced by Alisa Reyes), Zoey Howzer (voiced by Soleil Moon Frye), and Maya Leibowitz-Jenkins (voiced by Keke Palmer), among others.
Voice talent and executive producers Bruce W. Smith and Ralph Farquhar shared a teaser trailer of what's to come for the beloved animated family.
Growing Up
Creator Brie Larson and Hero Vanessa Aryee of the new innovative docuseries Growing Up took the stage to share what it means to be a part of the series.
Growing Up explores the challenges, triumphs, and complexities of adolescence through 10 compelling coming-of-age stories. Each episode of the series uses narrative, experimental, and documentary filmmaking to follow one casted individual, age 18-22, as they tell their story. The youths represent a wide range of lived experiences, giving audiences emotionally powerful narratives that offer an engaging look at teenage-hood and the diverse social, familial, and internal obstacles young people face on their path to self-discovery and acceptance. Each 30-minute episode features one young person or "hero" and their experience growing up. Each episode is anchored by a deeply personal interview that allows our heroes to walk us through their childhood and teenage years. Alongside these interviews, creative cinematic reenactments help bring their major inflection points to life.
All episodes of Growing Up are available to stream now on Disney+.
Best in Snow
Best in Snow, a festive holiday special hosted by Tituss Burgess, transports artistic teams from around the world to a magical snowy village, Snowdome, for a spirited competition for the title of Best in Snow. With the help of Snowdome's finest carvers, teams will transform their 10-foot, 20-ton blocks of snow into beautiful creations inspired by Pixar, Marvel, Walt Disney Animation, Walt Disney Studios, and The Muppets Studio. The teams focus on family favorites such as Moana, Coco, and The Lion King, and bring the characters to life in a way you've never seen before—in snow! Spectacular snow sculptures and lively musical performances from Burgess, Kermit the Frog, and DCappella make this an action-packed winter event for the entire family. The special premieres this holiday season on Disney+.
Pentatonix: Around the World for the Holidays
Superstar a capella group Pentatonix is struggling to find inspiration for their annual holiday album, and the clock is ticking. To make matters worse, their well-intentioned but misguided manager mistakenly locks them in a magic mailroom. But with the help of some Disney magic, we're soon on a whirlwind tour around the world, discovering holiday traditions and inspiration from Pentatonix fans all around the globe: from Tokyo to Grenada, Ghana to Mexico and Iceland. The fun-filled journey leads the group to realize that wherever we find ourselves, the holidays offer the perfect opportunity to discover how much we have in common—and that it really is a small world after all!
The cast includes Mitch Grassi, Scott Hoying, Kirstin Maldonado, Kevin Olusola, and Matt Sallee of Pentatonix, and Nico Santos as manager. Pentatonix: Around the World for the Holidays debuts this holiday season on Disney+.
The Hip Hop Nutcracker
Run-D.M.C.'s Rev Run brings us along for a hip-hop reimagining of The Nutcracker ballet set in New York City. It's the night of the annual New Year's Eve block party and Maria-Clara (Caché Melvin) is worried that her mom and pop (Allison Holker Boss and Stephen 'tWitch' Boss) aren't getting along… and it's bringing her down. Maria-Clara embarks on a holiday adventure to bring her parents back together, finding help along the way from the magical toymaker, Drosselmeyer (Comfort Fedoke) and the Nutcracker (Du-Shant "Fik-shun" Stegall) she brings to life.
Maria-Clara's journey takes her from the streets of New York to fantasy worlds where she battles with mice and toy soldiers (Viktor White, BDash, Kevin "Konkrete" Davis), and back in time to the Land of Sweets to find the key to unlock her holiday wish. Will it be enough to rekindle her parents' lost love before the clock strikes midnight? The special features best-in-class dancers Mikhail Baryshnikov, Tiler Peck, KidaTheGreat AKA Kida Burns, the Jabbawockeez as magical snowflakes, and more!
The Disney+ Original special The Hip Hop Nutcracker—directed by Nikki Parsons—debuts on Disney+ this holiday season.
The Santa Clauses
Disney Legend Tim Allen took the stage along with Elizabeth Mitchell, Kal Penn, and more to introduce the highly anticipated continuation of the beloved franchise. The first two episodes launch November 16 on Disney+ with new episodes airing weekly thereafter. Allen surprised D23 Expo fans with the first trailer of The Santa Clauses!
Scott Calvin (Allen) is on the brink of his 65th birthday and realizing that he can't be Santa forever. He's suddenly starting to lose his Santa magic—and, more importantly, he's got a family who could benefit from a life in the normal world, especially his two kids who have grown up at the North Pole. With a lot of elves, children, and family to please, Scott sets out to find a suitable replacement Santa while preparing his family for a new adventure in a life south of the pole.
National Treasure: Edge of History
The cast of National Treasure: Edge of History, including Lisette Olivera and Catherine Zeta-Jones, unveiled the first full trailer for the upcoming series. The series premieres with the first two episodes on December 14, exclusively on Disney+.
The Disney+ Original series National Treasure: Edge of History is an expansion of the National Treasure movie franchise, told from the point of view of a young heroine, Jess—a brilliant and resourceful DREAMer in search of answers about her family—who embarks on the adventure of a lifetime to uncover the truth about the past and save a lost Pan-American treasure. The series also stars Jake Austin Walker, Jordan Rodrigues, Zuri Reed, Antonio Cipriano, and Lyndon Smith.
Marvel's Moon Girl and Devil Dinosaur
The cast and creatives behind Marvel's Moon Girl and Devil Dinosaur unveiled the official trailer for the supercharged series coming to Disney Channel on February 10. The series will be available for streaming shortly thereafter on Disney+.
Marvel's Moon Girl and Devil Dinosaur, based on Marvel's hit comic books, follows the adventures of 13-year-old super-genius Lunella Lafayette and her 10-ton Tyrannosaurus rex, Devil Dinosaur. After Lunella accidentally brings Devil Dinosaur into present-day New York City, the duo works together to protect the city's Lower East Side from danger.
The series' voice cast includes Diamond White as Lunella (aka Moon Girl); Fred Tatasciore as Devil Dinosaur; Alfre Woodard as Lunella' grandmother, Mimi; Libe Barer as Lunella's best friend and manager, Casey; Sasheer Zamata as Lunella's mom, Adria; Jermaine Fowler as Lunella's dad, James Jr.; Gary Anthony Williams as Lunella's grandfather, Pops; and series executive producer Laurence Fishburne in the recurring role of The Beyonder, a curious and mischievous trickster.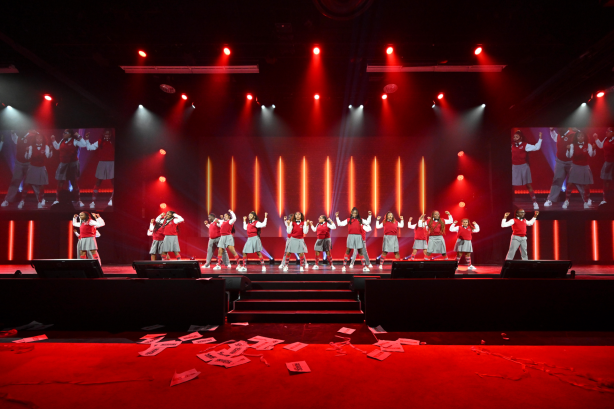 Choir
Fans got a first look at unscripted series Choir from Disney Original Documentary and were treated to a live performance by the show choir themselves. The new series, coming soon to Disney+, is based on the moving and motivational story behind America's Got Talent finalists the Detroit Youth Choir (DYC).
Madu
Disney Original Documentary announced the new documentary Madu coming soon to Disney+. The star of the documentary, Anthony Madu, was introduced onstage along with a sneak peek at the inspirational project.
Madu captures Anthony's story after being discovered through a viral 44-second video that was posted online in 2020 and garnered over 16 million views. Having grown up in an isolated community outside of Lagos and with almost no formal training, audiences will get a close look at Anthony's journey after being awarded a scholarship to Elmhurst Ballet School, one of the most prestigious ballet schools in the United Kingdom. Anthony comes from a community with limited opportunities, making this the chance of a lifetime to pursue his dream. By immersing the audience in Lagos' culture and fascinating surroundings, Ogens and Benson use their unique perspectives to bring the film to life in the true spirit of Nigeria and its people.
Big Shot
John Stamos took the stage to highlight the upcoming second season of Big Shot as well as his appearances on Mickey Mouse Funhouse and Marvel's Spidey and his Amazing Friends. Stamos recanted his favorite Disney memories before honoring the late Bob Saget.
On Big Shot, the latest plan from Marvyn (Stamos) is to get his basketball team broadcast on ESPN, and his method is to recruit an unlikely player: Ava (Sara Echeagaray), a gutsy beach volleyball phenom whose public tantrum got her ousted from her own sport. Between losing their assistant coach Holly Barrett (Jessalyn Gilsig) to a rival school, new friction amongst teammates, a sudden and unexpected proximity to boys, and off-the-court disasters that no one could've predicted this season, the Westbrook Sirens have even more to prove.
Big Shot also stars Sophia Mitri Schloss, Nell Verlaque, Tiana Le, Tisha Custodio, Cricket Wampler, and Brown. Season 2 premieres October 12 on Disney+.
Doogie Kamealoha, M.D.
Season 2 of the hit series Doogie Kamealoha, M.D. is coming soon to Disney+! Series stars Peyton Elizabeth Lee and Milo Manheim announced the news during the showcase. After spending the summer apart, Lahela (Lee) is finally reunited with Walter (Alex Aiono), although he's not the same boyfriend she said goodbye to months before. Their relationship has shifted and they're no longer on the same page. Her head is spinning—and even more so when she meets a new patient, Nico (Manheim). Lahela's life is full of decisions—Walter, Nico, and choosing her medical specialty. In the end, who or what will she choose? Luckily, she has her family, coworkers, and best friend (Emma Meisel) to support her along the way.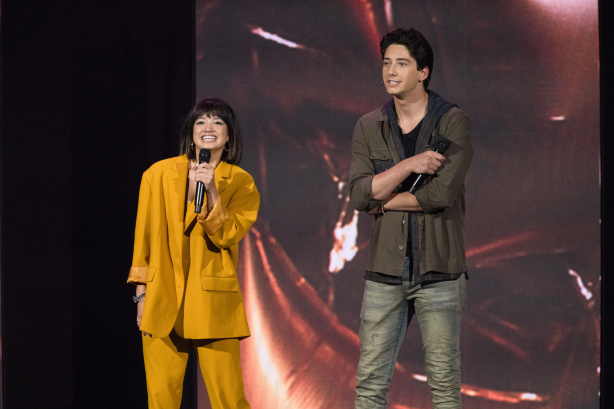 Prom Pact
Lee and Manheim also introduced an exclusive clip from the upcoming original movie Prom Pact, coming soon to Disney+.
It's the height of prom season, and high school senior Mandy Yang (Lee) and her best friend and fellow outsider Ben (Manheim) are surrounded by over-the-top '80s-themed prom-posals. However, Mandy keeps her eyes focused on a different goal: her lifelong dream of attending Harvard. When she finds out that she has been put on the waitlist, she is determined to do whatever she can do to get herself accepted, even if that means asking for help from the one person she abhors—popular all-star jock Graham Lansing (Blake Draper), whose father is a powerful senator and Harvard alum. Once Mandy becomes Graham's tutor, she begins to realize there's more to him than she thought and perhaps something more to life than Harvard.
Prom Pact also stars Monique Green as LaToya, Arica Himmel as Zenobia, Jason Sakaki as Charles, Margaret Cho as Ms. Chen; Wendi McLendon-Covey as Alyssa, and David S. Jung as Tom.
ZOMBIES 3
Manheim then busted out his best dance moves as he was joined onstage with a slew of dancers as they performed one of the musical numbers from ZOMBIES 3.
ZOMBIES 3, the third installment in the uber-popular ZOMBIES franchise, takes an interstellar turn as space aliens suddenly touch down in Seabrook, upsetting the senior year of Zed (Manheim) and Addison (Meg Donnelly) at Seabrook High in the town that's become a safe haven for zombies, werewolves, and humans alike. Zed is anticipating an athletic scholarship that will make him the first zombie to attend college, and Addison is gearing up for Seabrook's first international cheer-off competition when mysterious extraterrestrial beings appear around Seabrook, provoking something other than friendly competition. ZOMBIES 3 is now streaming on Disney+.
The cast includes Chandler Kinney as Willa, Ariel Martin as Wynter, Pearce Joza as Wyatt; Carla Jeffery as Bree, Trevor Tordjman as Bucky, Kylee Russell as Eliza, Terry Hu as A-spen, Matt Cornett as A-lan, Kyra Tantao as A-li, James Godfrey as Bonzo, and Kingston Foster as Zoey.
Disney Junior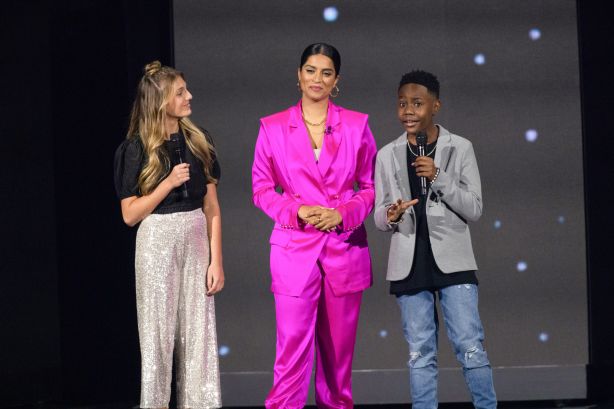 Star Wars: Young Jedi Adventures
The stars of Star Wars: Young Jedi Adventures from Lucasfilm and Disney Junior took the stage to unveil a first look at their characters, Kai Brightstar (voiced by Jamaal Avery Jr.) and Nash Durango (voiced by Emma Berman) as well as what's in store for the exciting new series.
Set during the High Republic era, Star Wars: Young Jedi Adventures will follow a group of Younglings as they embark on missions where they will help people in need, discover exotic creatures, clash with villainous pirates, train with their masters, and ultimately learn the valuable skills needed to become Jedi: compassion, self-discipline, teamwork, patience, and friendship.
Star Wars: Young Jedi Adventures follows Kai, a Jedi Youngling who hopes to follow in the footsteps of his hero, the great Master Yoda, and become a Jedi Knight; and Nash, a pilot who befriends Kai and his friends and joins them on their adventures across the galaxy.
The series premieres in 2023 on Disney Junior and Disney+
Stars from the Disney Junior series—Donald Faison (Alice's Wonderland Bakery), Brown (Firebuds and Alice's Wonderland Bakery), and Harvey Guillén (Mickey Mouse Funhouse)—greeted fans on stage and shared their excitement about voicing beloved animated characters.
Disney Channel
Under Wraps 2
The stars of Under Wraps 2—Malachi Barton, Christian J. Simon, Sophia Hammons, and Phil Wright—took the stage after a mummified performance from a group of dancers.
Under Wraps 2 picks up as Marshall (Barton), Gilbert (Simon), and Amy (Hammons) are getting ready to attend Amy's father's Spooktacular Halloween-themed wedding. However, plans soon go awry when the three friends discover their mummy pal Harold and his beloved Rose may be in danger. Sobek (T.J. Storm), an evil mummy with a 1,000-year-old grudge against his best friend-turned-bitter-rival, Harold (Wright), is unexpectedly awakened and out for revenge. With help from his hypnotized lacky Larry (Jordan Conley), Sobek kidnaps Rose (Ryla McIntosh). Amy, Gilbert, Marshall, Buzzy, and Harold must use their skills once again to save her and get back in time to attend the wedding.
The film premieres September 25 on Disney Channel and available for streaming September 30 on Disney+.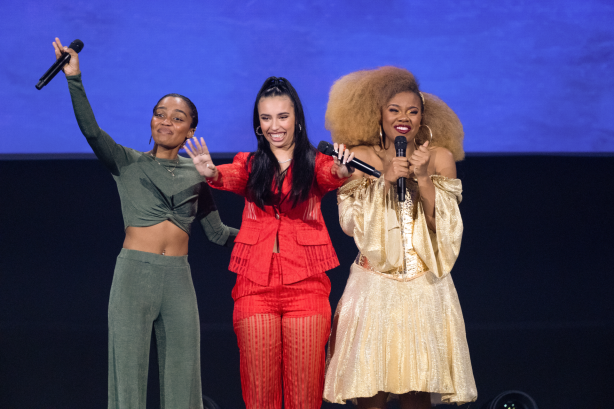 Descendants 4
A fourth Descendants film is coming! The news was announced by actress China Anne McClain, who return as Uma. Joining the cast of Descendants 4 are Kylie Cantrall and Dara Reneé.
Raven's Home
Raven-Symoné was joined onstage with her Raven's Home co-stars, where she announced the hit comedy series has been picked up for a sixth season.
A spinoff of the iconic Disney Channel comedy That's So Raven (2003-2007), Raven's Home follows the hilarious adventures driven by somewhat psychic Raven Baxter (Raven-Symoné) and her son Booker (Issac Ryan Brown), who has inherited his mom's gift to catch glimpses of the future.