It's said creativity doesn't just happen, and one of the many ways the talented filmmakers at our animation studios exercise theirs is with short films. Shorts have a long history at Disney – after all, it's where we got our start – and right now the format is reaching new heights at both Walt Disney Animation Studios and Pixar Animation Studios.
This is the first in a two-part story where we'll take a closer look at how short films foster creativity and innovation here at Disney.
Pixar, like Disney, made its first strides in short films, and its leadership, including John Lasseter and Ed Catmull, is committed to the art form.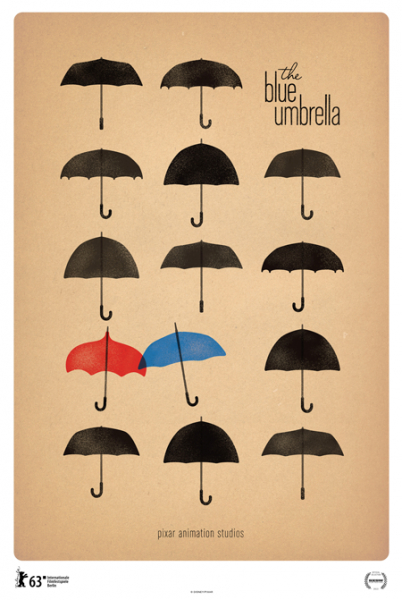 "Shorts give us tremendous creative freedom to experiment, not only with stories but also with people and technology," says Marc Greenberg, Pixar's chief financial officer.
Marc, who's been with Pixar since 2002, got an up-close view of the process when he came aboard as producer of the studio's new short, The Blue Umbrella. The film, which centers on two umbrellas as the city comes alive on a rainy day, made its world premiere last week at the Berlin International Film Festival and will run in theaters this summer with Monsters University.
Though directors frequently hail from the story or animation departments, anyone at Pixar is free to pitch a short film idea. "Shorts are a way to help develop new creative leadership at the studio," Marc explains. "We open the door to anyone who comes through with a great idea and artistic passion."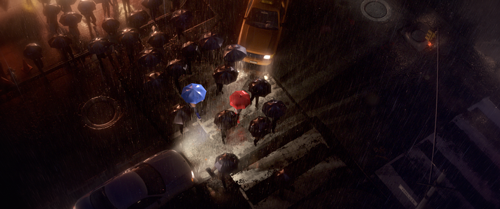 The Blue Umbrella, helmed by Saschka Unseld, is the first to feature a director from a technical department at Pixar. Saschka, a camera and staging artist in the layout department, got the idea for the film on a rainy day in the city, when he spotted a lonely, broken umbrella abandoned in a gutter.
Short films also offer an ideal forum to test new applications of technology. The Blue Umbrella's stunning photo-real style came from a unique combination of technologies. Saschka and his team pushed the limits of physically based lighting with the Pixar-developed RenderMan and other proprietary lights and shaders. They also used deep compositing methods to achieve incredible depth of field, as well as camera capture.
"The Blue Umbrella doesn't look anything like any of our feature films or previous short films, and I think that's spectacular," Marc says. "We gave aspiring filmmakers the team and the resources to create a unique piece of art that will hopefully live forever. That's amazing."
Stay tuned for a conversation later this week on creativity, technology, and Disney's Oscar-nominated Paperman with veteran producer Osnat Shurer of Walt Disney Animation Studios.