Yesterday, The Walt Disney Company and City Year Los Angeles commemorated the legacy of Dr. Martin Luther King Jr. with a virtual event that focused on the importance of service, shining a bright light on its power to bridge harmful divides, help build strong and vibrant communities for all and drive forward racial equity, particularly in public education. Nearly 500 participants, including 100 Disney VoluntEARS, joined a virtual celebration that featured a panel of Los Angeles champions of racial and educational equity.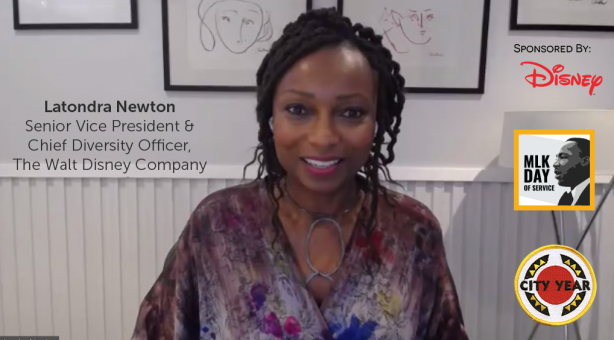 "It is an honor for Disney to participate in this virtual event to pay homage to the life, legacy and profound achievements of Dr. Martin Luther King," shared Latondra Newton, senior vice president and chief diversity officer, The Walt Disney Company, who kicked off the event. "Just like Dr. King had a vision for a world where everyone feels represented and valued, at Disney we understand the importance of showcasing the diversity of our world in our stories, products and services. Disney is committed to supporting organizations like City Year Los Angeles and investing in the next generation of leaders, inclusive thinkers and innovators."
For nearly a decade, The Walt Disney Company has sponsored City Year Los Angeles' Martin Luther King Jr. Day event, which normally brings together hundreds of volunteers to engage in service projects designed to make school campuses and their surrounding neighborhoods more inviting places for students to learn. Following the pandemic and the recent challenges facing racial and education equity, City Year transformed their day of service to an all-digital celebration and panel discussion to build community, hold restorative conversations and reflect on these important issues.
The virtual panel's speakers included prominent Los Angeles leaders, such as Maria Alejandri, Director of Recruitment at Alder Graduate School; Janelle Fouché, Harvard Ph.D candidate in Education Policy & Program Evaluation; Tanya Franklin Ortiz, LAUSD Board Member; Mattie McFadden-Lawson, City Year Los Angeles Board Co-Chair; Michael Lawson, former U.S. Ambassador and LA Urban League CEO; and Erin Willis, City Year Los Angeles's Program Director.
"Dr. King taught us that service is about recognizing our interconnectedness," McFadden-Lawson said. "We carry that same vision for public schools—so that every student can have a place to explore, take risks and belong."
The speakers affirmed the importance of racial and educational equity, and commended City Year Los Angeles for its successes in the communities that the program serves. The organization partners with AmeriCorps to place young adults in public schools to support academic and social emotional learning in Los Angeles' more systematically under-resourced schools. Yesterday's celebration and panel discussion served as both a tribute to Dr. King's legacy of service and an affirmation that strong and vibrant communities drive racial equity, particularly in public education.
"We consider this a day-on, not a day-off," shared Erin Ross, City Year Los Angeles's Interim Executive Director. "Through our programs, we empower students to see themselves as agents of change. Today's celebration is about putting those lessons in practice and taking steps for shared success."