UPDATE: Check out the video of Bob Iger and George Lucas discussing the announcement.
Great news! The Force is coming to Disney!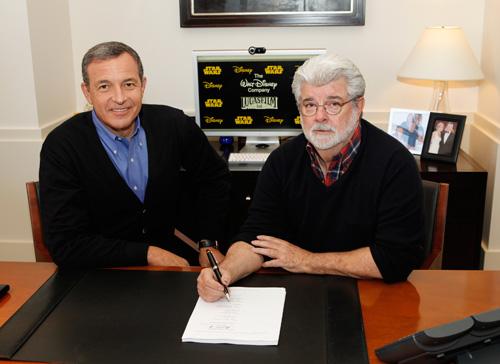 Bob Iger just announced that The Walt Disney Company is acquiring Lucasfilm – the global entertainment company founded by George Lucas and the home of the legendary Star Wars franchise. In addition to getting the rights to one of the greatest family franchises and epic stories of all time, Disney is also acquiring all of Lucasfilm's operating businesses – including Industrial Light and Magic and Skywalker Sound.
Did you know? The Star Wars universe now has more than 17,000 characters inhabiting several thousand planets spanning 20,000 years. This gives Disney infinite inspiration and opportunities to continue the epic Star Wars saga. Fans can expect a new feature film, Star Wars Episode 7, in theaters worldwide in 2015. George Lucas will serve as creative consultant on the film and Kathleen Kennedy, the filmmaker George handpicked to lead Star Wars, Indiana Jones and the rest of Lucasfilm into the future will be the executive producer (she's also joining Disney as president of Lucasfilm). With this many characters to develop and stories to tell, Disney plans to release a new Star Wars feature film every two or three years for the foreseeable future.
We've actually had a great working relationship with Lucasfilm for years — with Star Wars and Indiana Jones themed attractions in our parks in Anaheim, Orlando, Paris and Tokyo. So, we're starting with a strong foundation and compatible brands – and the addition of Lucasfilm Ltd. will support our growth strategy and create even more opportunity for Disney to create incredible entertainment and drive significant long-term value for our shareholders.
You can find more information about Disney's exciting acquisition of Lucasfilm here.