Yesterday, on 12/12/12 at 12:12 p.m., The Walt Disney Studios unveiled an all-new Digital Studio Center. Designed with the future in mind, the center is a highly flexible, state-of-the-art, post-production facility that will provide a hub for servicing the technical demands of the digital media workflow.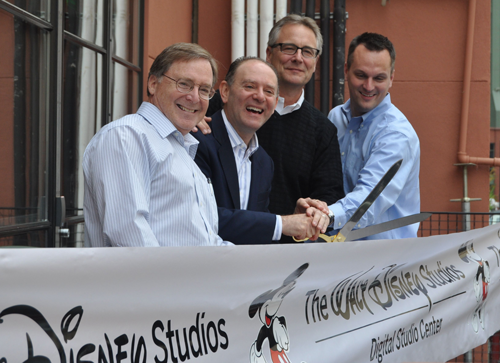 This new facility demonstrates The Walt Disney Studios' commitment to and leadership in technology. It provides improved workflow automation as well as an intuitive collaborative space for the classics of yesterday, today and tomorrow.
The Digital Media Center occupies 8,000 square feet and is home to The Walt Disney Studios' Digital Studio Services team, which performs over 45 different digital file-based workflow jobs, mostly focused on preparing our films for a variety of traditional and new media distribution platforms. The center also houses the team we call the "Disney Golden Eyes and Ears" that will protect and preserve our library for future generations – no matter what the technology demands.
The Creative Editorial, Sound Design and Global Collaboration Center will occupy the facility's 17,000 square foot second floor. An open lobby and conference area are surrounded by four secure editorial pods. Each pod hosts a single production for its duration, providing an adaptable command center for filmmakers and their post-production teams.
An incredible amount of thought has gone into making the Digital Studio Center as tech-savvy and as user-friendly as possible. Nearly every room is built on an individual concrete slab with double wall construction to create complete sound isolation and the truest image reproduction possible. The center's sound design suites will be the industry's first to be built with the new Dolby Atmos in mind.
One very exciting new feature is the Global Collaboration Theater. This is a room designed to give filmmakers and film craftsmen the ability to collaborate in real time with their colleagues located anywhere in the world.
We can't disclose what the first production to take up residence in the Digital Studio Center will be, but we can promise that sometime in the very near future, you'll be seeing the cutting-edge results in a theater near you.