Disney's Jungle Cruise, which floats into theaters and Disney+ Premier Access on July 30, tells the heart-racing—and often hilarious—story of Lily Houghton (Emily Blunt), a doctor in botany who hires skipper Frank Wolff (Dwayne Johnson) to embark on a grueling journey up the Amazon River in search of a legendary tree that can cure all human ailments. Jungle Cruise director Jaume Collet-Serra (Non-Stop, The Shallows) turned to French production designer Jean-Vincent Puzos (The Lost City of Z, Amour) to help bring this otherworldly journey through a verdant mystical jungle on a creaking old tramp steamer so dramatically to life.
Puzos designed a variety of vivid tableaux for the film—including a London set where the movie opens and closes and a remote village in the heart of the Amazon jungle—but perhaps most impressive was the sprawling jungle port town of Porto Velho. Built on the Hawaiian island of Kauai, a visitor would be excused for mistaking the set for an authentic Amazonian village, circa 1916. Every structure—from the Porto Velho town set and Nilo's (Paul Giamatti) jungle cruise operation and tavern to Skipper Frank Wolff's steam cruiser, La Quila, and his home on the water—is a functional building not a mere movie set façade. Each building is replete with artifacts, furniture, books, trinkets—and this focus on authenticity helps give the film its naturalistic flavor.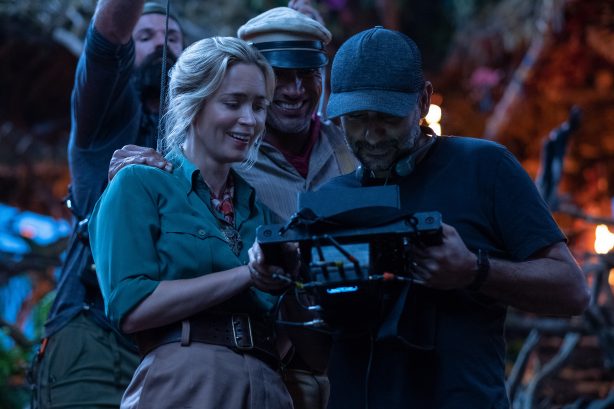 "It's an exciting challenge when you read a script and it has a description of an arrival in a city on the Amazon River with a couple of streets, a big market, a harbor with four boats, a hotel, a restaurant, a cruise company building and our hero Frank's skipper building workshop and pontoon," says Puzos. "You begin to divide the space and reinvent a landscape composed by many other spaces, and bend your research in a unique direction to create a cartography where every set is directly connected to the next one. And when you find an incredible location in Hawai'i, it's the beginning of an adventure of a lifetime. What makes this set so special is its gigantic scale, the complexity of the landscape and the visual power of the vegetation—which gave us a rich range of shooting possibilities."
Puzos, who says the Porto Velho set took one month to scout, two months to design and four months to build, dress and landscape, says the biggest challenges his team faced were location and weather. "First of all the location was so wild, so dense in terms of vegetation, so hard to define during the survey—full of scars, holes, cliffs covered by bushes. The access was nearly impossible. We relied on drones to scout the location. When construction got up to full speed, the weather changed, and we had rain every day, flooding the sets and slowing down the construction."
When asked for a favorite location on the Porto Velho set, Puzos says, "Every building was my favorite! In terms of architecture, the hotel was a pleasure of complexity and simplicity, following a strong pattern of Spanish/Portuguese style of colonial architecture. In terms of design, the vertical building of Frank's workshop, standing in the water, was an iconic shape in the middle of the location. For Frank's steam ship, I tried to visualize the journey of a conquistador constantly rebuilding his boat with debris and pieces of other boats, and constantly rebuilding his engine. In terms of colors, Nilo's Tavern was designed like a rusted building of metal, showing all the variations of textures and colors of a piece of metal lost in the jungle, from dark rust and almost black to golden, sunny orange. In terms of fluidity, the market was designed and built for an epic action scene. This building symbolized our design: to treat the entire location like a garden, to stay fluid in the ground plan, to mix the interiors and the exteriors, and remove some roofs to see inside.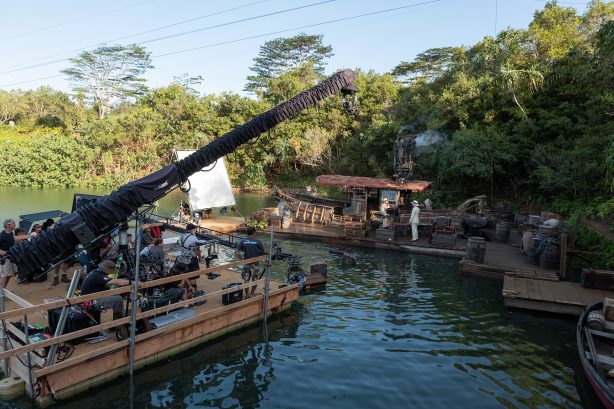 "For this set, the amount of information we wanted the audience to receive was extremely rich. It was important to define every character with a space, an idea, a building or a tool like a boat. This set helps define the story. When the audience sees the port town set, I hope they will see a tribute and an homage to a famous Disney attraction. I hope they will dream of arriving by train in the middle of the Amazon and immediately enter a world of adventures. I hope they will see a rich and charismatic city—and feel the danger of leaving it."
For director Jaume Collet-Serra, Jungle Cruise offered the opportunity to make the type of storyline he "loved as a kid, but had never gotten the chance to make, something like Romancing the Stone. Visually, I wanted to make a movie with a lot of scope. That would feel like you're on an actual journey through the Amazon. And this set really helped us bring that to life."