From 20th Century Studios and visionary filmmaker Ridley Scott comes The Last Duel, a gripping tale of betrayal and vengeance set against the brutality of 14th century France. Based on actual events, the historical epic—opening exclusively in U.S. theaters today—unravels long-held assumptions about France's last sanctioned duel between Jean de Carrouges (Matt Damon) and Jacques Le Gris (Adam Driver), friends turned bitter rivals.
Filming began in the picturesque Périgord Noir region in France, the same place where Scott, a four-time Academy Award® nominee, filmed his first feature, The Duellists, in 1976. Principal photography took place in 2020 at numerous breathtaking locations in France (from February 14-March 12) and Ireland (from September 4–October 23). Some of France's most majestic and well-preserved castles are serve as backdrops in the film. They were meticulously brought back to their medieval grandeur by a talented team of craftspeople, which included Academy Award-nominated production designer Arthur Max.
One of the most beautiful and well-preserved castles in the Dordogne region, Château de Beynac, located near the village of Beynac-et-Cazenac, was used for the interiors of the Carrouges Estate, including the wedding scene between Jean de Carrouges and Marguerite (Jodie Comer). The location was also used to film both interior and exterior scenes set at Fontaine-Les Sorel castle, the home of Marguerite's family. Another stunning castle, Château de Fénelon in Sainte-Mondane, was used for exterior scenes taking pace at Belleme Fort, where Carrouges' father was captain. The city of Monpazier was used for exterior scenes set on the streets of Paris. Monpazier has preserved much of its original architecture and design, but minor work was required to conceal any modern features, and additions such as wood doors, wood balconies and windows were also made.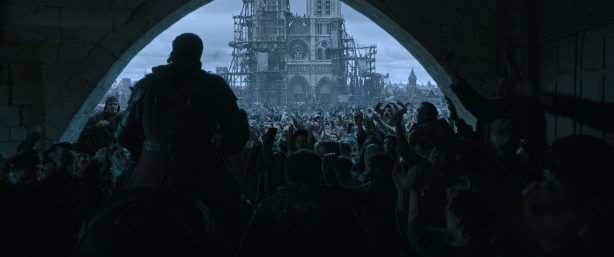 To preserve the period's authenticity, Max and his team transformed the city's Place des Cornières into an authentic Middle Ages market with barrels, carts, fish, meat, stallholders, vegetables and wool bags. The set was accentuated with scores of extras dressed as clerics, farmers, merchants, nobles, villagers and more, alongside birds, geese, horses, pigs and sheep. In addition, Château Berzé-le-Châtel, a medieval fortress constructed above an 1,100-year-old Carolingian chapel in Bourgogne, served as portions of the Carrouges Estate.
Several interior sets were built at Ardmore Studios, located in Bray, County Wicklow, Ireland, including rooms from the Carrouges Estate and the Great Hall at Argentan. On Stage A, the massive Great Hall at Argentan where Pierre de Alençon (Ben Affleck) holds court was constructed with elaborate set pieces and dressing, including lush tapestries and rugs, as well as the stonework. "All the stone work was painted to look like a real vintage stone wall," says Max. "The mossing, the runs, the staining… it's all artificial, kind of like three-dimensional scenic art, and it's much easier than dealing with three dimensional effects."
"The handmade tool marks used to form the blocks in the castle walls and archways are very distinctive, so we photographed them, and the plasterers copied them from the photographs," Max continues. "They did a superb job reproducing the bulging and sagging effects, which show how they were distorted from sustenance and time."
Several aspects of Berzé-le-Châtel in France, the location used to film exteriors of the Carrouges Estate, were recreated on the Ardmore soundstages. Carrouges' bedroom on Stage D featured architecture from one of the inside hallways, from a floor that was an exact replica from the castle to meticulous paint work to create the wood paneling and portions of the bed.
"We had a really old antique Victorian bed, but Ridley wanted it bigger," says Max. "So, we had our model makers make plaster castings so we could extend the bed, and Neville Gainer, one of our talented 2D painters, matched it quite convincingly. It is seamlessly matched, and it is a really big bed, but that is what people like Neville do. It comes from years of experience."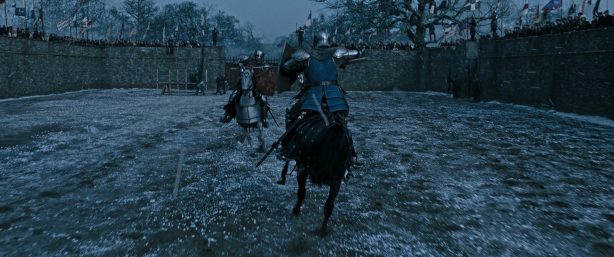 Max and his department also began preparing for the jousting scenes six months prior to principal photography. Referencing surviving court documents and author Eric Jager's book, The Last Duel: A True Story of Trial by Combat in Medieval France, and working with models and pre-viz, Max was able to help Scott better visualize how these scenes would play out. The duel between Carrouges and Le Gris, for example, took place at Saint-Martin-des-Champs in France, an old monastery retrofitted for jousting, which was referenced in great detail in Jager's book. The Oak Field at Ballycurry Demesne in Ashford, Ireland, meanwhile, filled in for the French monastery onscreen. The biggest challenge, from an artistic standpoint, was designing a set piece that was realistic for this specific time period.
"There's a balance between what's really old and what's recent, and photographically we don't want anything that looks new," Max explains. "In peoples' minds, when you're doing an ancient, medieval world, everything is going to be old, so there's old, older, and oldest… There's nothing new. And if we do our job well, the audience shouldn't notice."
The Last Duel is now playing in theaters nationwide.