The Walt Disney Company proudly announces an impressive 166 nominations across 85 categories and 38 titles for the 73rd Primetime Emmy® Awards. While the Television Academy announced the attributed total number as 146, the Company additionally recognizes all the programming produced for third party platforms and by all its production and studio entities.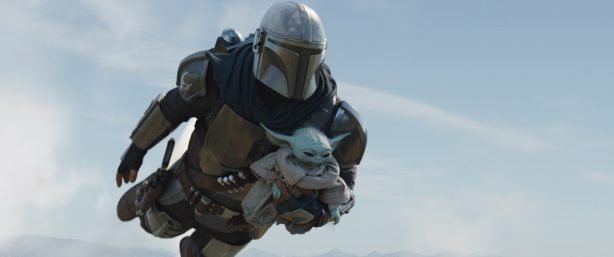 For the second year in a row, Disney+ leads the way with Lucasfilm Ltd's The Mandalorian garnering 24 nominations including Outstanding Dramas Series. Additionally, Disney+'s limited Marvel Studios' series WandaVision received 23 honors including a nomination for Outstanding Limited or Anthology Series, and nominations for Outstanding Lead Actress (Elizabeth Olsen) and Outstanding Lead Actor (Paul Bettany) in a Limited or Anthology Series or Movie. Similarly, Disney+'s Hamilton became a fan-favorite this year with 12 total nominations including two nods for Outstanding Lead Actor—Lin-Manuel Miranda and Leslie Odom Jr.—as well as a nomination for Outstanding Variety Special (Pre-Recorded); and Marvel Studios/Disney+'s The Falcon and The Winter Soldier scored five including Don Cheadle's nod for Outstanding Guest Actor In A Drama Series.
Hulu Original The Handmaid's Tale netted a series-best 21 nominations including Outstanding Drama Series and a Lead Actress nod for Elisabeth Moss, making season four the most nominated season to date. Additionally, Pen15 earned the platform its first Outstanding Comedy Series nomination, and Aidy Bryant earned her first lead actress nomination for Shrill. Nat Geo scored 13 total nods including Cynthia Erivo's critically acclaimed performance in Genius: Aretha as well as reality and documentary programming City So Real and Secrets Of The Whales. Whereas FX's Pose earned 10, including Outstanding Drama Series as well as Outstanding Lead Actor for Billy Porter and a historic first-ever nomination for a transgender nominee for Mj Rodriguez as Outstanding Lead Actress; and much-talked-about The New York Times Presents: Framing Britney Spears scored two nominations including Outstanding Documentary or Nonfiction Special.
ABC's black-ish earned a show-best of six nominations, including Outstanding Comedy Series and nods for Lead Actor (Anthony Anderson) and Lead Actress (Tracee Ellis Ross). This is Anthony Anderson's seventh nomination, making him the most nominated Black actor in Emmy history in the Lead Actor in a Comedy Series category. Additional series with multiple nods include 20th Television-produced This Is Us and ABC'sDancing with the Stars.
A complete list of all The Walt Disney Company nominations follows below. (As some of the nominations overlap, these are grand totals for each entity.)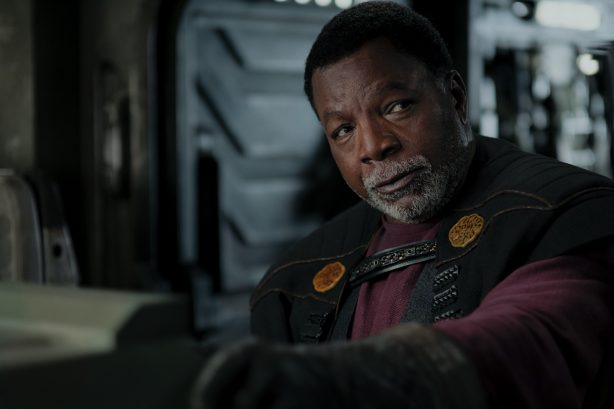 The Mandalorian (Disney +/Lucasfilm Ltd.)
24 Nominations
Outstanding Drama Series
Outstanding Supporting Actor In A Drama Series—Giancarlo Esposito
Outstanding Guest Actor In A Drama Series—Carl Weathers
Outstanding Guest Actor In A Drama Series—Timothy Olyphant
Outstanding Directing For A Drama Series—Jon Favreau
Outstanding Writing For A Drama Series—"Chapter 13: The Jedi"
Outstanding Writing For A Drama Series—"Chapter 16: The Rescue"
Outstanding Production Design For A Narrative Period Or Fantasy Program (One Hour Or More)—"Chapter 13: The Jedi"
Outstanding Casting For A Drama Series
Outstanding Cinematography For A Single-Camera Series (Half-Hour)—"Chapter 15: The Believer"
Outstanding Cinematography For A Single-Camera Series (One Hour)—"Chapter 13: The Jedi"
Outstanding Fantasy/Sci-Fi Costumes—"Chapter 13: The Jedi"
Outstanding Single-Camera Picture Editing For A Drama Series—"Chapter 11: The Heiress"
Outstanding Single-Camera Picture Editing For A Drama Series—"Chapter 13: The Jedi"
Outstanding Single-Camera Picture Editing For A Drama Series—"Chapter 15: The Believer"
Outstanding Single-Camera Picture Editing For A Drama Series—"Chapter 16: The Rescue"
Outstanding Period And/Or Character Hairstyling—"Chapter 16: The Rescue"
Outstanding Prosthetic Makeup—"Chapter 13: The Jedi"
Outstanding Music Composition For A Series (Original Dramatic Score)—"Chapter 16: The Rescue"
Outstanding Sound Editing For A Comedy Or Drama Series (One Hour)—"Chapter 13: The Jedi"
Outstanding Special Visual Effects In A Season Or A Movie
Outstanding Stunt Coordination
Outstanding Stunt Performance—"Chapter 16: The Rescue"
Outstanding Production Design For A Narrative Period Or Fantasy Program (One Hour Or More)—"Chapter 13: The Jedi"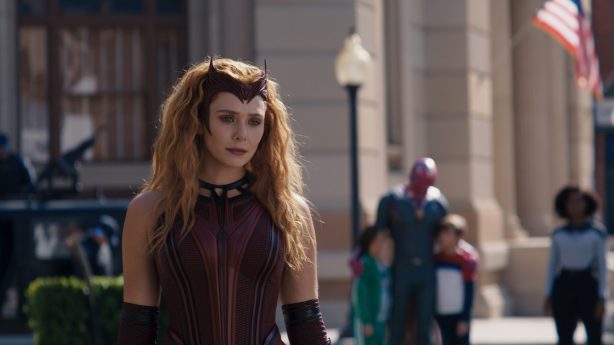 WandaVision (Disney+/Marvel Studios)
23 Nominations
Outstanding Limited Or Anthology Series
Outstanding Lead Actor In A Limited Or Anthology Series Or Movie—Paul Bettany
Outstanding Lead Actress In A Limited Or Anthology Series Or Movie—Elizabeth Olsen
Outstanding Supporting Actress In A Limited Or Anthology Series Or Movie—Kathryn Hahn
Outstanding Writing For A Limited Or Anthology Series Or Movie—"Filmed Before A Live Studio Audience"
Outstanding Writing For A Limited Or Anthology Series Or Movie—"Previously On"
Outstanding Production Design For A Narrative Program (Half-Hour)
Outstanding Casting For A Limited Or Anthology Series Or Movie
Outstanding Fantasy/Sci-Fi Costumes—"Filmed Before A Live Studio Audience"
Outstanding Directing For A Limited Or Anthology Series Or Movie
Outstanding Single-Camera Picture Editing For A Limited Or Anthology Series Or Movie—"On A Very Special Episode…"
Outstanding Single-Camera Picture Editing For A Limited Or Anthology Series Or Movie—"The Series Finale"
Outstanding Period And/Or Character Hairstyling
Outstanding Main Title Design
Outstanding Period And/Or Character Makeup (Non-Prosthetic)—"Filmed Before A Live Studio Audience"
Outstanding Music Composition For A Limited Or Anthology Series, Movie Or Special (Original Dramatic Score)—"Previously On"
Outstanding Original Music And Lyrics—"Agatha All Along"
Outstanding Original Main Title Theme Music
Outstanding Music Supervision
Outstanding Sound Editing For A Limited Or Anthology Series, Movie Or Special—"The Series Finale"
Outstanding Sound Mixing For A Limited Or Anthology Series Or Movie—"The Series Finale"
Outstanding Special Visual Effects In A Season Or A Movie
Outstanding Writing For A Limited Or Anthology Series Or Movie—"All-New Halloween Spooktacular!"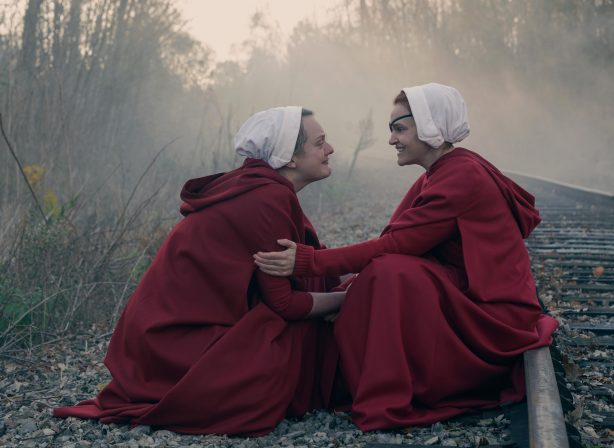 The Handmaid's Tale (Hulu Original)
21 Nominations
Outstanding Drama Series
Outstanding Lead Actress In A Drama Series—Elisabeth Moss
Outstanding Supporting Actor In A Drama Series—O-T Fagbenle
Outstanding Supporting Actor In A Drama Series—Max Minghella
Outstanding Supporting Actor In A Drama Series—Bradley Whitford
Outstanding Supporting Actress In A Drama Series—Madeline Brewer
Outstanding Supporting Actress In A Drama Series—Ann Dowd
Outstanding Supporting Actress In A Drama Series—Yvonne Strahovski
Outstanding Supporting Actress In A Drama Series—Samira Wiley
Outstanding Guest Actress In A Drama Series—Alexis Bledel
Outstanding Guest Actress In A Drama Series—Mckenna Grace
Outstanding Directing For A Drama Series
Outstanding Writing For A Drama Series—"Home"
Outstanding Production Design For A Narrative Contemporary Program (One Hour or More)
Outstanding Casting For A Drama Series
Outstanding Single-Camera Picture Editing For A Drama Series
Outstanding Contemporary Hairstyling—"Vows"
Outstanding Contemporary Makeup (Non-Prosthetic)—"Pigs"
Outstanding Music Composition For A Series (Original Dramatic Score)—"The Crossing"
Outstanding Sound Mixing For A Comedy Or Drama Series (One Hour)
Outstanding Fantasy/Sci-Fi Costumes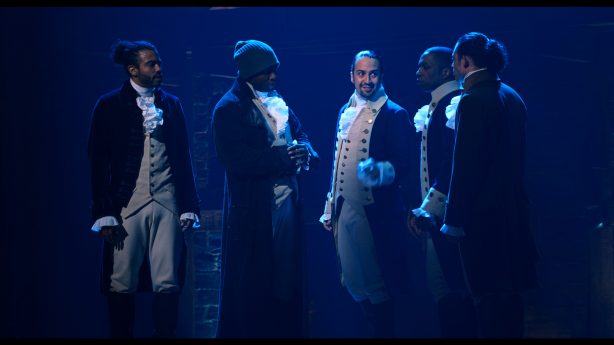 Hamilton (Disney+)
12 Nominations
Outstanding Variety Special (Pre-Recorded)
Outstanding Lead Actor In A Limited Or Anthology Series Or Movie—Lin-Manuel Miranda
Outstanding Lead Actor In A Limited Or Anthology Series Or Movie—Leslie Odom Jr.
Outstanding Supporting Actor In A Limited Or Anthology Series Or Movie—Daveed Diggs
Outstanding Supporting Actor In A Limited Or Anthology Series Or Movie—Anthony Ramos
Outstanding Supporting Actor In A Limited Or Anthology Series Or Movie—Jonathan Groff
Outstanding Supporting Actress In A Limited Or Anthology Series Or Movie—Phillipa Soo
Outstanding Supporting Actress In A Limited Or Anthology Series Or Movie—Renee Elise Goldsberry
Outstanding Directing For A Limited Or Anthology Series Or Movie
Outstanding Picture Editing For Variety Programming
Outstanding Sound Mixing For A Variety Series Or Special
Outstanding Technical Direction, Camerawork, Video Control For A Special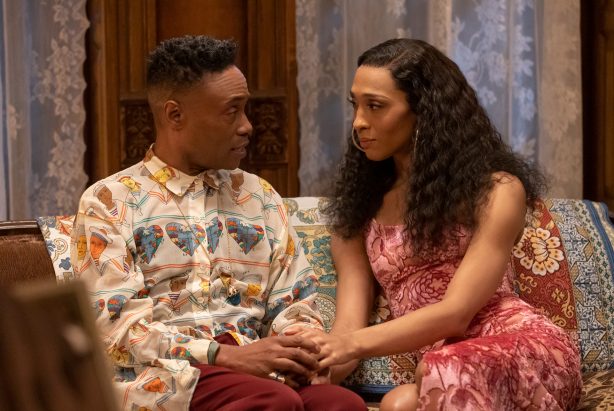 Pose (FX / 20th Television / FX Productions)
10 Nominations
Outstanding Drama Series
Outstanding Lead Actor In A Drama Series—Billy Porter
Outstanding Lead Actress In A Drama Series—Mj Rodriguez
Outstanding Directing For A Drama Series—"Series Finale"
Outstanding Writing For A Drama Series—"Series Finale"
Outstanding Contemporary Costumes
Outstanding Contemporary Hairstyling
Outstanding Contemporary Makeup (Non-Prosthetic)
Outstanding Prosthetic Makeup
Outstanding Short Form Nonfiction or Reality Series—Pose: Identity, Family, Community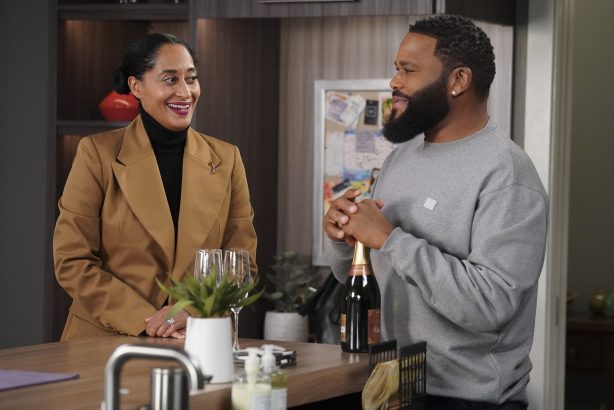 black-ish (ABC / ABC Signature)
6 Nominations
Outstanding Comedy Series
Outstanding Lead Actor In A Comedy Series—Anthony Anderson
Outstanding Lead Actress In A Comedy Series—Tracee Ellis Ross
Outstanding Contemporary Costumes
Outstanding Contemporary Hairstyling
Outstanding Character Voice-Over Performance—Stacey Abrams
This Is Us (20th Television)
6 Nominations
Outstanding Drama Series
Outstanding Lead Actor In A Drama Series—Sterling K. Brown
Outstanding Supporting Actor In A Drama Series—Chris Sullivan
Outstanding Guest Actress In A Drama Series—Phylicia Rashad
Outstanding Prosthetic Makeup
Outstanding Music Composition For A Series (Original Dramatic Score)
Dancing with the Stars (ABC)
5 Nominations
Outstanding Choreography For Variety Or Reality Programming—Artem Chigvintsev, Choreographer
Outstanding Choreography For Variety Or Reality Programming—Derek Hough, Choreographer
Outstanding Contemporary Hairstyling for a Variety, Nonfiction or Reality Program
Outstanding Lighting Design/Lighting Direction for a Variety Series
Outstanding Contemporary Makeup for a Variety, Nonfiction or Reality Program (Non-Prosthetic)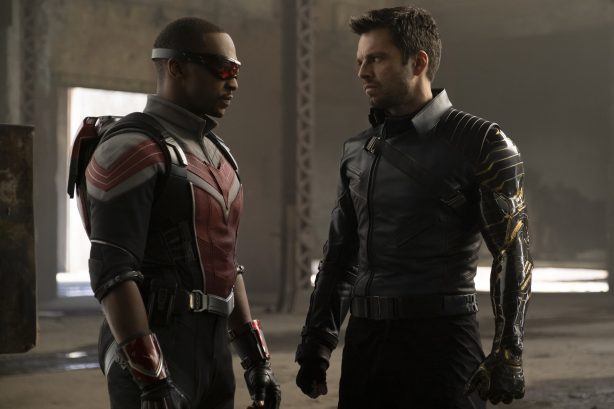 The Falcon and The Winter Soldier (Disney+/Marvel Studios)
5 Nominations
Outstanding Guest Actor In A Drama Series—Don Cheadle
Outstanding Sound Editing For A Comedy Or Drama Series (One Hour)—"One World, One People"
Outstanding Special Visual Effects In A Season Or A Movie
Outstanding Stunt Coordination
Outstanding Stunt Performance—"Truth"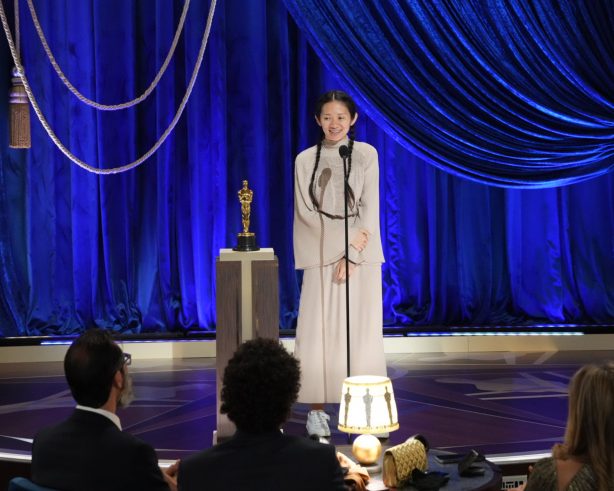 The Oscars (ABC)
4 Nominations
Outstanding Variety Special (Live)
Outstanding Production Design for a Variety Special
Outstanding Lighting Design/Lighting Direction for a Variety Special
Outstanding Technical Direction, Camerawork, Video Control for a Special
Ratched (20th Television)
4 Nominations
Outstanding Guest Actress In A Drama Series—Sophie Okonedo
Outstanding Period Costumes
Outstanding Period and/or Character Hairstyling
Outstanding Period and/or Character Makeup (Non-Prosthetic)
Fargo (FX/FX Productions)
3 Nominations
Outstanding Cinematography For A Limited Series Or Anthology Series or Movie
Outstanding Music Composition For A Limited Or Anthology Series, Movie Or Special (Original Dramatic Score)
Outstanding Sound Editing For A Limited Or Anthology Series, Movie Or Special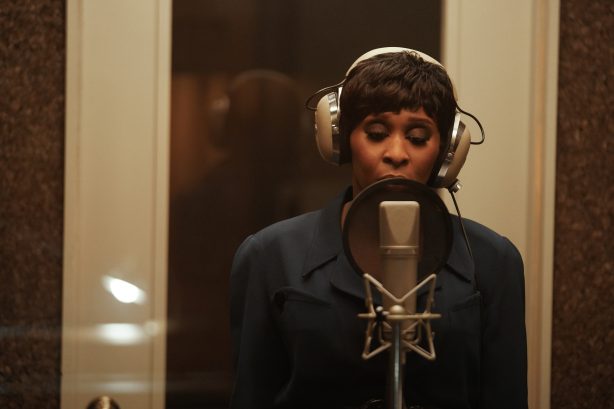 Genius: Aretha (National Geographic / 20th Television )
3 Nominations
Outstanding Lead Actress In A Limited or Anthology Series or Movie—Cynthia Erivo
Outstanding Choreography For Scripted Programming
Outstanding Sound Mixing For A Limited or Anthology Series or Movie
Life Below Zero (National Geographic)
3 Nominations
Outstanding Sound Mixing For A Nonfiction Or Reality Program (Single or Multi-Camera)
Outstanding Cinematography For A Reality Program
Outstanding Picture Editing For An Unstructured Reality Program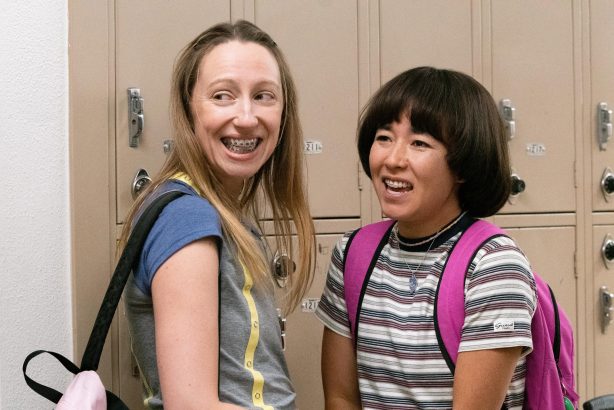 Pen15 (Hulu Original)
3 Nominations
Outstanding Comedy Series
Outstanding Casting For A Comedy Series
Outstanding Writing For A Comedy Series
The Politician (20th Television)
3 Nominations
Outstanding Contemporary Costumes
Outstanding Contemporary Hairstyling
Outstanding Contemporary Makeup (Non-Prosthetic)
Secrets of the Whales (Disney+ / National Geographic)
3 Nominations
Outstanding Documentary Or Nonfiction Series
Outstanding Cinematography For A Nonfiction Program
Outstanding Narrator—Sigourney Weaver
Shark Tank (ABC)
3 Nominations
Outstanding Structured Reality Program
Outstanding Host for a Reality or Competition Program—Mark Cuban, Barbara Corcoran, Lori Greiner, Robert Herjavec, Daymond John, Kevin O'Leary
Outstanding Casting for a Reality Program
Framing Britney Spears (The New York Times Presents) (FX)
2 Nominations
Outstanding Documentary Or Nonfiction Special
Outstanding Picture Editing For A Nonfiction Program
Central Park (20th Television Animation)
2 Nominations
Outstanding Character Voice-Over Performance—Tituss Burgess
Outstanding Character Voice-Over Performance—Stanley Tucci
City So Real (National Geographic)
2 Nominations
Outstanding Documentary Or Nonfiction Series
Outstanding Cinematography For A Nonfiction Program
The Conners (ABC)
2 Nominations
Outstanding Cinematography for a Multi-Camera Series
Outstanding Multi-Camera Picture Editing for a Comedy Series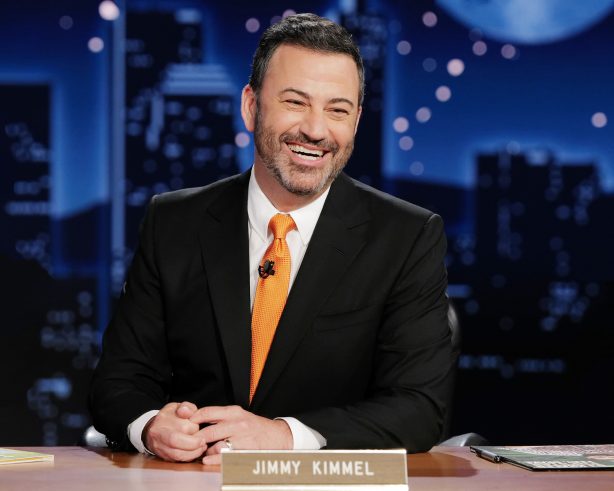 Jimmy Kimmel Live! (ABC / ABC Signature)
2 Nominations
Outstanding Variety Talk Series
Outstanding Technical Direction, Camerawork, Video Control For A Series
Archer (FX/FX Productions)
1 Nomination
Outstanding Character Voice-Over Performance—Jessica Walter
Becoming (Disney+)
1 Nomination
Outstanding Unstructured Reality Program
Bob's Burgers (20th Television Animation)
1 Nomination
Outstanding Animated Program
The Disney Holiday Singalong (ABC)
1 Nomination
Outstanding Choreography for Variety or Reality Programming—Derek Hough, Choreographer
Family Guy (20th Television Animation)
1 Nomination
Outstanding Character Voice-Over Performance—Seth MacFarlane
grown-ish (Freeform/ ABC Signature)
1 Nomination
Outstanding Cinematography For A Single-Camera Series (Half-Hour)
Inside Pixar (Disney+/Pixar Animation Studios)
1 Nomination
Outstanding Short Form Nonfiction Or Reality Series
Last Man Standing (20th Television)
1 Nomination
Outstanding Cinematography For A Multi-Camera Series
Maggie Simpson in: The Force Awakens From Its Nap (Disney+ / 20th Television Animation)
1 Nomination
Outstanding Short Form Animated Program
Once Upon A Snowman (Disney+/Walt Disney Animation Studios)
1 Nomination
Outstanding Short Form Animated Program
Rebuilding Paradise (National Geographic)
1 Nomination
Outstanding Cinematography For A Nonfiction Program
Robin Roberts Presents: Mahalia (Lincoln Square Productions)
1 Nomination
Outstanding Television Movie
Running Wild With Bear Grylls (National Geographic)
1 Nomination
Outstanding Structured Reality Program
Shrill (Hulu Original)
1 Nomination
Outstanding Actress in a Comedy Series—Aidy Bryant
The Simpsons (20th Television Animation)
1 Nomination
Outstanding Animated Program