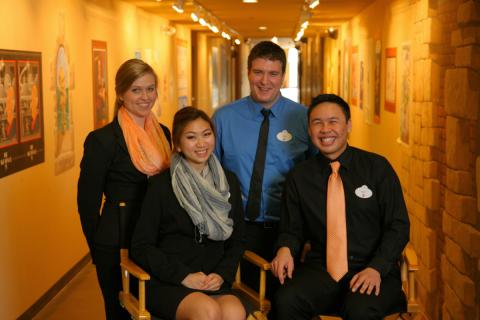 Every year, Walt Disney Imagineering challenges teams of college students with the Imaginations Design Competition, providing an opportunity for students to showcase their talents and gain practical knowledge in design. Through this program, Imagineers lend their time and talents to the community by extending this unique educational experience for students. It also allows Walt Disney Imagineering new ways to think about recruiting students who make up the next generation of talent that will come into the workforce.
This year, 24 finalists from six schools across the country were selected based off their proposed concepts for a Disney theme park, attraction, restaurant, hotel or entirely new experience or product. Those students spent a week at Imagineering headquarters in Glendale, California, where they met Imagineers, toured the facilities and presented their projects to a panel of executives.
A team from Carnegie Mellon University (pictured above) took the first place for their project, "Antipode," a two-week-long festival that would link people from exact opposite ends of the world. Second place was awarded to a team from California Institute of the Arts for "Time Embassy," an attraction that invites guests to explore time travel. A team from University of California, Los Angeles was awarded third place for their Rio De Janeiro-based concept "Ilhavela," which leads visitors and locals on a chase through the city.
For more on the competition and the top three projects, visit the Disney Parks Blog.