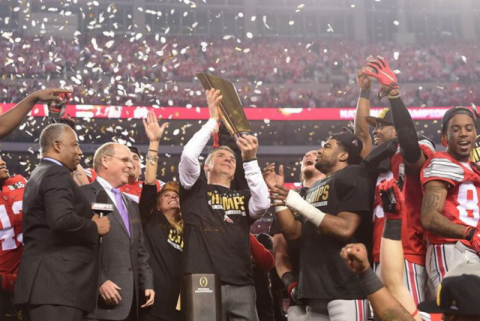 For the first time in college football history, the National Champion—the Ohio State Buckeyes—was determined by a Playoff.
On January 1, the two semifinal games of the newly established College Football Playoff determined which two teams would play for the title. In fantastic, back-to-back games, the Oregon Ducks rolled over the Seminoles from Florida State in the Rose Bowl, and the Buckeyes from The Ohio State University outlasted the Crimson Tide of Alabama in the Sugar Bowl.
The games proved a ratings bonanza for ESPN— two semifinal games played on New Year's Day had an average TV rating of 15.0 and an average audience of 28.2 million viewers. And both games ranked among the highest-rated shows in cable television history.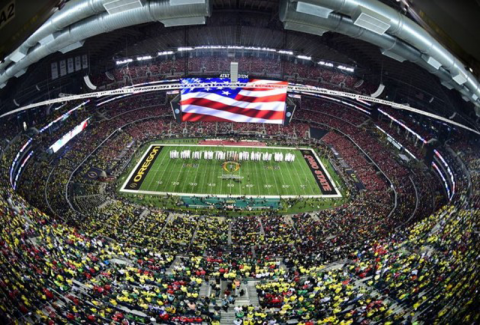 Last night, the Ducks and the Buckeyes dueled in the championship game on ESPN, and for anyone who loves big events, it was an ultimate can't-miss game. According to Nielsen, the Monday night telecast of the inaugural College Football Playoff National Championship Presented by AT&T averaged 33,395,000 viewers and an 18.2 US household rating, which beat the New Year's Day record to deliver both the largest audience and highest rating in cable television history.
But there's another important milestone to highlight. By airing key NFL and college football games throughout last year, ESPN was the most-watched cable network in primetime in 2014. And with the ratings success of the Oregon-Ohio State College Football Playoff National Championship, ESPN telecasts now claim every spot in cable's all-time Top 20.
Visit ESPN Front Row to view a chart of the Top 20 Most-Viewed Programs in Cable Television.