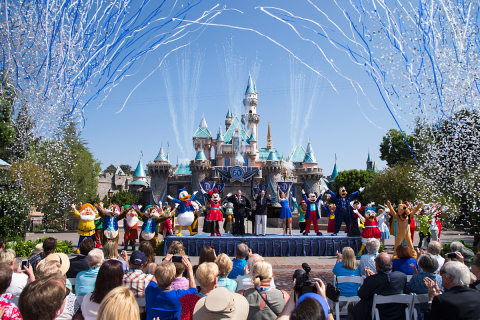 Sixty years ago today, Walt Disney's dream came to life when he created an enchanting place that families and guests of all ages could enjoy together. Since Disneyland opened its gates, it has been as a world-class entertainment destination—providing guests with one-of-a-kind experiences and immersing them in worlds of fantasy and adventure.
In honor of its 60th anniversary, Disneyland Resort today announced "Million Dollar Dazzle," which will award one or more local nonprofits each month of the Diamond Celebration with a surprise $60,000 gift, totaling more than $1 million. Girls Scouts of Orange County was named the first recipient today, and recognized during a special ceremony in front of Sleeping Beauty Castle honoring Disneyland's past, present and future.
Today, guests are celebrating all day long—dressed in their '50s best, enjoying special entertainment and Diamond Celebration cupcakes baked for the occasion. Tonight, Disneyland will light up the night as it continues the Diamond Celebration with the all-newPaint the Night parade and Disneyland Forever fireworks spectacular.
Happy anniversary, Disneyland! Here's to the next 60 years of Disney magic.
To read more about how Disneyland is celebrating today and stay up to date on the ongoing Diamond Celebration, visit the Disney Parks Blog.