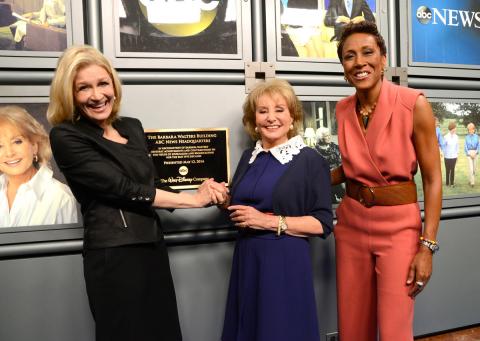 It all began with seven simple words: "I had this idea for a show."
This week, after 17 incredible seasons, 3,811 shows and 10 different female panelists, Barbara Walters says farewell to live daily television with her final co-host appearance onThe View, the daytime program she created for ABC.
Behind the scenes, Walters will continue to be an active part of The View in her role as executive producer along with executive producer Bill Geddie, her producing partner of more than 25 years. Also, in recognition of Barbara Walters' historic achievements and contributions to the fields of journalism and broadcasting for the past five decades, ABC News Headquarters in New York City has been re-named "The Barbara Walters Building" by The Walt Disney Company.
"Everyone at The View is honored to be part of Barbara's final week as co-host and we recognize how fortunate we are to be witnessing television history," executive producer Bill Geddie said. "If there's one thing I'm sure of it's that the stars will never align to create another Barbara Walters. She is irreplaceable," Geddie added.
The special weeklong event "ABC: A Barbara Celebration" kicked off live on Monday, May 12, as The View honors the broadcast legend during her final days as co-host.
It's "Deja View" when, for the first time in television history, all 11 co-hosts of The View—past and present—will share the same stage live today (Thursday, May 15) to celebrate the show's creator Barbara Walters. Journalist Meredith Vieira, lawyer Star Jones, comedian Joy Behar, television personality Debbie Matenopoulos, journalist Lisa Ling, comedian Rosie O'Donnell and talk show host Elisabeth Hasselbeck will join Sherri Shepherd, Jenny McCarthy, Whoopi Goldberg and Walters for this momentous, once-in-a-lifetime television event.
The week concludes on Friday, May 16, a day New York City Mayor Bill de Blasio officially declared "Barbara Walters Day." with two monumental surprises and Barbara's final words on The View. Additionally, Good Morning America, Who Wants To Be A Millionaire, The Chew, General Hospital and World News with Diane Sawyer are among the shows scheduled to join the celebration honoring the broadcast legend throughout the day.