In Marvel Studios' new original series Hawkeye, debuting today with two episodes on Disney+, the former Avenger Clint Barton aka Hawkeye (Jeremy Renner) has a seemingly simple mission: get back to his family for Christmas. That's easier said than done, of course—especially after a ghost from his past returns, forcing him to team up with Kate Bishop (Hailee Steinfeld), a skilled archer and his No. 1 fan, to crack a criminal conspiracy.
"I just love this time of year for the storytelling possibilities," says Kevin Feige, executive producer and President of Marvel Studios. "I've always loved films, shows or specials that take place over the holiday season. There's a heightened amount of emotion, or a heightened amount of conflict and tension, that can occur during this glorious season."
The idea to set Hawkeye during the holidays was based on early discussions about doing a series that is "not quite in real-time, but essentially in a six-day period," says Feige. "'Will Clint make it home for Christmas?' was a breath of fresh air after world-ending stakes, Celestials bursting out of planets [in Marvel Studios' Eternals] and multiverse shenanigans [in various films and series]. This, like Hawkeye himself, is a grounded, family-based show."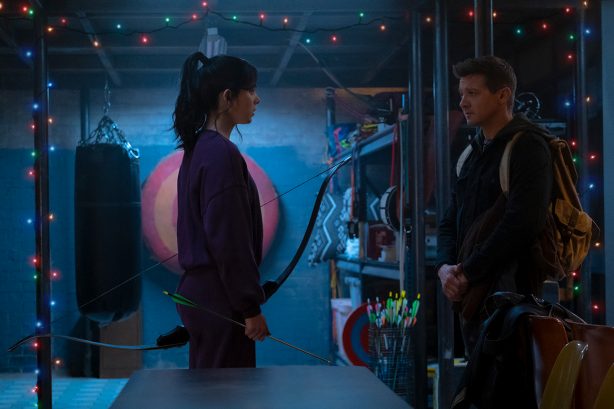 Helmed by Rhys Thomas and directing duo Bert and Bertie, the six-episode series is set in post-blip New York City. "New York's very special to me," says Thomas. "I was a tyrant about being as true to New York as we could. Nothing bugs me more than fake geography in movies and fake texture… It's Christmastime in New York, so you want that real texture."
Although some exterior shots were filmed on location in New York City during the holiday season in 2020, the directors admitted they would often need to "add some Christmas" touches to existing sets. "We had to add snow that was melting on the streets all the time," recalls Bertie. "We decided the snow was going to be heavy in the first couple of episodes and then it was going to drizzle out again; it's not like a picture-perfect Christmas. It's real." Other iconic set pieces, like the Rockefeller Center Christmas Tree, were recreated on sound stages to prevent spoilers. "They created an outdoor studio in Atlanta," says Bert. "It was kind of amazing. It always helps to start with something practical and then build up from there. I think they scanned all of Rockefeller Center, and there were one or two connecting bits. They definitely did some practical, some not; spoilers were a huge factor."
Christmas has its hallmarks, but in Hawkeye, it means different things to different people. "Christmas gets bigger and more glamorous as the season goes on—but it's not just about the big, glamorous Christmas," says Bertie. "It's actually a little bit about sad Christmas. We'd say to Maya Shimoguchi, our production designer, 'Oh, can we have a pop of sad Christmas back there?' Clint's trying to get back to his family. Christmas is all around, but he's on his own. There's a kind of melancholy to that… and Christmas can be a lonely time."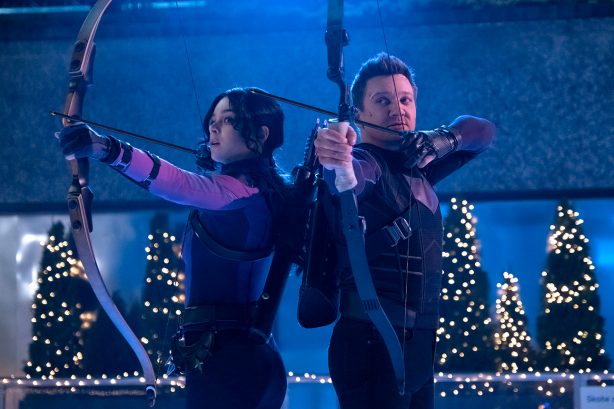 Kate, meanwhile, is "a bit of a goof, and she gets things wrong," says Bertie. Kate "lives in the moment," which explains her "halfhearted attempt" at decorating for the holidays. After Kate's mother, Eleanor (Vera Farmiga), cuts off her credit cards, she "has to go to the dollar store" to buy holiday decorations, adds Bert. "When she brings Christmas to Clint, yes, it's tacky and it's cheap. But it has heart, and I think that's what's important. As long as you're coming from a place of heart—as she definitely does—that's what makes it special."
Given all that's going on, Hawkeye is almost about "Christmas in passing," Bert says. "It's there and it's around them, but it's not what the story is about." Citing a car chase that occurs in the second episode, Bert adds, "We wondered, 'How can we bring Christmas into a car chase?' So, you see them driving into a Christmas tree lot. We love building that into different scenes—and then throwing it away. It's there, but it's not what we're focusing on."
New episodes of Marvel Studios' Hawkeye debut Wednesdays, exclusively on Disney+.