Recently, The Walt Disney Company Chairman and CEO Bob Iger paid a visit to the Blank Children's Hospital in Des Moines, Iowa, to dedicate a series of Disney-themed murals that will adorn the hallway entrance to the hospital's Pediatric Emergency room. The murals feature more than 100 beloved characters from Disney's rich history of animated films.
"By sharing our timeless stories that bring comfort, happiness and inspiration to kids and their families during stays at hospitals, we are delivering a little bit of Disney magic to those that need it most," Iger said. "Our hope is that the presence of our beloved characters will make an unfamiliar place a little more comfortable for young patients and less stressful for their families."
During his visit, Mr. Iger announced an additional donation of $100,000 to support the hospital's child life department.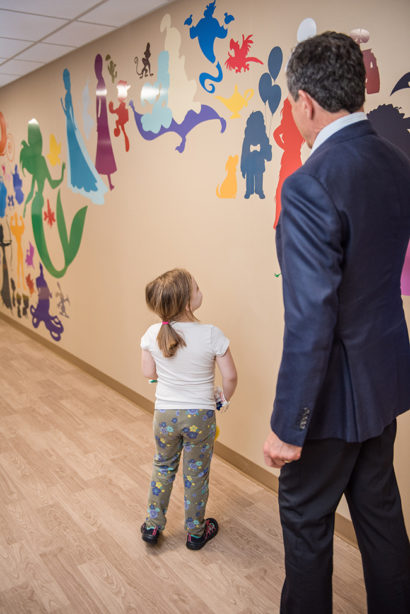 The Walt Disney Company and the Blank Children's Hospital share a long-standing connection that stretches back to Walt himself. In 1944, hospital founders A.H. and Anna Blank, who were themselves in the movie theater business, approached Walt about bringing a little Disney magic to the hospital. Disney artists painted a series of murals featuring classic Disney characters, including Snow White, Bambi and Pinocchio, for the hospital's playroom. These original murals have been carefully preserved at Blank Children's Hospital, where they continue to greet patients and families today.