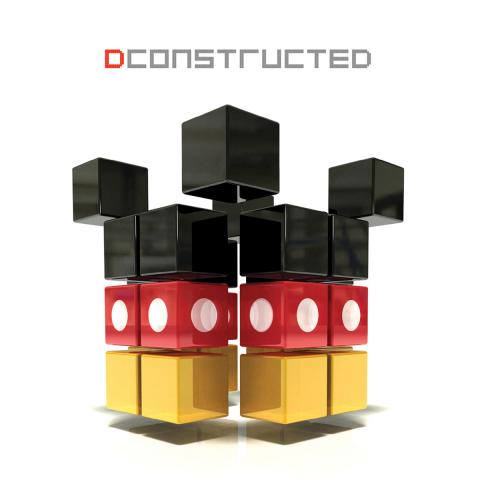 Same old song and dance? When it comes to Disney's new album DCONSTRUCTED, not quite!
DCONSTRUCTED, available now, is a collection of classic songs from the vast Disney music catalog that have been re-imagined by some of today's most talented remix artists, including Avicii, Armin Van Buuren and Kaskade.
The album is ingeniously executed and infectiously danceable, and when it comes to remixing, the possibilities are endless. I wanted to go straight to the source to find out about the creative impetus behind DCONSTRUCTED.
Walt Disney Records' Rob Souriall, vice president of global marketing, took a few moments to sit down with me and discuss what makes DCONSTRUCTED so exciting.
Rob, the concept behind this album is deceptively simple. What inspired it?
Walt Disney Records has really been pushing the envelope when it comes to musical genre trends and our classic Disney music repertoire, and we've been having a lot of success. The Electronic Dance Music (EDM) genre has really gained popularity here in the U.S. over the past several years. DJ/producers are the new "guitar heroes," with artists such as Avicii, Zedd and Calvin Harris at the top of the pop charts. The biggest pop stars have embraced this community and are actively collaborating with DJs and bringing them out on tour. The time felt right to launch a project like this.
With such a vast catalog, how do you go about choosing just a dozen or so tracks?
We wanted to have the right mix of new content such as Frozen and Monsters University, combined with more nostalgic and classic content—à la Annette Funicello, Main Street Electrical Parade and the Muppets. Our track listing offers a little something for everyone. I'd like to take credit, but the amazing Dani Markman on our A&R team was the true creative mastermind at bringing this product to life.
What's really going to surprise people about this album?
This is clearly Disney music content, but it's turned upside-down and rebuilt—in other words, "DCONSTRUCTED"—in an edgier, contemporary fashion. The beat-thumping club environment isn't a place you'd normally expect to hear Disney music, andDCONSTRUCTED allows us to play in this arena. It's really fun.
I know it's tough to choose, but do you have a favorite song on this album?
Mat Zo is a young, new up-and-comer in the EDM scene. I think his take on "Circle of Life" from The Lion King is amazing! He actually opens every live show with this track. Stay tuned for the music video—it's mesmerizing and perfectly captures the inspiration of the movie visuals and Mat's fresh musical vision. I also love the cool vibe of the "Main Street Electrical Parade" remix by Shinichi Osawa.
Check out the just-released video for the Shy Kidx remix of "The Muppet Show Theme" fromDCONSTRUCTED: