Inspired by The Walt Disney Company's magical, musical legacy, the Walt Disney Animation Studios film Wish—in theaters Wednesday, November 22—features an original story and characters, along with seven all-new songs penned by Grammy®-nominated singer/songwriter Julia Michaels and Grammy-winning producer/songwriter Benjamin Rice.
Walt Disney Animation Studios is known for its classic songs—16 of which went on to win the Academy Award® for Best Original Song. So, it was clear to filmmakers that their 100th-anniversary film would need to be a musical. So, Tom MacDougall, executive music producer and president of Walt Disney Music, reached out to Michaels. "He called me in 2020 and said, 'We're thinking of trying some new things. Would you be interested in coming in?'" Michaels says. "I was like, 'Yes, please!'"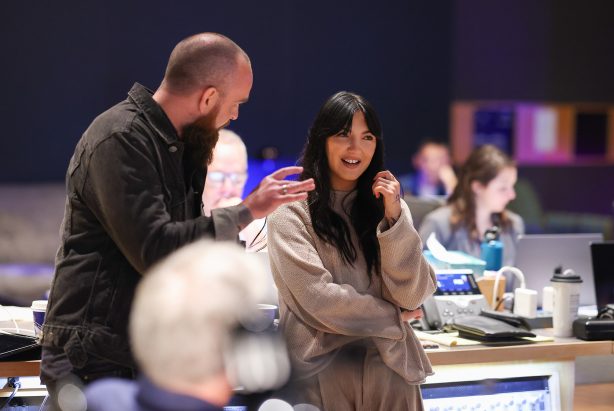 Michaels—a multi-platinum artist who's written hit singles for artists such as Justin Bieber, Selena Gomez, Dua Lipa, Janelle Monáe, Shawn Mendes, P!NK, Ed Sheeran, Britney Spears, and Gwen Stefani—says she "immediately" thought about collaborating with Rice to write songs for Wish. "One, it's so much pressure; it's not something I would ever want to do alone," she says. "Two, I've been working with Ben for so long—almost a decade—and he knows me better than most people. I wanted to do this with someone who I loved, who I trusted, who really understood me, and vice versa. And now here we are, three years later!"
Rice—who had previously crafted Top 40 hits for the likes of Lady Gaga, Nick Jonas, Robin Thicke, and John Legend— was eager to take on a new creative challenge with Michaels. "It's just a totally new experience working in the animated space," he explains. "This is completely different, working with Julia on songs that need to be created at the same time as the filmmakers are homing in the story and working on the animation. To be a part of the process from the beginning to the very end is truly a unique experience. It's been incredible, to say the least. Everyone's been so lovely to work with. It's been very surreal."
Below, the musicians share their inspirations and intentions for the seven original songs.
"Welcome to Rosas"
Benjamin Rice: I think the challenge of "Welcome to Rosas" is that it's the introduction song. It brings the audience into the story, and it has to cover a lot of territory. It has to be fun, it has to be welcoming, it has to be energetic—but it also has to express some ground rules and explain the world of Rosas. What is it? What does it mean? What does it stand for? Who are these characters? How do things work in Rosas when a wish is made? How do you give wishes away? It covers all of those things. We would look at storyboards and see sketches of characters dancing, or playing drums and guitars, so we had an idea of the feeling we should go for. And then the rest of it was just trying to focus on the storytelling.
Julia Michaels: We got to add color to parts of Rosas that didn't exist. I actually think we wrote this one the fastest because I was so excited to break the welcome song. I knew that instrumentally, it really had to set up the essence of the film. We tried to incorporate a lot of instrumentation from the region where this kingdom might be.
"At All Costs"
Julia: We needed to have a song that emphasized how important these wishes were, and why they needed to be protected so much. [Asha and Magnifico] are singing it to the wishes—and you actually realize that they're singing it from two very different perspectives. One is singing it from a very selfless standpoint, and the other person is singing it from a very selfish standpoint. But at the time, you think that they're aligned and that they both feel the exact same way about protecting these really beautiful things. That was a challenge, as well. But Ariana Debose (Asha) and Chris Pine (King Magnifico) did such a beautiful job encapsulating the emotion of what we hoped to convey.
"This Wish"
Julia: This was actually the first song written for this film—and it was based off of a very short paragraph! It was a synopsis of the film, which essentially said it's about a young woman who lives in a kingdom with an all-powerful king. He keeps all the wishes, and she finds out that he's not as charming and kind as everybody thinks, which sparks her very courageous, very brave, selfless journey to get these wishes back for the people in her town. And because this film is honoring the 100th anniversary of Disney Animation, I wanted the song to feel classic—but I also wanted it to feel modern. The directors [Chris Buck and Fawn Veerasunthorn] really emphasized to us early on that we should make it our own. I love complicated rhythms, I love a cadence, and I really wanted to incorporate as much of our style as we could into this song. It was so magical to be able to do that. When it came time to write the "This Wish" reprise, I wanted to keep the phonetics as perfect as I possibly could to "This Wish," so that it felt even more impactful when it came down to it.
Benjamin: It set such a high bar for the rest of the songs that we still had to write, because it's just such a beautiful moment, and it's a beautiful song—and it really works so well at the end, too. It helped to have such a high bar right away, and we just kept trying to top it.
"I'm a Star"
Benjamin: "I'm a Star" was one of the most challenging songs we tackled, because we're trying to give a seventh grade science lesson in the middle of the pop song—while also incorporating multiple characters, making it catchy, and giving the audience the most positive and inclusive message possible. It's based on the idea that we're all made of stars. Towards the end of the film, the song serves a very direct purpose, so it was challenging in that way. But once we found it, we gained some momentum. We had a really, really good time making our version of the song and then figuring out who's going to play the quail, who's going to play the tree… We'd be laughing a lot, and we'd even joke, "Is this our job?!"
Julia: By the end of the recording process, I think there ultimately ended up being 22 people on this on the song.
"This Is the Thanks I Get?!
Julia: Early on, we talked about how charming Magnifico was. He seemed very likable in public, and he's very handsome. But when he's alone, you can see his true colors. I think those are the scariest villains of all—the ones you don't realize are extremely scary, who can mask it. We wanted to encapsulate that as much as we could. We thought, "What if we do that sonically? What if we make a song that really shows his character?" He's this funny, but very self-absorbed person. And the more that you hear his song, the darker it gets, the deeper it gets, and the scarier he gets. In the middle of it, he has to convince himself that he's still a good guy. And no matter what he does, it trickles in that he's not. We had so much fun playing with this. I know some people really expected the dark, ominous villain song, but that's just not him outwardly. So, we wanted to depict that with his song.
"Knowing What I Know Now"
Benjamin: We put a lot of drums on this song. That was fun.
Julia: This is sort of their uprising song. It's really fun to go from a villain song ["This Is the Thanks I Get?!"] that's upbeat and exciting to this hero uprising song that has an ominous undertone. It's just not something people would expect from a Disney film. We wanted this to feel like a revolution song. We switched tempos. It just feels good. I love that this is the first song and only song when Queen Amaya comes in, and it's so impactful in terms of her character arc. Without spoiling anything, that's the most beautiful turning point in the film.
"A Wish Worth Making"
Julia: It feels surreal [to perform the end credits song]. I was in Italy, and I got a call from [executive music producers] Tom MacDougall and Matt Walker saying they wanted to use this song for the end credits. I couldn't stop crying! I just couldn't believe it. It's a dream come true. Not to be cliché, but who gets to say that they get to be a part of Disney's legacy—not only by getting to write the songs, but by getting to sing the end credits song?
Benjamin: I couldn't think of a more perfect song or a more perfect perfect person to sing it. I was hoping she would have a chance to do that, and to find out that she got the call, it was just the most magical ending to the most magical opportunity. I'm living through her excitement and pride of being able to do that. I'm so proud of her. It's so cool that you hear her immediately as soon as the film is ending. For us to have done that together, it's surreal.
The Wish Original Motion Picture Soundtrack from Walt Disney Records is available now on all streaming platforms. The "This Wish" 10″ Star Die-Cut Picture Disc is available for preorder and will be available Friday, December 1, via Disney Music Emporium.