Disney/Pixar's Monsters, Inc. 3D debuts at the El Capitan Theatre in Hollywood and theaters across the country today. This hilarious adventure from 2001 is one of my favorite Pixar films, and it's sure to dazzle in Disney Digital 3D, as Finding Nemo 3D did in September. What audiences experience with these films is not a conversion, but a complete 3D recreation of the original movie.

Led by Stereoscopic Supervisor Bob Whitehill, the team at Pixar completed the yearlong multi-step process of re-filming Monsters, Inc. in 3D. But it's not "one size fits all" – they were tasked with applying the 3D creatively to both tell the story and make the film more visually interesting. One way they accomplished this was by altering the level of 3D throughout to enhance the visual depth.
Bob shares, "To film one of our movies in 3D is like a visual accordion. We can spread it way out and make all the characters really elongated in a sense, really deep, or we can make it more subtle and have it closer to how it feels in 2D. We have a wide range to play with."
Each object, character and background in the film has unique visual parameters, allowing the team to expand or minimize the use of 3D depending on the mood of the scene. For instance, when Sulley puts Boo to sleep for the first time, this emotionally rooted scene has a diminished 3D focus, which visually brings the audience closer to the characters.
The undertaking was certainly not without its challenges, and one of the issues the team ran into was a bit…hairy. Bob explains, "Sulley's fur was created by what we call a random number generator. All of that beautiful wind and motion across his fur would be slightly different whenever we would re-render it from the original movie."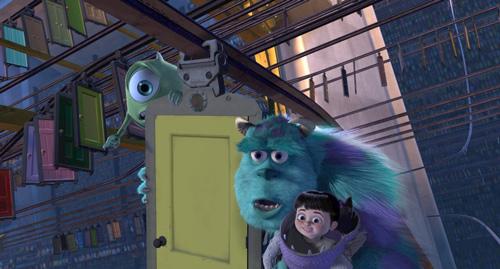 While this creative technology added a dose of reality to Sulley's appearance, it meant the artists needed to carefully monitor every single hair for a consistent visual effect during the final rendering.
What emerges on screen at the end of this process is magical for audiences and creators alike. Bob says, "I think it's such a great movie and such a great experience just to be able to see it again on the big screen. Having that added layer of 3D makes it really very worthwhile and a great time out at the theater."
With this release, audiences also get to see "For the Birds" the original short that ran withMonsters, Inc., take off in 3D, as well as a brand-new trailer for Disney's March release Oz The Great and Powerful!