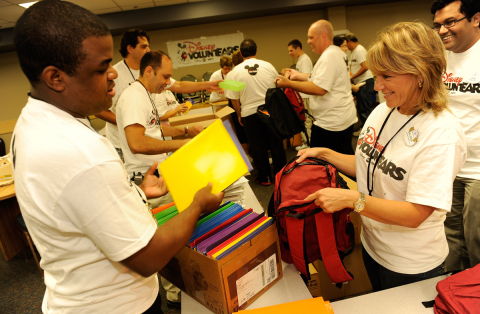 At Walt Disney Parks and Resorts, we are committed to giving back to the communities we serve. This year, many of our sites teamed up with schools and teachers in local communities to make a difference as students zipped up their backpacks in anticipation of the back-to-school season.
As students across Central Florida prepared for the first bell of the new school year,VoluntEARS from Walt Disney World Resort provided an A+ endorsement for the community's educators. Disney partnered with A Gift For Teaching—a provider of free school supplies to teachers for their students in need—to celebrate the first day of teacher shopping. In the weeks leading up to the shopping event, Disney cast members collected 2.5 million school supplies to benefit 70,000 children in Central Florida. VoluntEARS also devoted 2,000 hours to collecting, sorting and organizing donations such as paper, pencils, composition books and markers. They also earned some "extra credit" and helped teachers load up their shopping carts with supplies for their classrooms.
Throughout the month of August, Disneyland Paris cast members collected school supplies for patients, educated in hospitals through L'École à l'Hôpital. At the end of the collection, VoluntEARS donated ballpoint pens, pencils, workbooks, erasers, tubes of glue and dozens of other supplies to young students taking classes through the program.
Through mid-October, Disneyland Resort is seeking teachers from the surrounding communities in need of classroom materials that support visual and performing arts projects. With the help of the 2014 CREATE (Creative Resources Enabling Arts Through Education) Grants program, Disneyland Resort will provide up to a combined $100,000 in individual grants up to $750 each to fund creative and innovative projects and experiences for students. Since the program began in 1994, Disneyland Resort has contributed more than $1.7 million to support visual and performing arts programs. Last year, the resort funded 269 art and music projects that benefitted nearly 42,000 students in 137 schools in the local community.
At Disney Parks, we seek to give back to the communities where we live, work and play. Whether it's through contributions, in-kind gifts or the giving of time and talent by our Disney VoluntEARS, we are proud to support educators and students around the world.