The innovative attraction Avatar Flight of Passage was honored by the Visual Effects Society (VES) this week, winning the VES Award for Outstanding Visual Effects in a Special Venue Project. The 3-D ride experience at Disney's Animal Kingdom allows guests to soar over the incredible landscape of Pandora on the back of a mountain banshee, using cutting-edge technology and intricate special effects like never before. Guests can actually feel the banshee breathe beneath them as they fly high above floating mountains, plunge through ancient caverns and skim across roaring oceans during this multi-sensory experience. This marks the second major industry award for the attraction, which received a Thea Award for Outstanding Achievement: Attraction in November 2017.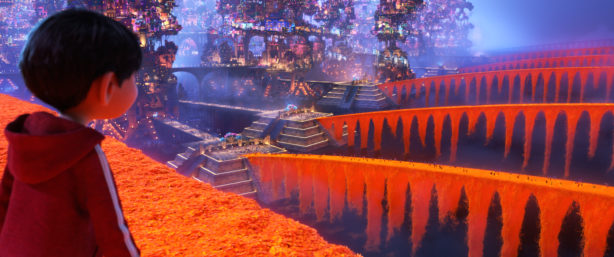 Disney•Pixar's Coco added four VES Awards to its impressive list of accolades, which include 11 Annie Awards; a Golden Globe® for Best Motion Picture, Animated; and two Oscar® nominations. Coco was honored for Outstanding Visual Effects in an Animated Feature; Outstanding Animated Character in an Animated Feature for the film's charming trickster, Hèctor; Outstanding Effects Simulations in an Animated Feature; and the film's stunning City of the Dead was singled out as Outstanding Created Environment in an Animated Feature.
Additionally, the Groot Dance/Opening Fight that delighted audiences at the beginning of Marvel Studios' Guardians of the Galaxy Vol. 2 received the VES Award for Outstanding Virtual Cinematography in a Photoreal Project.
The VES gave its Lifetime Achievement Award to writer-producer-director Jon Favreau, who is currently directing Disney's new adaptation of The Lion King, set for release in 2019. Favreau most recently directed Disney's wildly successful and critically acclaimed 2016 feature The Jungle Book, which won five VES Awards last year as well as the Academy Award for Best Achievement in Visual Effects. Fittingly, the Iron Man and Iron Man 2 director, who also plays Harold "Happy" Hogan in the Marvel Cinematic Universe, was introduced at the ceremony by Marvel Studios President Kevin Feige.
The annual VES Awards recognize outstanding visual effects artistry and innovation in film, animation, television, commercials, video games and special venues. To see the full list of honorees for 2018, visit VisualEffectsSociety.com.