The newest trailer for Ralph Breaks the Internet introduces new characters, including the fierce and fun crew of racers from online racing game Slaughter Race. Ali Wong lends her voice to Felony, Timothy Simons voices Butcher Boy, Glozell Green brings Little Debbie to life and Hamish Blake provides the voice of Pyro. Also new to the roster of characters is Double Dan, the proprietor of the dark web's apothecary. Voiced by Alfred Molina, Double Dan is massive, slimy and decidedly creepy with a second head called Little Dan tucked into his neck folds. Ralph Breaks the Internet opens in U.S. theaters on November 21, 2018.
In Ralph Breaks the Internet, video-game bad guy Ralph (voice of John C. Reilly) and best friend Vanellope von Schweetz (voice of Sarah Silverman) leave the comforts of Litwak's arcade in an attempt to save her game, Sugar Rush. Their quest takes them to the vast, uncharted world of the Internet where they rely on the citizens of the Internet—the Netizens—to help navigate their way. Lending a virtual hand are Yesss (voice of Taraji P. Henson), the head algorithm and the heart and soul of the trend-making site "BuzzzTube," and Shank (voice of Gal Gadot), a tough-as-nails driver from a gritty online auto-racing game called Slaughter Race, a place Vanellope wholeheartedly embraces—so much so that Ralph worries he may lose the only friend he's ever had.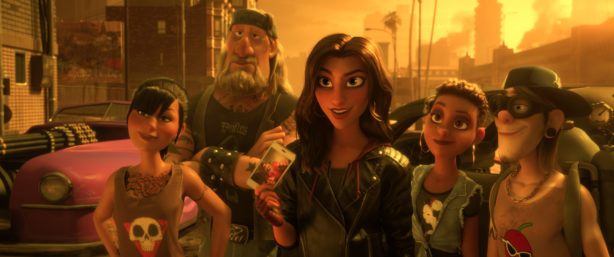 Ralph Breaks the Internet re-teams the original director, producer and co-writer behind Wreck-It Ralph, which turned in the highest opening weekend ever for a Walt Disney Animation Studios film when it opened on November 2, 2012. The film is directed by Rich Moore and Phil Johnston and produced by Clark Spencer; the three previously partnered with fellow director Byron Howard and co-writer/co-director Jared Bush to create the Academy Award®-winning blockbuster animated feature Zootopia.