Alan Braverman, Senior Executive Vice President, General Counsel and Secretary of The Walt Disney Company, has been honored by the American Bar Association (ABA) with its Spirit of Excellence Award, a recognition that celebrates the efforts and accomplishments of lawyers who work to promote a more racially and ethnically diverse legal profession. Braverman received the award on Saturday, February 3, at a ceremony at the ABA Midyear Meeting in Vancouver, British Columbia, Canada.
"As Disney's chief legal officer, Alan Braverman has used a wide range of methods to champion racial and ethnic diversity and inclusion," said Will Gunn, chair of the ABA Commission on Racial and Ethnic Diversity in the Profession. "Among other things, he has supported scholarships and mentoring to strengthen the pipeline of diverse lawyers, served on the board of the Leadership Council on Legal Diversity, and encouraged employee resource groups such as Disney Lawyers of Color and Disney's Women Lawyers Group. His strong commitment to diversity and inclusion is also reflected in the hiring and advancement of women and minorities at Disney Legal."
Among his other responsibilities, Braverman oversees the Company's team of attorneys responsible for all aspects of Disney's legal affairs around the world. Under his leadership, Disney's Legal Department has committed to advancing its culture of excellence through diversity and inclusion. "In my mind, diversity is not just a goal, it is an imperative for our profession," said Braverman as he accepted the award.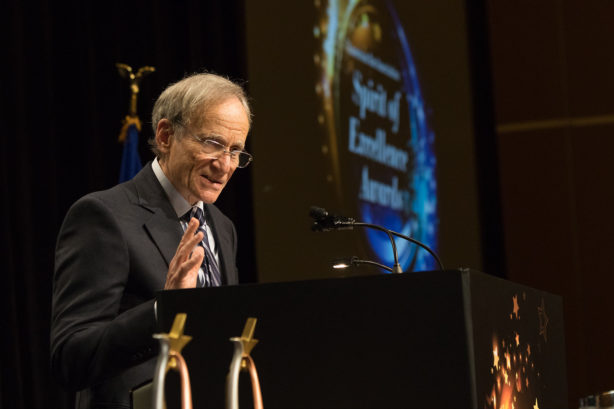 By transforming the way that Disney Legal attracts, hires, and retains diverse talent, Braverman has literally changed the face of the department. Since becoming General Counsel, he has personally interviewed every lawyer that Disney has hired, and he always insists that diverse candidates be considered in the final pool. Disney Legal's overriding objective is to attract and hire the best talent to meet the Company's needs and, through expanded recruitment efforts, the overwhelming majority of recent hires have been women and minorities. To retain and further invest in top talent, Disney Legal also launched a robust mentoring program.
Employee resource groups such as the Women Lawyers Group and Disney Lawyers of Color (DLOC) are thriving representations of the inclusive legal community that Braverman has helped cultivate. "[DLOC is] deepening our understanding and appreciation of diverse heritages, strengthening our culture of acceptance, and going out into the community to inspire students from grade school to law school, so that when the next generation looks to the future, they see open doors instead of obstacles and know that they, too, belong in this profession," said Braverman. "I'm extremely proud of this group and inspired and energized by the commitment and initiative of its members."
"Alan is a thoughtful leader who has long advocated for inclusivity in our profession," said DLOC Co-Chair Alicia Schwarz, Principal Counsel. "DLOC nominated him for the Spirit of Excellence award because of the considerable progress we see in our department as a result of his leadership on this front." "We appreciate Alan's support for DLOC and the opportunities that he has given us to be leaders," said DLOC Co-Chair Alex Chen, Principal Counsel.
Braverman's efforts to "open doors of opportunity" and build a healthy pipeline for inclusion within the legal profession extend far beyond The Walt Disney Company. He has championed Disney Legal's financial support for scholarships intended to meet the needs of racially and ethnically diverse students, and he serves as a board member for the Constitutional Rights Foundation (CRF), an organization that seeks to educate our nation's youth about the importance of civic participation in a democratic society.
Additionally, since 2014, Braverman has served on the Board of the Leadership Council on Legal Diversity (LCLD), an organization dedicated to building a more open and diverse legal profession. Disney lawyers have participated in LCLD's law school mentoring program, provided support to LCLD's 1L Scholars and Fellows program, and have also been selected to serve as Fellows themselves. This past December, Disney hosted a group of 35 LCLD Fellows for a two-day learning experience that enabled these high-potential attorneys to gain insights from Disney Chairman and Chief Executive Officer, Bob Iger; Chief Financial Officer, Christine McCarthy; ABC Entertainment President, Channing Dungey; and other Disney leaders.
Throughout Braverman's career he has been unwavering in his commitment to ensuring that the legal profession reflects the society that it represents. "For us, diversity as a goal can and never should be divorced from the ultimate objective—seamless inclusion, the forging of a culture where our diversity is celebrated as a strength and where all have the confidence to lend to problem solving their unique perspectives, born of their backgrounds, even in the face of strongly held conventional views. That cannot be accomplished through proclamation," he said. "It can, in my view, only happen if, when looking around the department, lawyers see themselves in it. Where no one feels like an 'other.' Where we truly reflect the diverse mosaic of our society. That is what makes people sufficiently comfortable to offer their unique, and sometime contrarian, perspectives that we want and need to hear."
All photos ©2018 Powell Photography, Inc.