For six decades, ABC's General Hospital has shared engaging stories about the lives of the diverse and evolving residents of Port Charles, New York. The Emmy® Award-winning daytime drama, which celebrated its milestone 60th anniversary on Saturday, April 1, 2023, is both the longest-running scripted drama and the longest-running American soap opera currently in production. From steamy romances to unparalleled family drama, General Hospital continues to impact and resonate with viewers around the country.
"A soap opera is an American art form," says showrunner and executive producer Frank Valentini. "We were able to serialize stories that are chapters disguised as episodes that slowly but surely get viewers involved, attached, and returning to the show on a daily basis."
He adds, "Through the decades the number of viewers has waxed and waned, but there's still a core audience out there with a connection to the show for 10, 15, 20, 25 years. It's incredible to think that people have made that connection to the show, the characters, and the actors."
General Hospital is known for trailblazing storylines highlighting health and social issues, often ahead of its time, including the HIV/AIDS crisis, tolerance and understanding for the LGBTQIA+ community, mental health advocacy, civil rights, voter suppression, and drug and alcohol addiction, to name a few.
"Because of the inherent connection with our audience, we are able to tell stories in a three-dimensional way and show all the points of view," Valentini says. "Good stories are about asking questions, and when you ask questions, you challenge people to give you answers."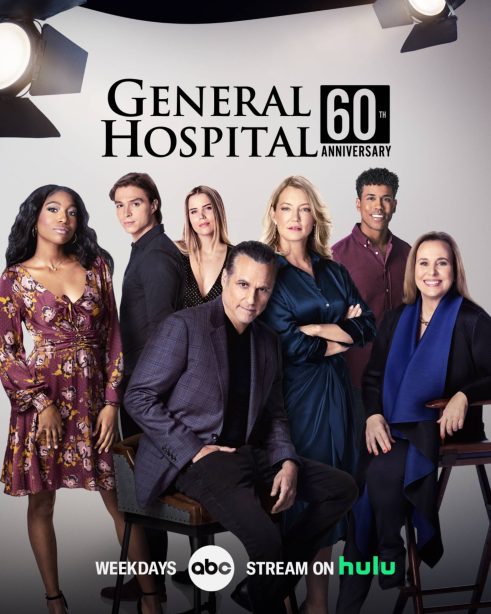 General Hospital tackled the subject of Alzheimer's through the complicated relationship between Sonny Corinthos (Maurice Benard) and his father Mike Corbin, then played by actor Max Gail, who attempt a reconciliation in the wake of Mike's devastating diagnosis.
"It was really a story about redemption and using Alzheimer's as the vehicle for redemption," Valentini recalls. "Can you forgive your parents? How do you move past conflict to create a loving relationship, especially when their time is numbered? I think we told that story in a really beautiful way; and I don't know many people in this country whose lives haven't been affected by dementia or Alzheimer's."
The storyline, initially written to only span six months, progressed into a three-year arc, and received multiple Emmy Award nominations and wins for both Benard (Outstanding Lead Actor) and Gail (Outstanding Supporting Actor) in 2019.
"We were able to tell it in a way where the audience wanted to see more conflict, more resolution, and see themselves and the struggles that they're dealing with in real life on the screen," Valentini says.
General Hospital also stars Genie Francis, Finola Hughes, Kristina Wagner, Nancy Lee Grahn, Rebecca Herbst, Kelly Monaco, Laura Wright, Kirsten Storms, Dominic Zamprogna, Maura West, Chad Duell, Roger Howarth, Donnell Turner, Michael Easton, Eden McCoy, Cynthia Watros, Josh Swickard, Katelyn MacMullen, Sofia Mattsson, Amanda Setton, Brook Kerr, Nicholas Chavez, Avery Kristen Pohl, Cameron Mathison, Charles Shaughnessy, Tajh Bellow, Tanisha Harper, Tabyana Ali, Robert Gossett, Josh Kelly, Gregory Harrison, and Evan Hofer.
The series airs weekdays on ABC and is available to stream on Hulu.