Yesterday the ABC Broadcasting Network and Disney's young adult cable channel, Freeform, combined to present their slates of new and returning projects to the national advertising community at Lincoln Center's David Geffen Hall. Disney's media networks are coming off a landmark year that has given ABC the No. 1 new drama, The Good Doctor; the No. 1 new comedy, Roseanne; the No. 1 new launch in reality television, American Idol; and the No. 1 series overall thanks to the phenomenal success of Roseanne. In the world of broadcast news, ABC's Good Morning America and World News with David Muir lead the way, ranking as the No. 1 morning program and No. 1 evening news broadcast, respectively. And Freeform has had a tremendous amount of success this year, as well, with the No. 1 new cable comedy (grown-ish) and the No. 1 cable drama in the key demographic with the new series Siren.
ABC and Freeform are a powerful combination, said Ben Sherwood, co-chairman, Media Networks Group & president, Disney|ABC Television Group, who stated, "Great stories and great storytellers can break through and break out, and they can still capture the attention of the whole country—and that's the mission of the people at Disney, ABC and Freeform every single day."
During yesterday's presentation, ABC Entertainment President Channing Dungey attributed viewers' loyalty and engagement with ABC programming to how the series truly reflect America—inclusively and authentically. "Our viewers can tune in and see themselves represented on screen in a positive way," she said, adding, "We believe that great programming doesn't just hold a mirror up to the audience—it should allow them to look through a window and experience the perspective of others, as well."
The emotional connections that audiences develop with ABC's series apply to both scripted series and alternative programming, Dungey noted, pointing out that the journeys of young American Idol contestants resonate just as powerfully with viewers as the story of Dr. Shaun Murphy, the inspiring protagonist of the top drama The Good Doctor. "These personal connections are at the heart of everything we do, and in a world of choice, the bond that our viewers have with our characters—scripted and unscripted—is what sets us apart," Dungey said.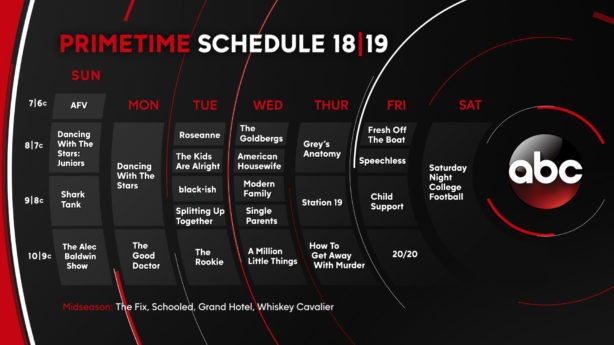 The network's success in the past year provides incredible momentum going into the upcoming season, and it also provides great stability, Dungey pointed out. ABC currently holds six of the Top 10 comedies on ABC, and yesterday Dungey introduced three new comedies that will debut during 2018–19:
The 1970s ensemble comedy The Kids Are Alright, which follows a traditional Irish-Catholic family navigating big and small changes during one of America's most turbulent decades.
Schooled, a spinoff of the hit series The Goldbergs that showcases teachers as everyday heroes.
Single Parents, which follows a group of single parents as they lean on each other to help raise their 7-year-old kids and maintain some kind of personal lives outside of parenthood.
Dungey also introduced "five ambitious new dramas that all feature the kind of compelling characters and aspirational storytelling that have long been a Hallmark for ABC":
A Million Little Things, which follows a group of friends from Boston who bonded under unexpected circumstances and who have achieved varying degrees of success in their careers and relationships. The unexpected death of one of their own serves as a wake-up call to the others, who realize that they need to finally start living and, along the way, they discover that friends may be the one thing to save them from themselves.
The legal drama The Fix, written by attorney and author Marcia Clark, is the thrilling story of an L.A. district attorney who seeks justice for a second time, years after a devastating courtroom defeat.
Based on a Spanish series, Grand Hotel, from executive producer Eva Longoria, is a bold, provocative drama set at the last family-owned hotel in multicultural Miami Beach.
The Rookie marks actor Nathan Fillion's full-time return to a starring role on ABC. Fillion plays John Nolan, who leaves his small town to pursue his dream of becoming an LAPD officer, becoming the force's oldest rookie in the process.
The high-octane, hour-long action dramedy Whiskey Cavalier follows the adventures of tough but tender FBI super-agent Will Chase (codename: "Whiskey Cavalier"), played by Scott Foley (ABC's Scandal). He partners with CIA operative Francesca "Frankie" Trowbridge (Lauren Cohan) to lead an inter-agency team of flawed, funny and heroic spies who periodically save the world (and each other) while navigating the rocky roads of friendship, romance and office politics.
ABC's 2018–19 season also features Dancing with the Stars: Juniors, a fresh take on the established favorite, and The Alec Baldwin Show, which will showcase the three-time Emmy® winner's in-depth conversations with compelling personalities.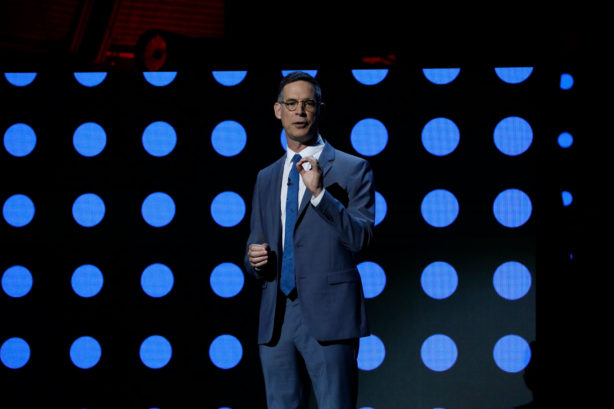 Freeform has also announced two new series that will join top-rated series grown-ish and Sirens: Kenya Barris (grown-ish, ABC's black-ish) serves as creator and executive producer (with Ranada Shepard) of the half-hour multi-camera comedy Besties, which explores friendship, identity, race and class as two lifelong best friends continue their journey to figure out who they are and who they want to be. And Pretty Little Liars: The Perfectionists expands the universe of the Freeform's successful Pretty Little Liars franchise and is written and executive produced by I. Marlene King, based on a book series by Sara Shepard.
Freeform President Tom Ascheim, who referred to the channel as the "home of the young and the bold," emphasized, "Two years after our brand relaunch, we have really hit our stride. We've already premiered two hits since January, and we are not close to done."