Disney has been at the forefront of helping veterans make the transition from active duty to civilian life. Since launching the Heroes Work Here initiative last year, we've hired more than 1,300 veterans at the Company—and we're just getting started.
On November 14, we're building on the initiative to hire, train and support military veterans by sharing our very own success story with hundreds of companies, large and small, at the Veterans Institute. The complimentary, daylong event is designed to help participants find out how they, too, can build effective veteran-hiring programs.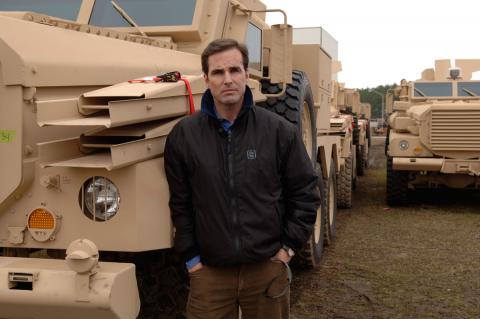 Moments ago, ABC News Anchor Bob Woodruff was announced as a keynote speaker at the Veterans Institute workshop at Walt Disney World Resort. Bob has covered major stories and events around the world, including the war in Iraq. On January 29, 2006, while reporting on U.S. and Iraqi security forces, a roadside bomb struck his vehicle near Taji, Iraq, leaving him seriously injured. In February 2007, just 13 months after being wounded in Iraq, Bob returned to ABC News with his first on-air report, "To Iraq and Back: Bob Woodruff Reports." He recently sat down with us to share his thoughts about participating in the Veterans Institute.
Why is participating in the Veterans Institute so important to you?
In the past 12 years, since the wars in Iraq and Afghanistan began, we have seen the needs for the troops change in terms of priority. While we have concentrated on the needs of those returning home with post-traumatic stress, depression, visible injuries and divorce, we are now seeing a large number of veterans who are leaving the military on their own—citizens who need to find jobs. The numbers are that approximately one million veterans will retire from the military in the next five years, about 200,000 per year. I have seen that most companies want to hire veterans, but we just need to put them together—something that is not easy for them to do by themselves. Veterans Institute is a great way to do it.
What do you hope companies take away from the Veterans Institute?
In my experience, veterans from Iraq and Afghanistan turn out to be more impressive than expected. These forces are organized, disciplined and strict—positive abilities they can bring to companies. They have matured much faster than others their age.
What can a veteran's experience teach businesses and all of us?
I think that those who served overseas know more about the world than most people. I am sure that participants of the Veterans Institute know the world as well, but there are many employees in their respective organizations who may have never seen the world, and maybe never will. Because of counterinsurgency tactics, I believe many veterans can teach us about the people they met, which is helpful for others who only read about or watched movies of people from different backgrounds and cultures. And they will also teach businesses to relax, because no matter what is happening, it would be much worse if their offices were on the sands of Helmand with IEDs and/or incoming mortars.
If you or anyone you know is interested in participating in the inaugural Veterans Institute workshop, please click here.