Collaboration is fundamental to everything we do at the Disney/ABC Television Group, and it is encouraging to see the significance of what we can accomplish – and how quickly we can achieve it – when a great plan comes together.
It was one year ago today that ABC News and Yahoo! News joined forces to announce a strategic partnership to deliver news and information across the digital landscape.
Here's an infographic that shows the top five performers in the online news space in the past year: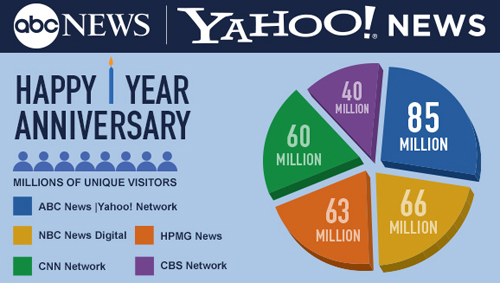 Twelve months later, the Yahoo!-ABC News Network is the definitive number one online news and information source. It consistently boasts a Super Bowl-sized audience. Overall, nearly 351 million minutes have been spent watching content across the Yahoo!-ABC News Network.
The partnership has yielded five new original video series and unique live stream video experiences for audiences seeking news and information in real time.
The re-launch of GoodMorningAmerica.com is also an important component of this innovative partnership. Today, "GMA" is the number one morning TV show site online.
The strength of this alliance extends beyond editorial. The Yahoo!-ABC News Network also creates and drives new advertising opportunities across its platforms and properties. Recent partnerships with Edward Jones, Poland Spring and Dish Network produced some innovative digital sponsorship opportunities.
While the ABC News and Yahoo! News folks are taking a little time today to celebrate their one-year milestone, they are also squarely focused on what they want to achieve by the second anniversary. Their success is a prelude for what is still to come. I have feeling they're just getting started!