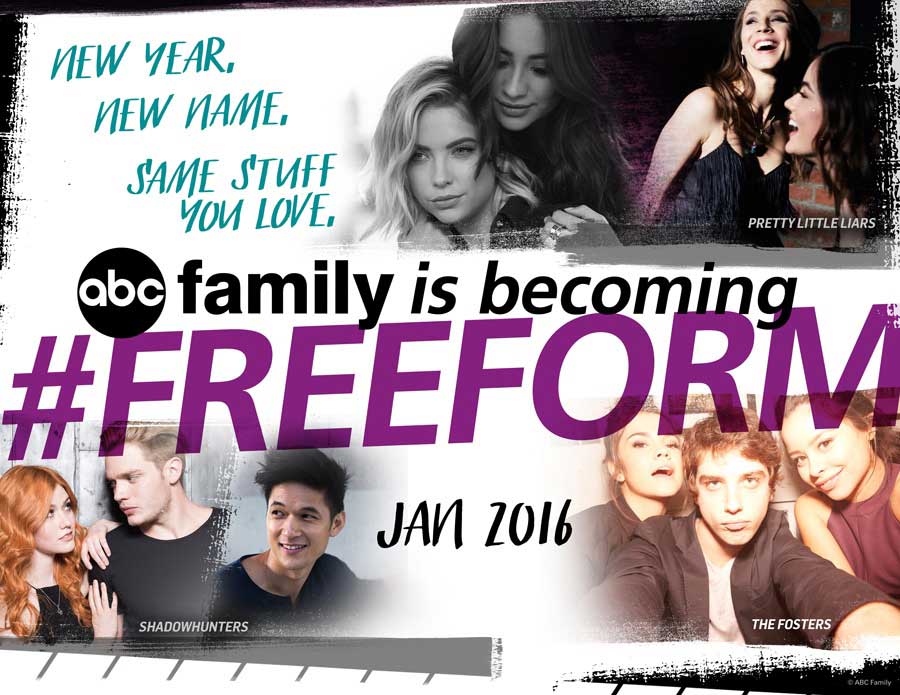 Becomers. Traditionally, they're in high school, college and the decade that follows and they're navigating the wonderful, fun, exciting and scary time when you experience many of life's firsts—from first kiss to first kid. Becomers are on that epic adventure of becoming an adult. And today ABC Family announced that on Tuesday, January 12, the network will officially be renamed Freeform, a name that speaks to the network's ongoing priority to super-serve the Becomer audience.
The audience's identity and experience are fluid as they explore endless possibilities and their passions take shape. Freeform is inspired by the interconnection between content and audience, media and technology, interactive and linear, life stage and life style and the way Becomers interact with them all.
"The Freeform brand represents the passion, fun, energy and new ideas that infuse young adulthood," said ABC Family President Tom Ascheim. "We've been evolving naturally for a while now, so it's time that our name reflects the true essence of our brand. We are excited to take our network in some new directions and continue to evolve alongside culture while delivering those favorite shows our viewers already love."
The name change coincides with the season premiere of the network's No. 1 original hit series, Pretty Little Liars, and the world premiere of Shadowhunters, a new original series based upon novelist Cassandra Clare's bestselling young adult fantasy book series The Mortal Instruments. Both shows kick off their season on January 12, while the midseason premiere of The Fosters and the debut episode of the brand-new series Recovery Road air Monday, January 25.
Freeform also has several new series in the works including the supernatural series Beyond from executive producer Tim Kring; thriller series Guilt; horror tale Dead of Summer, from Once Upon a Time creators Adam Horowitz & Edward Kitsis, with Ian Goldberg; and the recently unproduced new reality series The Letter. Additional projects include the pilot Famous in Love, from Pretty Little Liars producer Marlene King, based on the novel by Rebecca Serle; and the highly anticpated Nicki Minaj comedy project which is inspired by Nicki's life growing up in Queens with her vibrant family after immigrating from Trinidad—as well as her personal and musical evolution that led to her eventual rise to stardom.
The network is also planning new seasons of established series including Switched at Birth, Stitchers and The Fosters, as well as a second season of recent unscripted hit Monica the Medium. Freeform remains committed to the critically acclaimed original series and programming that have become pop culture phenomena and made it so successful with the Becomer audience.