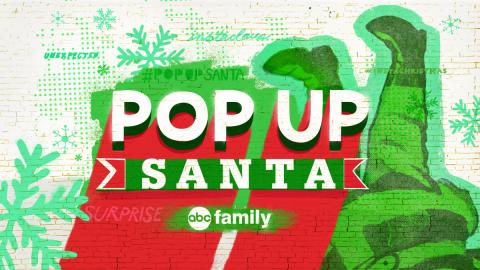 Last week on ABC's Good Morning America (GMA), ABC Family announced the network's ownership of Pop Up Santa (#PopUpSanta)—the giveaway craze that launched on November 11, and has been sweeping the nation with holiday cheer since then. ABC Family also surprised GMA fans gathered in Times Square with special Pop Up Santa gifts to celebrate the network's annual "25 Days of Christmas" programming event, which starts December 1. The massive Pop Up Santa initiative features more than 50 local giveaways, surprising lucky passerbys with items such as gift cards, cozy accessories to fight the winter cold and even brand-new bicycles.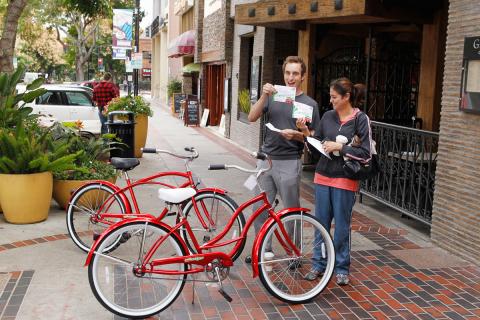 Local Pop Up Santa events will continue through December 9 in cities across the United States. ABC Family also debuted the official Pop Up Santa experience (PopUpSanta.tv), a digital companion to the on-air initiative that allows fans to win Pop Up Santa items even if they do not live in the selected cities. The social experience includes daily Pop Up Santa videos and exclusive content, Disney Store gift baskets, red bicycles, ugly Christmas sweaters, Disney On Ice prize packs and $500 gift cards. Fans are encouraged to spread the cheer and bring Pop Up Santa to life in their own towns by creating their own holiday surprises and submitting photos and videos through the Pop Up Santa social experience.
As an additional part of this unprecedented holiday initiative, ABC Family has teamed up with Verizon, KFC, Pillsbury and Capital One for sponsorships and several special events to take place during the network's "25 Days of Christmas." Talent from several of ABC Family's hit series will surprise fans with products and prizes in fun and festive ways.
Pop Up Santa also includes special Disney synergy events with the Country Music Awards, Disney on Ice and the Disney Store that will be featured on-air throughout the "25 Days of Christmas" programming event. Earlier this month, Pretty Little Liars star Lucy Hale surprised one lucky fan and her family in Nashville with tickets to the CMA Country Christmas celebration (which airs Monday, December 1, 8–10 p.m. ET) and a chance to watch Lucy rehearse for the show. Also this month, ABC Family fans were met with a special after-hours surprise at a Disney Store in Montebello, California, where they were challenged with gathering as many toys as they could in an allotted time with the help of ABC Family stars Kym Whitley (Young & Hungry), Aisha Dee and Haley Ramm (Chasing Life). The network then donated a matching monetary gift to Toys for Tots based on all of the toys gathered at the event.
The holiday joy continues when ABC Family brings some warmth to Disney On Ice presents Frozen, Presented by Stonyfield YoKids Organic Yogurt at the Prudential Center in Newark, New Jersey. ABC Family is reuniting a special military family on the ice. The family will get the amazing opportunity to participate in a special private pre-show skating party with characters from Disney On Ice presents Frozen and front row seats for the show.