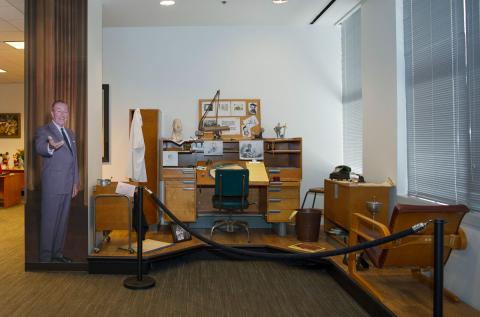 Earlier this year the Walt Disney Archives, located on The Walt Disney Studios lot, received a small refresh of their on-site exhibit spaces to showcase even more interesting and unique items from Disney history, pieces that have been rarely seen since they were used on set or elsewhere.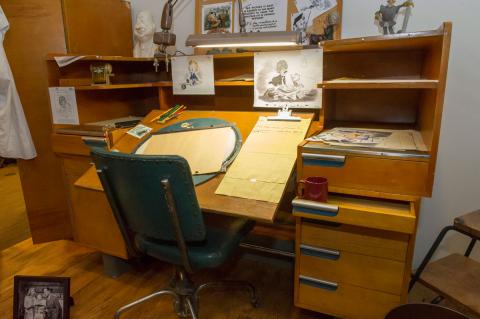 Disney Archivist Kevin Kern recently provided a brief virtual tour of the latest displays on WaltDisneyArchives.com. One of the newest (and coolest!) additions is the Archives' recreation of a Disney animator's office straight from the booming year of 1940, when beloved films like Pinocchio and Fantasia were released.
Alongside classic items, like the first version of the Mickey Mouse watch, there are knickknacks and historical objects that Walt Disney featured in his formal and working offices through the years. "These include a Praxinoscope (an early animation device from 1879 that Walt favored so much he used it on the Disneyland television series), and the Disney family crest that the master showman had on display in his working office," Kevin writes. "The original watercolor painting of Walt used for the December 27, 1954 cover of Timemagazine, painted by one of the publication's most prolific artists, Boris Chaliapin, is also on display."
For an in-depth look at what's new at the Walt Disney Archives, as well as a peek at the group's new displays and exhibits, visit WaltDisneyArchives.com.