Award-winning journalist and best-selling author Katie Couric can now celebrate another achievement with the successful launch of her new daytime talk show, Katie. With its Monday, September 10 premiere, the nationally-syndicated show earned the best debut audience of any talk show in the last decade!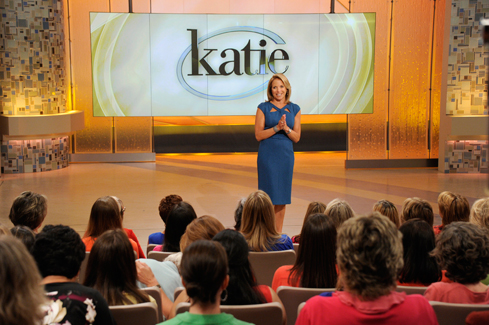 With special guests, including fashion designer Jessica Simpson and nine-time Grammy-winning artist Sheryl Crow, Katie scored an impressive 2.8 Household rating, 8 share in the 56 U.S. Metered Markets, according to Nielsen's audience measurements. Having led the debuts of other new daytime talk shows by upwards of 250 percent, Katie Couric's inaugural show was also among the top two highest-rated programs in its time period in each of the top 15 U.S. television markets. Viewers in New York City and Los Angeles, the two largest TV markets, made Katie the top choice in the time period!
Later today, Katie Couric will continue to offer viewers her authentic conversational style and unique personal perspective when sits down for an exclusive interview with 24-year-old Aimee Copeland, a Georgia graduate student who lost parts of all her limbs to a rare flesh-eating bacteria. Aimee is set to defy all odds and courageously walk—for the very first time—onto the Katie stage. It's definitely a defining moment you won't want to miss!