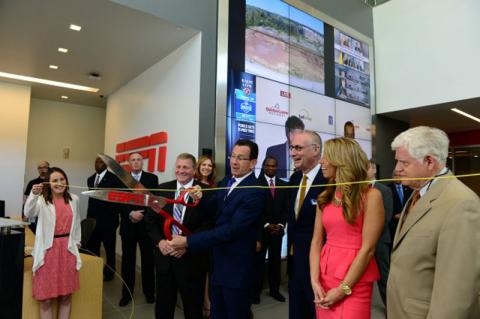 ESPN's flagship program, SportsCenter, has entertained sports fans and audiences for more than three decades. As television in the digital age evolves, it's only fitting that this pioneering sports news show moves into a new home—one that provides the anchors, analysts, crew and production team with the latest technology and features.
Named Digital Center 2 (DC-2), ESPN's brand-new 194,000-square foot, five-studio media facility, recently had its ceremonial opening on the network's Bristol, Connecticut, campus.SportsCenter moves from its original Digital Center's Studio F this month and will become the first program to debut from the state-of-the-art facility. And unlike any television environment in the world, it is designed to support 24/7 programming.
The facility itself boasts many perks; it's future proof, format agnostic and can handle all existing media formats and future industry standards capable of carrying data/signals at various rates, even the ones that haven't been adopted by the television industry yet. Inside the walls, the unique environment features a video floor, virtual technology, two touchscreens, a 56 LED multi-dimensional monitor wall and the ability to do live and pre-produced segments simultaneously.
Overall, the building was constructed with the environment in mind and many features—high performance lighting (CFL and LED), electronic dimming, water-efficient landscape design and a groundwater capture system, to name just a few—have been employed and installed to reduce overall energy consumption. From fresh animation and updated music and sound design to new informational graphics, fans will also notice many program-related enhancements made possible by DC-2's setting and capabilities.
During DC-2's opening ceremony, Connecticut Gov. Dannel P. Malloy commended the network on the completion of the new facility. "ESPN is a leading employer in our state, and the company's willingness to continue to expand and hire here demonstrates that Connecticut really is a great place to grow and invest," he said. "[DC-2] reinforces the company and our state's well-earned reputation as a hub for sports digital media and broadcasting."
For an inside look at DC-2 and to learn more about the building, visit ESPN Front Row.