Connection is at the heart of the Disney Accelerator program, which provides a select group of start-up companies access to all the creativity, imagination and expertise of The Walt Disney Company and its businesses. Leaders from across the worlds of Disney lend their mentorship and support to these growing companies and enable them to reach higher to bring innovative new products and services to consumers all around the globe. That theme of connection resonated throughout the 2018 Disney Accelerator Demo Day, held at The Walt Disney Studios lot in Burbank, California, and live streamed on ABCNews.com, as seven visionary CEOs presented their companies' missions, which range from making high-quality online education available to kids everywhere and creating a live television experience that can be shared among friends, no matter where they are in the world; to bringing renewable power to developing nations and making energy effortlessly accessible to everyone.
"These days are transformative times," said Disney Chairman and CEO Bob Iger in his welcoming remarks. With transformation occurring in all of Disney's businesses, Iger said, "We believe it's imperative for us to use technology to help us transform, not only to keep pace with all the change that we see in these times, but to continue to tell stories in compelling ways—which is part of the legacy of the Company dating back almost 100 years."
Nearly 50 companies have participated in the Disney Accelerator program since it began in 2014, and many continue to work with Disney to change the landscape of media and entertainment. The seven companies spotlighted at 2018 Demo Day share that same drive to innovate and revealed what is next for them—and for consumers: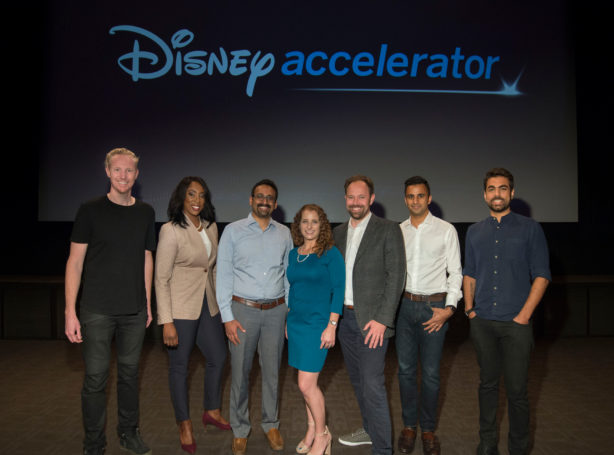 Aaptiv
Founder and CEO Ethan Agarwal experienced the transformative power of exercise firsthand. But while people have quite naturally developed new habits of consuming leisure content, such as movies, TV and books, there's been a lag in how most consumers integrate physical activity into their lives. "We need to take what we know about creating great leisure content and apply that to great exercise content in order to develop exercise habits," said Agarwal.
Focusing on audio-only content, to allow for complete freedom of movement—as well as freedom from any required hardware to access content—Aaptiv provides digital wellness content that aims to transform how people work out. Aaptiv content features world-class trainers who inform, entertain and inspire, as well as music that has been thoughtfully integrated into every digital exercise class. With 200,000 paying members already consuming tens of thousands of Aaptiv classes every day, Agarwal said, "We've taken the work out of working out by providing an entertaining fitness experience."
Unsupervised
Unsupervised is transforming artificial intelligence (AI) by removing the elements of human error and bias. Noah Horton, founder and CEO, explained, "In unsupervised learning, the machine starts from the data, so there's no opportunity for humans to layer in their biases or their mistakes at the start, and what comes out are patterns that people can look for." Those patterns, Horton stresses, lead to brilliant and creative ideas.
The artificial intelligence is able to examine data on a scale that humans simply can't duplicate, which is why Unsupervised unlocks a future where machines and people work together, each doing what they do best. Horton emphasized, "When we have Unsupervised AI going over all of our data and putting these patterns in front of people, we empower those people to be brilliant."
HopSkipDrive
In establishing HopSkipDrive, Joanna McFarland, co-founder and CEO (and parent), was inspired by the logistical challenges of getting her children where they needed to be. The technology-enabled ride service for kids relies upon highly vetted care drivers behind the wheel to solve mobility issues for families, K–12 schools, nonprofits and businesses that serve children. McFarland spoke during Demo Day about the role of mobility in increasing kids' access to athletics.
"Inability to access safe and reliable transportation means so many kids across the income spectrum miss out on key activities such as youth sports," she explained. Pointing to the iconic quote from the film Field of Dreams, "If you build it, they will come," McFarland added, "What I've learned is it makes no difference what you build if your audience has no way to get there." Her company wants to get kids to the fields so they can develop a lifelong love of the game—and enjoy all of the positive physical, educational and social benefits that accompany sports participation.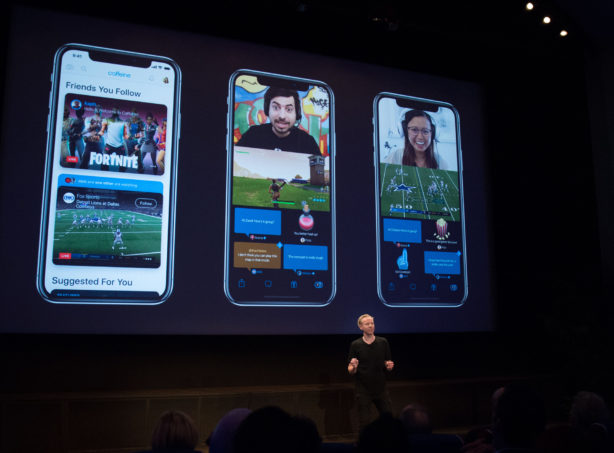 Caffeine
The founder and CEO of Caffeine, a social broadcasting platform for live gaming, entertainment and creative arts, Ben Keighran, is a lifelong gamer. He's connected with a community of friends from all over the world that he's met through Massively Multiplayer Online games (MMOs). They have common interests, similar schedules and shared content passion. Aware that live TV lacked a similar interactive, immersive experience, Keighran wondered, "What if that deep connection that I had as a gamer could be expanded to TV content? What if we could bring the whole world together around live TV like we do in the gaming world?"
Caffeine allows friends to consume live TV together, in a way Keighran described as "like being on a video phone call with them and the content, all at the same time." He noted that users have responded to the immediacy of the video, simplicity and the positive and diverse community; and he believes this new format will change how people all around the world experience live television.
Uncharted Power
Uncharted Power CEO Jessica O. Matthews sees herself as "real-life Shuri," referencing the fan-favorite inventor and tech whiz from Marvel Studios' Black Panther. Dividing her time between Nigeria and the U.S. while growing up made Matthews aware of the disparity in energy infrastructure in developing and developed worlds.
Matthews' company specializes in harnessing the energy from motion to create entire ecosystems of power for communities around the world, with an innovative system that resembles a sidewalk or paver stone. Hidden inside, Matthews says, is "a one-stop shop for modular smart power delivery" that functions both as a decentralized power grid and data infrastructure. "When you're given the opportunity to innovate with a blank slate, you can dream of the world not as it is, but as it should be," Matthews shared.
Ubiquity6
The "phone-solator" syndrome. Ubiquity6 co-founder and CEO Anjney Midha uses this term to describe the increasing tendency for people to isolate themselves by focusing on their phones, rather than on the world around them. Midha, new to the U.S., found himself "phone-solating" as a student at Stanford and overwhelmed by his new situation. His primary solace came from the world of MMOs, where he was able to connect with friends from across the world. Midha wondered if there was a way to take the best parts of the MMOs he so enjoyed and bring them to real spaces people inhabit every day. He recalled thinking, "Was there a way we could edit reality to stop looking down at our phones and isolating ourselves, but actually using [our phones] to bring ourselves together in physical spaces?"
Ubiquity6's augmented reality (AR) platform is focused on bringing people together, using AR technology to turn an office into a basketball court or allow hundreds of people to paint on the ceiling of a museum in real time through their cameras. "I think that we're finally on the cusp of a new change in consumer behavior where we can stop looking down at these things and isolating ourselves, and look through them into shared reality that lives on top of our daily lives and allows us to go back to looking at each other again," Midha said at Demo Day.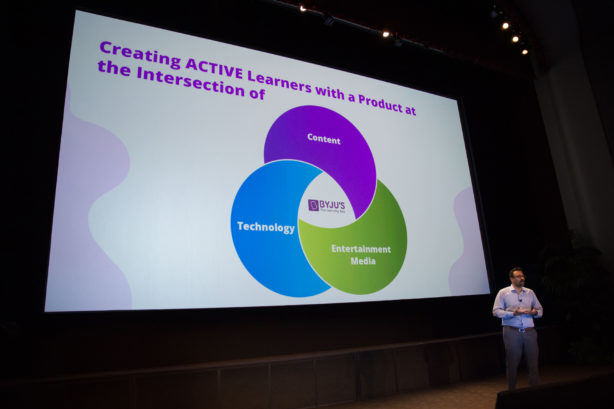 BYJU's
Pravin Prakash, co-founding student and chief marketing officer of BYJU's, and his team set out to solve the problem of how to increase access to quality education in developing countries like India and educate residents for the jobs of tomorrow, which may or may not even exist today. "I believe the only way we can prepare the future generations to lead us is to educate them in a scale which makes it possible only using technology, and making it engaging for them by making it entertaining," said Prakash. BJYU's, which has a student base of 25 million, is at the intersection of education content, media and technology, and connects users with highly differentiated, personalized video content.
BJYU's is India's largest edtech company, but Prakash maintains they're just getting started. Reaching less than 10 percent of students in India, with products designed for students ages 9–18, Prakash announced the launch of a new product for younger learners, ages 3–8, that consists of colorful and engaging educational content that introduces kids to a world of concepts through narratives, games and activities that provide fun ways to learn.
The 2018 Disney Accelerator Demo Day concluded with a TED fireside chat with Fadi Chehadé, member of the World Economic Forum's Center for the Fourth Industrial Revolution advisory board, a highly successful entrepreneur and the former CEO of ICANN and former General Manager of IBM Global Technology Services in the Middle East and Africa. Chehadé provided a glimpse into to the future of the media companies' relationships with their audiences, noting that the companies who see users as partners will be the ones that ultimately will succeed.