On Tuesday, October 15, in Hollywood, California, we met up with a thousand exuberant fans for a very special "scare-ebration": the 20th anniversary of Tim Burton's The Nightmare Before Christmas.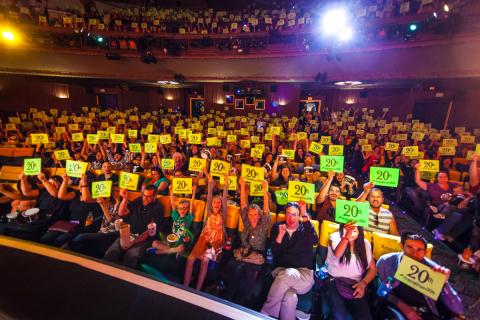 Originally released on October 15, 1993, the film has become a holiday classic—and a tradition for many, who eagerly await the annual Haunted Mansion Holiday takeover at Disneyland or the special-event screenings at Disney's El Capitan Theatre (El Cap).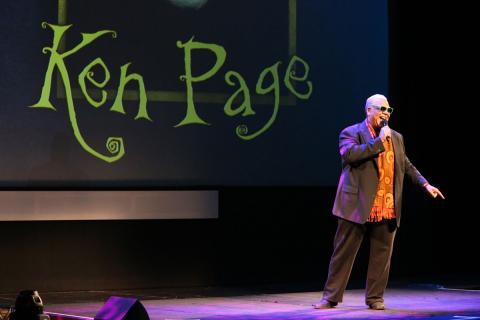 As the locale for the original red-carpet premiere as well as the world premiere of the film in 3D in 2006, the El Cap has shown Nightmare every year since 2000 as a Halloween treat. For the past three years, the experience has been enhanced with "chilling" 4D effects including wind, snow, fog, lights, scents and more. This year, we invited the great Ken Page, the voice of Oogie Boogie, to host our 20th anniversary, and he kicked off our 20-day engagement with a spine-tingling rendition of "Oogie Boogie's Song."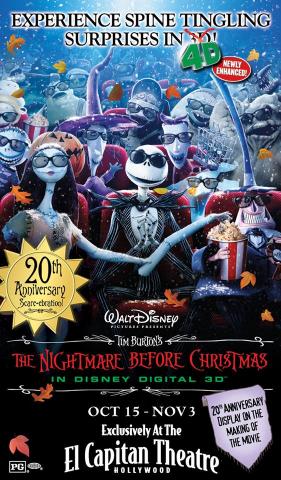 It's a movie that continues to inspire us. Last year we pioneered an all-new interactive experience with The Nightmare Before Christmas – Second Screen Live, which encourages audiences to engage with the film in a new way by using their iPads. The experience, which features sing-alongs, trivia and friendly competition, will be available at several theaters throughout the U.S. on October 18.
Nightmare is definitely one of my all-time favorite holiday films, and yes, I made sure to snag a copy of the special-edition 3D Blu-ray when it came out in September. But I think maybe the best part about our yearly spooktaculars are the fans who have carved out a place in their hearts for the weird, wonderful world of The Nightmare Before Christmas. Check out some of the photos from this year's scare-ebration below!